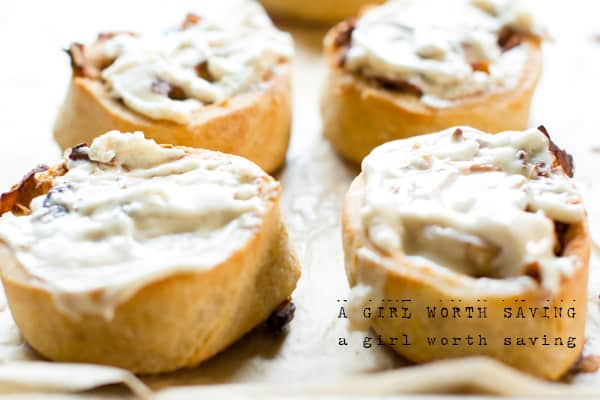 This is my second Paleo Cinnamon roll recipe and by far the absolute closest to the real deal.    While I was eating this I kept thinking I was eating wheat.
I'm not kidding you.
You will be able to fool the most hardcore anti-Paleo, grain eating  person with this recipe.
Y'all stop messing about and get some Tapicoa Flour.    This is such a strange flour as it can be somewhat spongy before the baking process but it really makes the most "bread-like" recipes I have found.
 Notes:
I have had numerous people try this recipe and it has been hit or miss.  Some people can make this recipe as is and it comes out perfectly.  Some need to add more tapioca flour to get it work.  Some need to use a food processor or a kitchen stand mixer to get the dough to come out.
There are a lot of factors that go into baking  for instance:
1) Your oven
2) Your altitude and humidity  and possibly even the flour you are using.  I only use Bob's Red Mill Tapioca Flour  in all of my baking.
  I would consider this recipe to be an advanced cooking level recipe.
Another tip: Read through the comments to see what others have done!
I am currently working on a video tutorial and will update with the link when it is finished.  Until then, please watch my Paleo Soft Pretzels recipe video as the technique is very similar.
Paleo Cinnamon Rolls II
Print
Instructions
Place the coconut oil, water and sea salt, maple syrup/honey in a small pan and bring to a boil. Let boil for 30 seconds.

Remove from the stove and add the tapioca flour in to the pan and mix with a spoon until you have a sticky dough.

Let this cool for 3- 4 minutes and then add in the coconut flour and egg.

Mix with a spoon until you have a soft dough and then remove from the pan and place on a piece of parchment paper. Knead for 1 minute.

Place a second piece of parchment paper over the top and then roll the dough into roughly a 7" x 11" rectangle that is 1/4 thick.

For the filling combine the maple syrup/honey, cinnamon and water in a small bowl. Toss in the coconut flakes, nuts and raisins until well coated.

Spoon this mixture evenly over the dough leaving a 1/2" board from the sides.

Now roll the dough into log and lightly press to pinch the seam.

Cut 1/4" off the ends of and then slice into 1" pieces.

Place the slices and ends flat side down on to a piece of parchment paper and bake at 350 for 30 - 35 minutes.

For the frosting mix the palm shortening, coconut milk, maple syrup and cinnamon with a hand blender.

Remove the cinnamon rolls from the oven and let cool for 3 - 5 minutes. Frost with the frosting and enjoy!!
Recipe Notes
Please read the post and comments to see the best way to create this recipe. 
Nutrition Facts
Paleo Cinnamon Rolls II
Amount Per Serving
Calories 528
Calories from Fat 360
% Daily Value*
Total Fat 40g 62%
Cholesterol 27mg 9%
Sodium 233mg 10%
Potassium 194mg 6%
Total Carbohydrates 41g 14%
Protein 4g 8%
* Percent Daily Values are based on a 2000 calorie diet.
© 2011-2013, A Girl Worth Saving. Feel free to pin my posts but do not repost my full recipe on your blog, Tumblr, or any other website.