Lately, I've been having dreams where I'm about to give birth or there is a stork dropping off a new bundle, and honestly it's been freaking me the heck out.  After having my son, I promptly got a tattoo that read "One and Done".   Ok, I didn't do that but I really am done with the whole human creation aspect of life and it wasn't until I finished my book that I realized I just had a book baby.   The feeling was similar to when I first saw my son (come on, nothing will ever compare to that moment),  and I did break down and cry when I realized what I had just done.  Sadly, I also kind of look like I just had a baby from the stress and constant cooking that happened in my kitchen, but it was so worth it.
Six months + $1500 worth of ingredients + 600 dishwasher loads + stretchy pants + a whole lot creativity  &  love = My book
I'm hoping to share the title and cover of it real soon!
So on to today's recipe.  For over a month this has been calling to me like a siren to a sailor at sea.    It's super easy and perfect for Mother's Day (which was yesterday, I know).  I made mine topped with whipped heavy whipping cream and shared with my husband and son.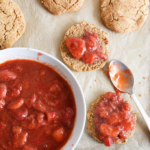 Strawberry Rhubarb Shortcake
Print
Ingredients
Stewed Strawberry Rhubarb
10

oz

large strawberries

12 , hulled and sliced

1

oz

large stalk of rhubarb

6 , cut into 1/2 inch thick slices

3

Tablespoons

Coconut Sugar

1/2

teaspoon

pure vanilla extract

1/4

cup

water
Instructions
Set a large pot over medium heat and add the strawberries, rhubarb, coconut sugar, vanilla and water.

Mix with a spoon and bring to a boil.

Reduce the heat to medium low and cook for 10 -15 minutes until most of the fruit has broken down.

Remove from the stove and set aside to cool.

Preheat your oven to 350 degrees.

In a large bowl combine the dry ingredients and mix with a spoon until you have a soft cookie dough-like mixture.

Wet your hands and shape into 3" wide biscuits and place on a baking sheet lined with parchment paper.

Place in your oven to cook for 20 -23 minutes.

Let cool completely.

To assemble, slice the shortcakes in half. On the bottom half spoon 1/4 cup of stewed strawberry rhubarb and 1/4 up Whipped Coconut Cream. Top with top half of the shortcake.

Enjoy!
© 2011-2014, A Girl Worth Saving. Feel free to pin my posts but do not repost my full recipe on your blog, Tumblr, or any other website.