Pancakes bring back fond memories of childhood Saturday mornings. With just a little bit of sausage on the side and a hearty drizzling of maple syrup, they were breakfast heaven. If you've been missing pancakes after going gluten-free, then you'll love these gluten-free buttermilk pancakes.
I'm a big pancake fan and I'll eat just about anything from chocolate chip to fruit pancakes. Growing up, my pancakes came from a box though, and fake maple syrup was poured from a plastic Aunt Jemima bottle. All that white flour and sugar tasted good at the time, but now that we're eating real, whole foods, I don't miss the box at all.
Gluten-free buttermilk pancakes
These pancakes use sweet white sorghum flour instead of my usual standby of rice flour. This lends a slight sweetness to the dough, without adding gluten. Sorghum is also high in iron, phosphorous, and potassium for an added nutritional punch.
And of course, you can't have buttermilk pancakes without the buttermilk. Traditionally, buttermilk is the sour liquid that's left after churning butter. The stuff you find at the grocery store though is nothing more than artificially thickened and flavored milk.
Making your own
It's beyond simple to make your own buttermilk, but if you don't have the time then check your local health food store. A co-op or farmer's market nearby may have some real buttermilk too.
If you're up for making your own, it literally takes seconds to churn raw, pastured cream into butter in the blender. Simply strain the remaining liquid off and you've got fresh buttermilk!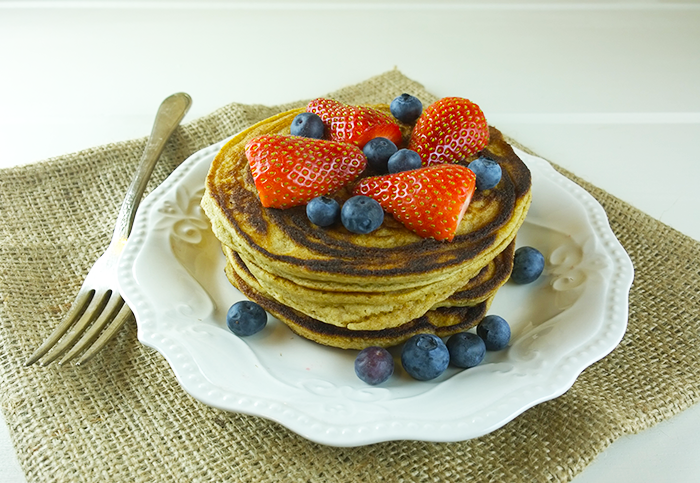 You can jazz these pancakes up with whatever you like. Fruit, nuts and chocolate chips can all go into the batter. My husband's favorite thing is when I put sliced sausage into the pancakes for an all in one sausage and pancake breakfast. I'm more of a purist and prefer to have my pancakes plain and simple, but with a tantalizing fruit sauce. However you like to eat your pancakes though, these gluten-free buttermilk pancakes will be a crowd pleaser!
Gluten-Free Buttermilk Pancakes
These pancakes are thick and fluffy and the perfect carrier for a hearty pat of butter and drizzle of maple syrup.
Print
Instructions
Preheat a well greased cast iron skillet over medium heat.

In a mixing bowl combine all of the dry ingredients and mix until incorporated.

Add the rest of the ingredients, starting with just 1/2 cup of water and mix just until thoroughly combined.

Add the rest of the water if needed. You want the batter to be on the thick side, but still pourable. This really depends on how thick your buttermilk is. The kind I used was on the thin side so I needed less water.

Using a 1/3 measuring cup pour the batter into the hot skillet. Cook until the top starts to look dry, then flip and cook for an additional minute.

Best served warm
PAID ENDORSEMENT DISCLOSURE: A Girl Worth Saving may receive monetary compensation or other types of remuneration for my endorsement, recommendation, testimonial and/or link to any products or services from this blog. I only recommend products that I wholeheartedly believe to be valuable or that I use myself. We are a participant in the Amazon Services LLC Associates Program, an affiliate advertising program designed to provide a means for us to earn fees by linking to Amazon.com and affiliated sites.