Gluten-free Flour Tortillas
When I was pregnant with Bubba, I started embracing all things gluten-free (including donuts – Hey I was pregnant).  I ate rice with abandon and even ate beans for the first time in years.  It was liberating and I realized that it was time to leave Paleo behind and embrace some aspects of the Gluten-free diet.   This is my way of saying expect me to starting making more gluten-free recipes. I still very much pay attention to how my body feels after I eat something but it's very nice to have way more flexibility in my diet.
Anyhow, a lot has changed in my life since I released my book Paleo Eats.  The summer after Paleo Eats was released, I found myself at rock bottom again, but this time from stress and spiritual breakdown that started me on the amazing path that I am now on.
In the words of one of my favorite songs, I have been made new in a lot of ways.  I have a deeper connection to spirit, an appreciation for every blessing in my life and a new little baby to love.   I've been thinking about my mission in this life. What am I to give this world? I never realized that making recipes for people would turn into sharing love but I know know that my mission is to help heal the world through love.
I make it my mission that my works (past, present and future) be a channel for divine love. Make it touch you and bless all who come into contact with it.   Even if you love my work or hate my work, I still know the divine will bless you.
Ok, I know you probably came to this recipe thinking I was only going to talk how I love to eat like 20 of these gluten-free tortillas and how addicting they are.
I am addicted to them.
I do  hope you will love them as much as I do but I had to get these words out.  This is who I am and I'm blessed to share it.
I repeat this recipe is addicting so stock up on the supplies because you will make them more than once a week.
Paleo Rainbow Cake
Since I'm turning, an oh so young 38 on Sunday, I figured it was time to do something really fun to celebrate, and somehow,  Paleo Rainbow Cake came to mind. Ok, yeah, I've had a slight fixation with the beautifully colored cake since I saw one on pinterest.  After one glance, the 4-year-old girl inside of me screamed "MOMMY I WANT ONE". Yeah, just like that,  in all caps too.
Now, once you transition to a real food lifestyle, you soon realize that bright colors like that are only the result of some chemical concoction that is pretty, but not the best for your body.   I went about creating a dairy-free and nut-free recipe that was made with whole foods like strawberries, blueberries, spinach and spices.
A couple of notes . . .
I pride myself on creating easy, fast recipes that taste good and this one tastes delicious, but not surprisingly,  is more work.  Again, don't expect this to be a 30 minute recipe, it's going to be an hour to get everything together.
I specifically used  6″ baking pans to  make this recipe.  I personally hate using a ton of eggs in a recipe and if I had made 5 full layer cakes I would have had to use 30 eggs. Yes, 30 eggs.  Instead I used 15 eggs and have a much cuter cake.   I bought my pans from Michael's and I only have 2 (I wish I had just run to the store and bought 2 more for this recipe). You will have one extra layer which I just made into cupcakes.
The overall flavor or the cake is vanilla (except for the strawberry and blueberry layers).  You could easily add peppermint extract to the green layer, lemon extract to the yellow layer and orange extract to the orange layer.   I didn't do this, as honestly, I didn't think of it since I was so focused on getting the colors correct!
© 2011-2014, A Girl Worth Saving. Feel free to pin my posts but do not repost my full recipe on your blog, Tumblr, or any other website.
Paleo Pumpkin Cheesecake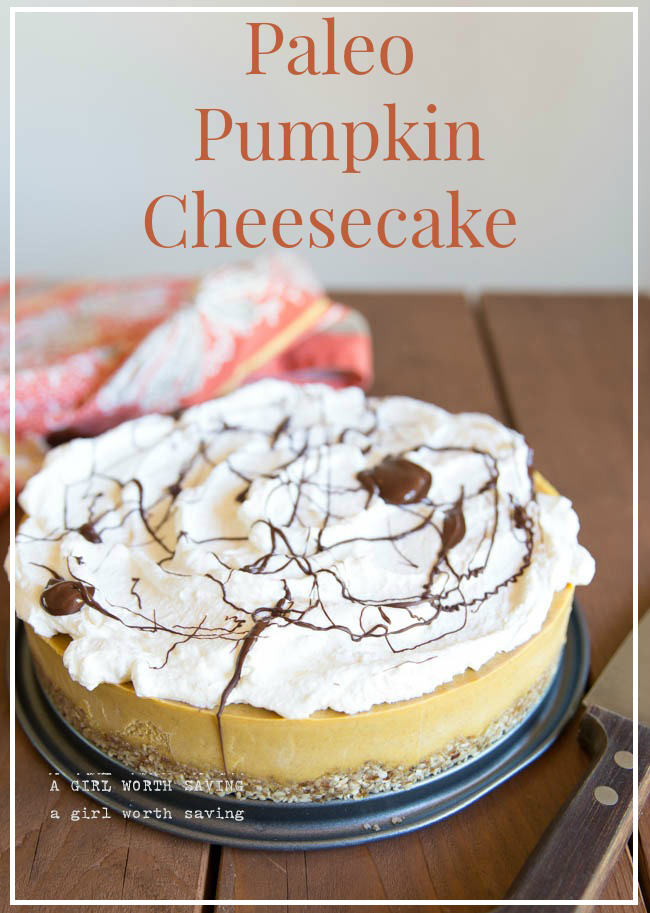 Until last year, I never understood why so many people went crazy for  pumpkin.  However, that all changed when I started creating paleo desserts with it and I knew I had to kick of Pumpkin season with something big so, I got in my kitchen and cooked  up this Paleo Pumpkin Cheesecake.
When my two taste testers had a bite, I knew that it was a hit when my son did an entire 20 minutes of yoga with me after I promised him another slice.
You can't have a dessert that looks like this without a couple of steps.  If you're feeling lazy you can totally skip the whipped topping and chocolate layer, but seriously, you don't want to do this and really it's only an extra 10 minutes of time.
Also, I have listed the weights for the Delget dates because they are much smaller than the much loved mejool dates (sometimes half the size).  This should make it easier to get the correct sweetness needed.
© 2011-2014, A Girl Worth Saving. Feel free to pin my posts but do not repost my full recipe on your blog, Tumblr, or any other website.
If you love pumpkin, also check out my Gooey Chocolate Chip Pumpkin Bread
Chocolate Chip Ice Cream Sandwiches
Repeat after me: Paleo Chocolate Chip Ice Cream Sandwiches
I have no idea why it's taken me so long to create one of these but well, with the summer heat beating down on my brain, I finally remembered how awesome sauce these things were growing up.
I've been avoiding nuts since I went a little crazy with the cookbook so these are nut-free and I also figured out a great way to make a delicious vegan ice cream recipe without banana! I know that will make some of you happy as pie.
This is my first ever cookie recipes made strictly with coconut flour and well, I kinda expected them to spread out and they didn't.  I've included steps to make them wider in the recipe so you put a lot more ice cream on them.
© 2011-2014, A Girl Worth Saving. Feel free to pin my posts but do not repost my full recipe on your blog, Tumblr, or any other website.
Coconut Banana Cookies + Low FODMAP Menus for IBS Cookbook
Until last year I had never heard the term Low FODMAP (Fermentable Oligo-Di-Monosaccharides and Polyols) and didn't realize how powerful it was at helping to heal irritable bowl syndrome. FODMAPS are the carbs (sugars) found in food however all carbs are not FODMAPS, confusing, I know. By eliminating these foods from your diet you can reduce your digestive issues by 80%.
My friend Suzanne from Strands of My Life put herself on the protocol and healed herself. As a cook and writer, she started running into not finding meal ideas and recipes centered around the diet so she created a book that helps suffers with meal plans and recipes.
What's inside?
A detailed list of foods you can and can not eat.
How to test if you are sensitive to them.
The signs and symptoms of FODMAPS and an explanation of the intolerance.
10 different menus
40 delicious recipes from carrot cake to Pesto Polenta tapas.
Suzanne is selling this book with life changing information for less than $20 and if you suffer from digestive issues, this might the final ticket that gives you relief!
She has been also kind enough to let me share one of the tasty recipes from her book. This recipe for Coconut Banana Cookies is simply delicious and so easy to make. I know that you'll love it as much as I did.
Suzanne is sponsoring a giveaway for one copy of her book. Enter below via the rafflecopter.
a Rafflecopter giveaway

The Gelatin Secret + Cinnamon Covered Paleo Marshmallows
So what's the big deal about Gelatin? It seems like every time I turn around someone is screaming from the mountain tops about how it helps clear skin, reduce wrinkles, health tooth decay and gives you hair like Beyonce.
With 40 glaring down on me like the eye of Sauron, I knew I had to start adding it to my diet.  I bought myself a can of it and starting putting it  in my tea every day and amazingly enough, I did see an improvement in my skin.  Seriously, I was in the middle of the dessert section of my book and eating sugar like a preteen and my skin cleared up.  Say What?  Yes and when my friend Sylvie from Hollywood Homestead sent me a copy of her book  The Gelatin Secret  I read through it immediately to see what other important information I had been missing.
If you are someone who suffers from the any of the following:
Joint pain
Acne and wrinkles
Tooth decay
Hormone imbalances
Constipation
Insomnia
Than you need to consider adding gelatin to your diet.  It's so simple to do. Seriously, add it to a cup of coffee in the morning and you are done for the day.
However, you need to make sure that you are buying the correct gelatin.  This is why the Gelatin Secret is your must have guide on how to navigate this super-food.
Learn The Real Truth to Gelatin
What's inside?
Learn the different between crap gelatin and real gelatin
How to get the most from gelatin
How gelatin nourishes each part of your body 
Why supplements aren't the best solution
Why you should use gelatin for Healing Bones
How gelatin helps heal your gut and how to repair leaky gut
How to easily lose weight with gelatin 
How gelatin is a beauty boost for your hair, skin and nails
The secret to healing tooth decay with gelatin
48 real food Paleo recipes using gelatin
and so much more!
This book is jam packed with information and an absolute bargain at less than $25.  No more guessing or having to search google for an hour to learn the amazing benefits of gelatin.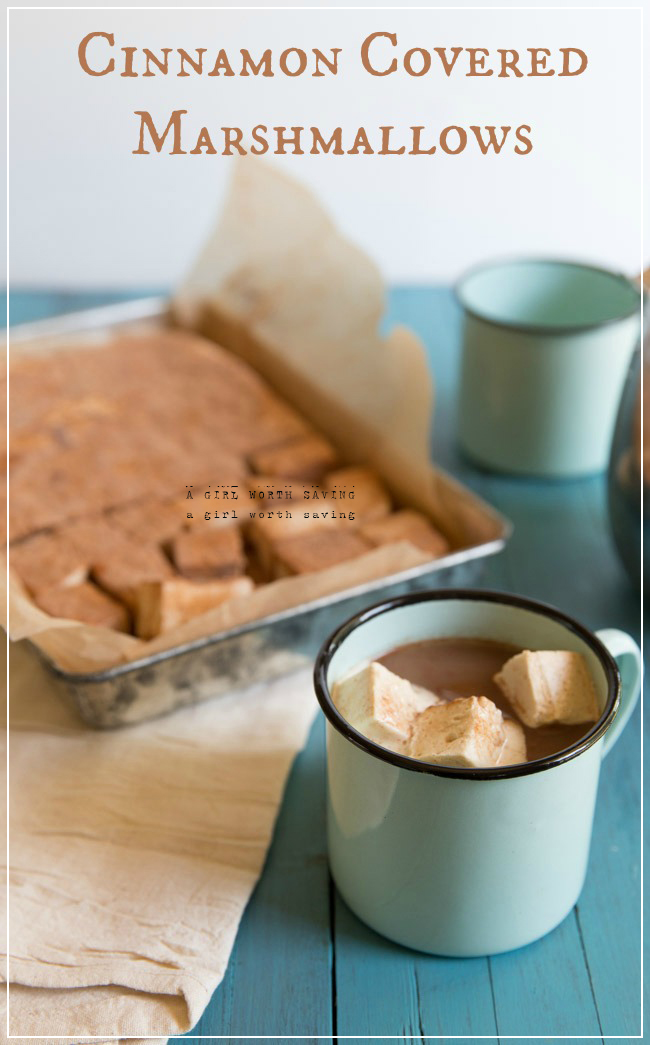 Here is one of the recipes from the book – Cinnamon Covered Paleo marshmallows that is just plain fun to eat.  Please note these can not take any heat and will melt immediately!