Print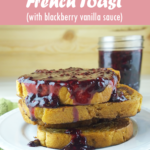 Gluten-free French Toast with Blackberry Vanilla Sauce
This deliciously sweet version of French toast is big on flavor, but not on gluten.
Heat a cast iron skillet over medium heat until drops of water thrown in sizzle on the surface. While the skillet is heating, whisk together the egg, cinnamon, ginger, vanilla and coconut sugar. Next, whisk in the milk.

Add a small amount, about 1 tsp, of butter or coconut oil to the skillet and allow it to melt and coat the pan. The coconut sugar makes this recipe a bit sticky, so make sure you don't skimp on the fat!

Dip the slices of bread into the batter and cook in the skillet, flipping after the underside is a golden brown.

Continue to add butter or coconut oil to the skillet each time your add more French toast slices.

While the French toast is cooking, you can make the blackberry vanilla sauce.

In a small lidded saucepan combine the blackberries, maple syrup and wine and cook over medium heat for about 5 minutes. Substitute water for the wine if you prefer not to use alcohol. Use a wooden spoon or potato masher to squish the soft berries as they cook.

In a cup, mix together the arrowroot powder and 1 Tbsp of water until smooth. Add this to the simmering blackberries, whisking well to combine. Cook for an additional 2-3 minutes, or until the sauce is thickened.

Remove from heat and add vanilla.

Serve the French toast warm with butter or cream cheese and a hearty dollop of blackberry vanilla sauce.