Paleo Sex in a Pan
Sex in a pan; it's a crazy name for a dessert and no one's really sure where the name comes from, but it is a really delicious dish that is great for any occasion.  Traditionally it's made with six layers: a pecan and flour crust, a cream cheese layer, instant vanilla pudding, instant chocolate pudding, whipped cream, and shaved chocolate.  It's truly decadent.
This paleo-fied version is just as amazing, without the need for grains, refined sugar, dairy, or anything instant or packaged.  My family could not believe it was dairy-free; and asked me to make it again soon!
Another awesome thing about this recipe is that it's full of healthy fats from coconut milk, coconut oil, avocado, and dark chocolate.  It's quite a satisfying dessert and a great way to end any meal.
Whatever you call this dessert, be sure to make this Paleo version; the flaky pecan crust, creamy "cheese" and chocolate layers, and whipped coconut cream are just as scrumptious as the original!
Apple Breakfast Cookies
Sometimes you just don't have time to make an omelet and sausage in the morning. Or perhaps you've got the afternoon cravings and nothing's there except gluten-filled confections. Or maybe you're just tired of eggs. Avoid these situations with this delicious recipe for Apple Breakfast Cookies! These would be awesome in the morning paired with some jerky for extra protein. No more excuses to skip breakfast!
These cookies are so moist and full of delicious apple spice flavor. They are sweetened with just a banana, two apples, and some maple syrup. All natural sugars that contain lots of minerals to help the body cope with the carbohydrates.
I love adding collagen peptides to recipes because its a protein that we just don't get from muscle meats and eggs. It's super healing for the gut, hair, skin, nails and muscles. Plus it's completely tasteless, so you can't tell there's collagen in your breakfast cookies at all!
I think the addition of pecans to this recipe is simply amazing, but if you're allergic to nuts you don't have to put them on. If you're not allergic to nuts, feel free to play around and try almonds, hazelnuts, or whatever nut you like. Stirring some sunflower seeds or pumpkin seeds in the batter would also be really yummy.
These cookies would also make a really nice addition to a child's school lunch as a yummy dessert or as a between-classes snack to help fuel him/her. Their friends might just be jealous!
One bowl, ten minutes prep time, and twenty minutes in the oven; these are so incredibly simple to make. You can whip up a batch or even a double batch on Sunday and have them for the rest of the week! You'll probably want to store them in the refrigerator.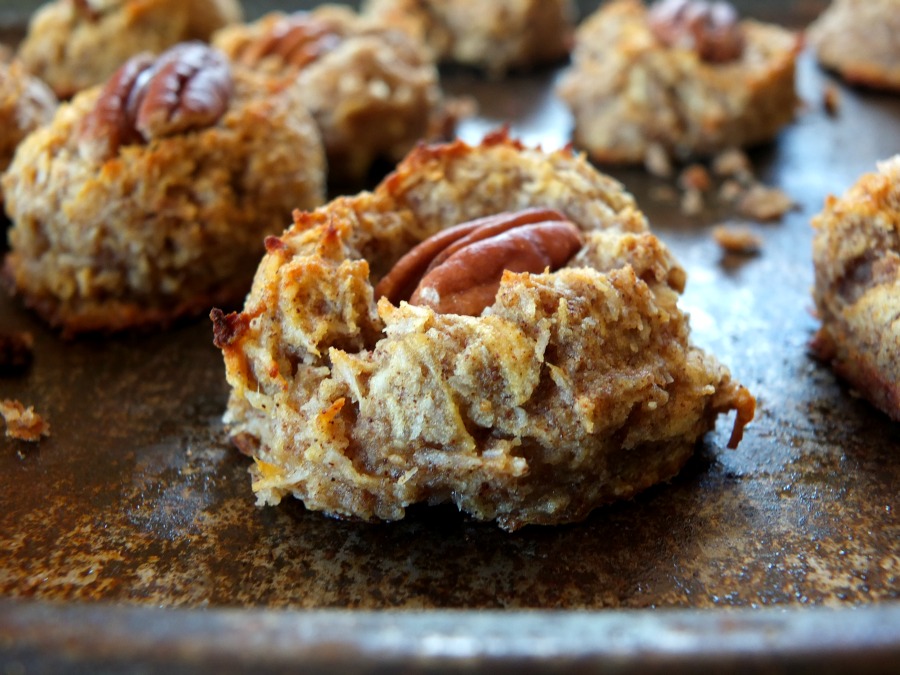 Orange Scones
Last week I got a cold and, as usual, my taste buds went into hibernation.   It wasn't until Sunday that I finally felt confidant that anything I created in my kitchen wouldn't be some strange disaster of salt and too many eggs.     I went into my kitchen and stared at my pantry for a good 30 minuted before I decided to try to adapt one of my all time favorite scone recipes.   This is the recipe that won the the heart of my Mother-in-law.  Actually, I've the saying "The stomach is the way to a man's heart" pretty much applies to anyone.  If you cook them a good meal, they can't help but think kind thoughts about you.
This is so simple but tasty and seriously pretty darn close to the original.  I hope you enjoy it as much as we did!
© 2011-2014, A Girl Worth Saving. Feel free to pin my posts but do not repost my full recipe on your blog, Tumblr, or any other website.
Paleo Chocolate Waffles
If you just said "No, she did not just put chocolate sauce all over those Paleo chocolate waffles." Yes. Yes, I did.
Even though these are waffles, this is a dessert ya'll.
They're perfect for something a little bit different for Valentines Day when the standard chocolate covered strawberries sound boring or you just need to get down on some chocolate goodness.
These are waffles are HUGE so expect to share (or not if you so choose).  I hope you enjoy them as much as we did!
© 2011-2014, A Girl Worth Saving. Feel free to pin my posts but do not repost my full recipe on your blog, Tumblr, or any other website.
Paleo Sugar Cookies
It is not a holiday without paleo sugar cookies.  I used to eat my weight every single year so you know I was doing a happy dance and forgetting about calories and carbs when I came up with this sugar cookie beauty.
I decided to do everything in my food processor so I wouldn't have to hand mix the dough. Seriously, this is the easiest way to do it.
Paleo Sugar Cookie dough goodness and only one container to clean when you're done.
© 2011-2013, A Girl Worth Saving. Feel free to pin my posts but do not repost my full recipe on your blog, Tumblr, or any other website
Pumpkin Spice Thumbprint Cookies
The 21 Day Sugar Detox has been an adventure to say the least.  Lately, I've been grumpy.  Like grumpy enough to rival Oscar the grouch and the Grinch, pre-Christmas Spirit.  I've started taking extra Natural Calm so I can be civil.
However, I can see the plus sides of the diet already: I've lost some inches without working out and my skin issues are clearing up. I'm also realizing how much cheating I was doing – every dang day.  I'm not saying that come November 22nd at 12:01 a.m. that I'm going to wake up and eat a candy bar but I do miss the convenience of eating some of my favorite 85% dark chocolate when I feel like it.
I'm going to say that doing this diet is harder for someone who is a food blogger! Seriously, if you don't know me by now, you know that I share a lot of sweets.  It's been fun though seeing what I desserts I can create that are 21 Day Sugar detox compliant and vegan.    This recipe turned out excellent and I love the sharp bite of apple in the frosting paired with the pumpkin spice.   These cookies are super filling so be warned.
© 2011-2013, A Girl Worth Saving. Feel free to pin my posts but do not repost my full recipe on your blog, Tumblr, or any other website.