Last Updated on December 6, 2020
Sometimes you just don't have time to make an omelet and sausage in the morning. Or perhaps you've got the afternoon cravings and nothing's there except gluten-filled confections. Or maybe you're just tired of eggs. Avoid these situations with this delicious recipe for Apple Breakfast Cookies! These would be awesome in the morning paired with some jerky for extra protein. No more excuses to skip breakfast!
These cookies are so moist and full of delicious apple spice flavor. They are sweetened with just a banana, two apples, and some maple syrup. All natural sugars that contain lots of minerals to help the body cope with the carbohydrates.
I love adding collagen peptides to recipes because its a protein that we just don't get from muscle meats and eggs. It's super healing for the gut, hair, skin, nails and muscles. Plus it's completely tasteless, so you can't tell there's collagen in your breakfast cookies at all!
I think the addition of pecans to this recipe is simply amazing, but if you're allergic to nuts you don't have to put them on. If you're not allergic to nuts, feel free to play around and try almonds, hazelnuts, or whatever nut you like. Stirring some sunflower seeds or pumpkin seeds in the batter would also be really yummy.
These cookies would also make a really nice addition to a child's school lunch as a yummy dessert or as a between-classes snack to help fuel him/her. Their friends might just be jealous!
One bowl, ten minutes prep time, and twenty minutes in the oven; these are so incredibly simple to make. You can whip up a batch or even a double batch on Sunday and have them for the rest of the week! You'll probably want to store them in the refrigerator.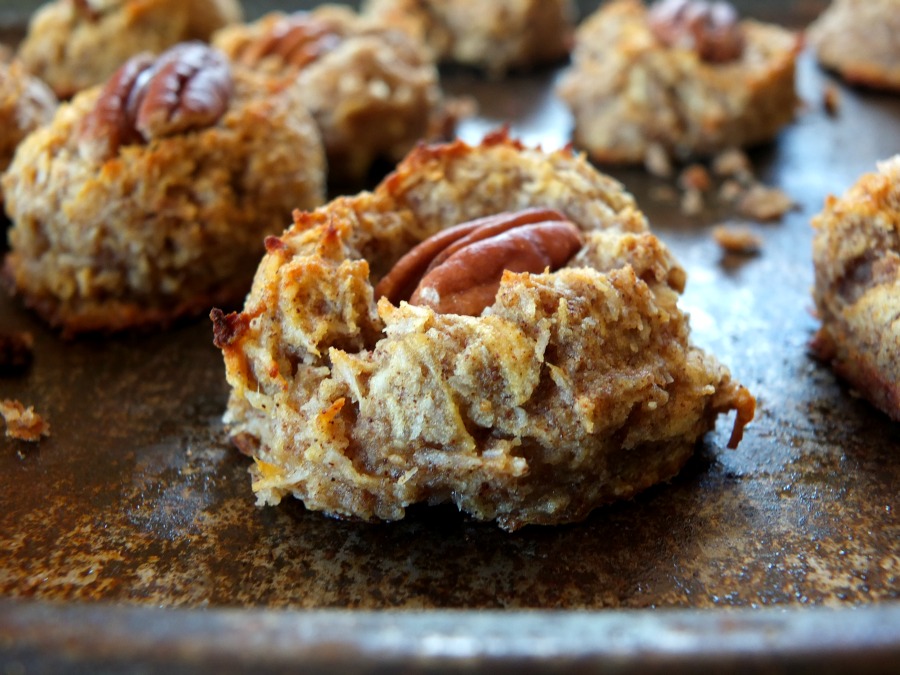 Yield:

1 dozen
Apple Breakfast Cookies
Ingredients
1 banana
2 apples, peeled and grated
⅓ cup coconut oil, melted
3-5 tablespoons B grade maple syrup
2 eggs
1 cup finely shredded unsweetened coconut flakes
⅓ cup collagen peptides
⅓ cup coconut flour
1 tablespoon ground cinnamon power
½ teaspoon nutmeg
cloves Pinch ground
Raw pecan halves
Instructions
Preheat oven to 350° F. and grease a large baking sheet with a bit of coconut oil.
In a large mixing bowl, mash the banana and stir in the apples, coconut oil, maple syrup, and eggs.
Add the coconut and mix well.
Add the collagen peptides, coconut flour, cinnamon, nutmeg, and cloves. Mix well.
Drop by heaping tablespoonfuls onto the prepared baking sheet and press a raw pecan half into the top of each cookie.
Bake for 25-28 minutes.