Last Updated on December 29, 2022
Are you ready to learn how to make the best Crockpot BBQ chicken? This simple recipe uses chicken breasts and BBQ sauce – and that's it! Forget about spending hours of your time trying to make perfectly cooked chicken breast and just let your slow cooker take over and do it for you!
You'll love the ease of this crockpot bbq chicken recipe. You can cook this from frozen chicken breasts or fresh chicken breasts as well.
Delicious Slow Cooker Chicken Breasts with BBQ sauce
Who loves barbecue sauce as much as I do? I love using it for BBQ pulled chicken, slow cooker bbq chicken, bbq chicken sandwiches, and anything else that I can use shredded chicken or BBQ sauce with!
Once you cook boneless skinless chicken breasts in the crock pot, you're going to love the simplicity of this dish! If you're needing a recipe for dinner tonight, this easy recipe is it!
The first bite – all the way to the last one – is absolutely delicious! This is the easiest BBQ chicken recipe that you'll ever make.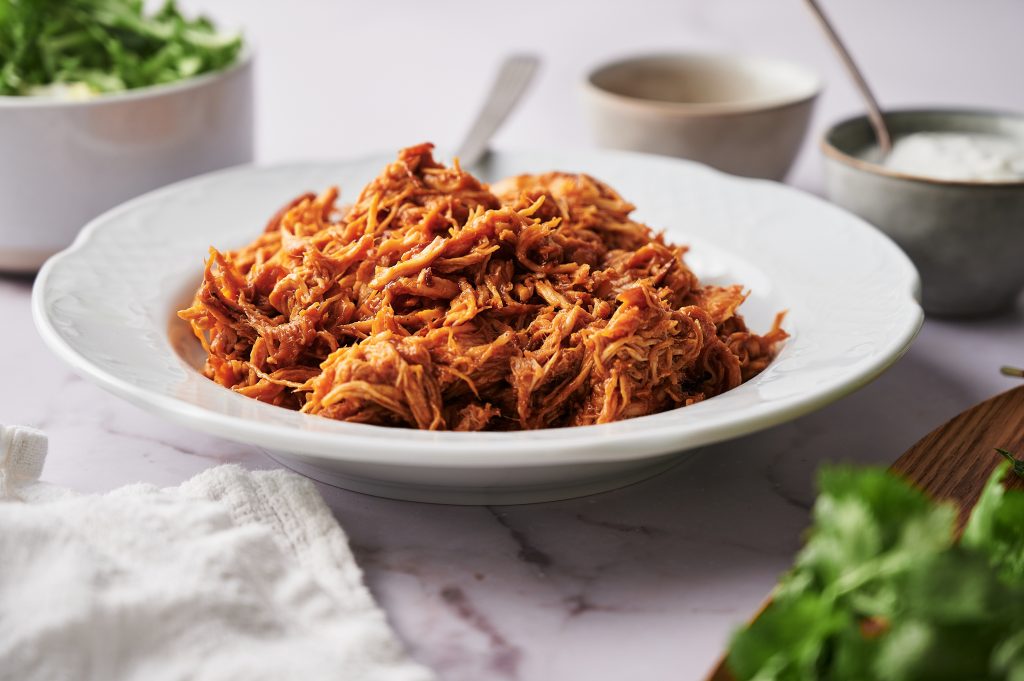 Ingredients needed to make Slow Cooker BBQ Chicken
All that you ned to cook this barbecue chicken can be found below! Get ready to fall in love with the rich BBQ flavor.
How to make Pulled BBQ Chicken
When it comes to easy meals, you just need to follow the steps below. The recipe calls for minimal ingredients, and you literally just have to add chicken to the crock pot. It'll cook the chicken until it's fall apart tender and is seriously such an amazing recipe.
In a crockpot place the chicken breasts at the bottom and cover with the primal BBQ sauce. Using a spatula or large spoon stir together so the BBQ sauce fully coats the chicken breasts. When you are done mixing make sure the chicken breasts are laying flat at the bottom of the crockpot so they cook evenly
Turn the crockpot on high for 4 hours. After 4 hours the chicken is done and is ready to shred. If you are not home you can set the crockpot on low for 6 hours. My crockpot goes to warm after the time is done so I will set it on high for 4 hours and let it warm until I am ready for the chicken
Once the chicken is done shred the chicken in the crockpot with two forks. The chicken will shred very easily and the BBQ sauce will completely mix together with the chicken for the perfect shredded BBQ chicken
Tips for making Shredded Chicken in the Crock Pot
Be sure to let the slow cooker do all the work. This pulled chicken recipe is similar to the texture of pulled pork, with with your favorite BBQ sauce!
Pay attention to the cooking time and follow it. The cook time is important to be sure that the chicken is cooked all the way.
If you want to use another cut of chicken, you can. You can use chicken thighs for this dish, just be sure that you're using skinless chicken thighs and are removing any bones.
Variations
Add seasonings – You can add onion powder, worcestershire sauce, smoked paprika, a little bit of dark brown sugar, garlic powder, soy sauce, and more.
Add some heat – You can easily add hot sauce to kick up the flavor!
Change up the BBQ sauce – You can make your own, or use some Sweet Baby Rays!
What delicious recipes pair with slow cooker chicken breasts?
Literally anything pairs with this dish! Once you shred chicken, you can pair it with green beans, a baked potato, red potato salad, cole slaw or just eat it as is. Delicious meals like this can be paired with just about anything!
Can you freeze this slow cooker chicken?
Yes, you can create so many freezer meals using this recipe! This is why popular recipes like this need to be made! You can cook the chicken, shred chicken, and then add it to a freezer-safe container or bag and store it for later.
How do I store leftover chicken?
Once this shredded chicken is cooled down, you just need to store it in an airtight container and keep it chilled in the fridge. This makes it a simple main course cuisine that you can eat again within 1-2 days.
Can I make this shredded chicken recipe spicy?
You an. Just add some hot sauce, red pepper flakes, or even a little bit of sriracha sauce.
Is it possible to overcook chicken?
Yes, even in the slow cooker, you can overcook chicken. This chicken recipe needs to be cooked slowly so that it stays tender, but don't overcook it.
If the chicken is hard and stringy, it's a sign that it's been cooked for too long.
What toppings go with cooked chicken?
Since you're adding BBQ sauce to this dish, you don't really have to add anything else. Ground black pepper is a great addition, as is a little bit of salt. If you add salt, just do a tad bit so that you don't make it too salty.
What are some ways to eat this slow cooker frozen chicken?
You can literally shred chicken and eat it just like that because it's going to be fall apart tender once it's cooked.
You can also add it to rolls or bread and make a yummy sandwich, too!
This recipe calls for simple ingredients and really is so fun to make! When it comes to some of the best gluten free recipes, I highly recommend that you cook this one up! It's the perfect way to fuel your belly, while also giving your taste buds a treat.
Plus, having it cook in the slow cooker all day and welcoming you with that scent when you walk in the door is the perfect way to put up your feet at the end of a long day! Nothing like having a hearty dinner ready and waiting!
Yield:

6
Crockpot BBQ Chicken
Total Time:
4 hours
5 minutes
Nothing beats the smell of a delicious Crockpot BBQ chicken slow cooking away in a slow cooker. There's just something about the combination of the tangy sauce and tender meat that's just so irresistible. It's no wonder this is such a popular dish!
Ingredients
4 boneless, skinless organic free-range chicken breasts
Instructions
In a crockpot place the chicken breasts at the bottom and cover with the primal BBQ sauce. Using a spatula or large spoon stir together so the BBQ sauce fully coats the chicken breasts. When you are done mixing make sure the chicken breasts are laying flat at the bottom of the crockpot so they cook evenly
Turn the crockpot on high for 4 hours. After 4 hours the chicken is done and is ready to shred. If you are not home you can set the crockpot on low for 6 hours. My crockpot goes to warm after the time is done so I will set it on high for 4 hours and let it warm until I am ready for the chicken
Once the chicken is done shred the chicken in the crockpot with two forks. The chicken will shred very easily and the BBQ sauce will completely mix together with the chicken for the perfect shredded BBQ chicken
Nutrition Information:
Yield:
6
Serving Size:
1
Amount Per Serving:
Calories:

63
Total Fat:

1g
Saturated Fat:

0g
Trans Fat:

0g
Unsaturated Fat:

0g
Cholesterol:

17mg
Sodium:

73mg
Carbohydrates:

7g
Fiber:

1g
Sugar:

6g
Protein:

7g