Last Updated on December 6, 2020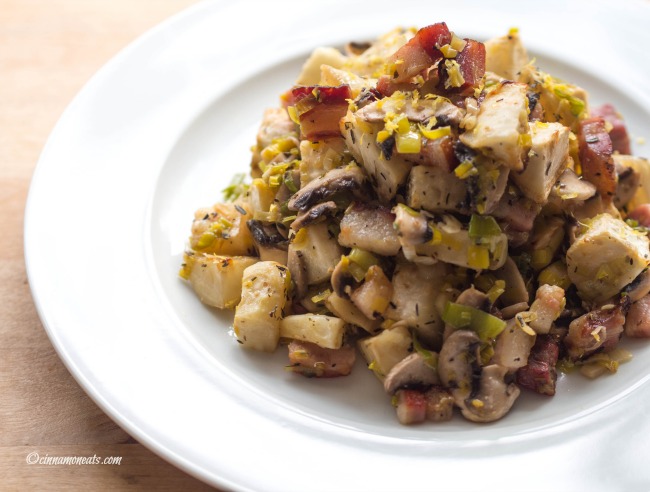 This week I'm bringing you another amazing Paleo food blogger. First, I just love the name of Naz's blog "

Cinnamon Eats

." Seriously I could say that phrase over and over again. She has an incredible blog packed with more delicious recipes and helpful cooking tips so I suggest you go check her out!"
Hello to all A Girl Worth Saving Readers,
I'm so excited to be here sharing a guest post! Kelly and I connected via Facebook and I'm so glad that we did. She's truly an inspiration to me, juggling a little one, married life and consistently sharing amazing recipes and support for the paleo community. Ever since I connected with Kelly I've been pouring over her blog and just love everything she does (how gorgeous are her food photos!).
So a little about me, I'm Naz the blogger behind Cinnamon Eats. I've been blogging since 2011 when my husband and I moved to Michigan, U.S from Melbourne, Australia (we currently live in England, UK). I didn't go paleo until 2012 though and have been following this way of life ever since.
For me, a major part of eating paleo is trying to eat with the seasons. I like to research what's in season at any given time when I want to try my hand at a new recipe, I find that not only is this better for my husband and I, and for the environment (seasonal produce means less mileage to reach us) but that it opens my eyes up to a wider range of produce, things that I may never have cooked with before. This is what happened with this recipe I'm going to be sharing with you today.
It uses a few simple ingredients but packs a lot of flavor and is delicious! I've made it twice so far and it's husband approved as well (always a good sign!). The key ingredient in this recipe is roasted celeriac root or celery root. Ever heard of it? I had but I had never cooked with it. I had walked past it many times at the grocery store and Farmers Markets but never picked it up, until just recently and now I'm a BIG fan.
Celeriac root is the root of the celery plant, hence the alternate name Celery root, it looks kind of ugly but has an amazing taste and can be prepared in a number of ways. To pick a good one, go for one that feels heavy and is as smooth as possible, because it needs to be peeled well and this can get tricky because of all the bumps on the outside of the celeriac root. You can store it on the bottom shelf of your fridge for a few weeks. As I mentioned celeriac root can be prepared in a number of ways, some people turn it into a mash, much like potato mash (you can even mix the two together), you can also peel it into strands or use a spiralizer to turn it into noodles or even add it raw into salads. For this recipe I roasted the celeriac and it tasted amazing.
You can eat this recipe as is or you could turn it into a frittata by adding in some eggs or even just adding some fried eggs on top for a more breakfast type dish.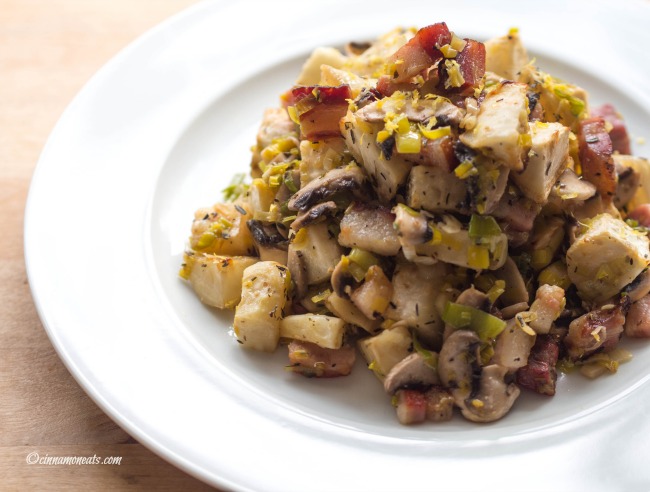 Roasted Celeriac with Smoked Pancetta, Mushrooms and Leek
Ingredients
2 celeriac root, around 1lb each, peeled well and cut into even sized chunks.
9 oz mushrooms, sliced.
7 oz smoked pancetta or regular pancetta, diced.
1 medium leek, You can save the dark green parts to use when making stock, white and light green parts only, sliced into thing rounds. .
1/2-1 Tbsp dried thyme.
1 Tbsp ghee, melted.
Sea salt, to taste.
black pepper, to taste.
Instructions
Preheat oven to 425.
Line a baking dish with foil or parchment paper.
Place diced celeriac root into the baking dish, and sprinkle over the dried thyme, some salt and pepper.
Using your hands toss to coat the seasoning evenly over the celeriac root.
Pour over the melted grass-fed butter/ghee.
Place into the preheated oven for 40 minutes, making sure to toss and turn the diced celeriac root halfway through the roasting process.
While the celery root is roasting in the oven, place a skillet on medium heat.
Once hot add in the diced pancetta.
Cook until the pancetta starts to crisp up and release its fat.
Remove the pancetta onto a paper-lined plate, reserving the fat in the skillet.
Add in the sliced leek and cook until just softened.
Add in the sliced mushrooms, cook until the mushrooms and leek have both softened.
Season with some freshly cracked pepper.
Add the pancetta back in and lower the heat.
Remove the roasted celeriac root from the oven and carefully add it into the pancetta mixture.
Toss to mix everything together.
Taste to check for seasoning and enjoy!
Nazanin or Naz (as her friends like to call her) is an Australian expat living in the UK. She left Australia in 2011 with her husband Joe to move to Michigan, U.S. where they stayed for just under two years. Naz started her journey to paleo eating in 2011 and runs her own paleo based food blog at Cinnamon Eats. She loves to create delicious and simple to make paleo recipes that she believes people will enjoy.
Apart from her blog you can connect with Naz via her Facebook Page, Google+, Instagram or Twitter.