I finally broke down and realized that you need eggs to make Paleo wraps.  The thing is, I really hate using a lot of eggs in my recipes.  One, we already go through 2 dozen eggs a week, not including my baking.  Two, I hate eggy tasting foods.
After working on this for a month, I finally got the egg count down to four ( one egg will only use the egg white)  and, in my opinion, they taste pretty darn good.
Again, I broke out my new favorite ingredient, sesame seeds.   They really give the wrap a lot of depth and flavor, and they would pair really well with hummus or curries.   I was almost tempted to call this naan or pitta because the flavor is so similar.
However, it goes really well with anything you want to wrap up –  or goodness, I didn't even think about it, but this would be an amazing Quesadilla!
I ended up making Paleo Enchiladas with this recipe and they are seriously amazing and hold up perfectly even with the sauce.
The texture of the wrap really reminds me of a flour tortilla and wow, is it foldable.   These freeze and reheat really well so you can make a bigger batch and freeze some for later.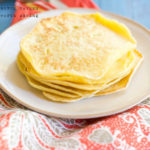 Paleo Wraps
Print
Instructions
Place a medium skillet over medium heat and grease your pan with the coconut oil.

In a mixing bowl add the ingredients and whisk for one minute.

Pour out a 5" circle into your pan and cook for 3 to 4 minutes until browned.

Flip and brown the other side.

Remove from the pan and repeat.

Tip: Re-whisk the batter before you pour a new wrap.

Enjoy!
Nutrition Facts
Paleo Wraps
Amount Per Serving
Calories 248
Calories from Fat 135
% Daily Value*
Total Fat 15g 23%
Cholesterol 163mg 54%
Sodium 650mg 27%
Potassium 135mg 4%
Total Carbohydrates 21g 7%
Protein 8g 16%
* Percent Daily Values are based on a 2000 calorie diet.
© 2011-2013, A Girl Worth Saving. Feel free to pin my posts but do not repost my full recipe on your blog, Tumblr, or any other website