Last Updated on December 7, 2020
Oh mama this is good. It's light and has an incredible sweet crisp finish that reminds me of exactly of paleo Cinnamon Toast Crunch. It also makes the perfect sweet crackers for snacking – hence why we ate the entire batch in the first day. I knew that I had hit my goal when Mr. Bejelly told me they reminded him of cereal after his first bite.
Now the trick is to roll them fairly thin so they get crunchy – I'd try to stay at 1/4″ thick or less. Any thicker than this and it's a soft graham cracker type consistency. They will get a little darker brown when baking but the taste only improves.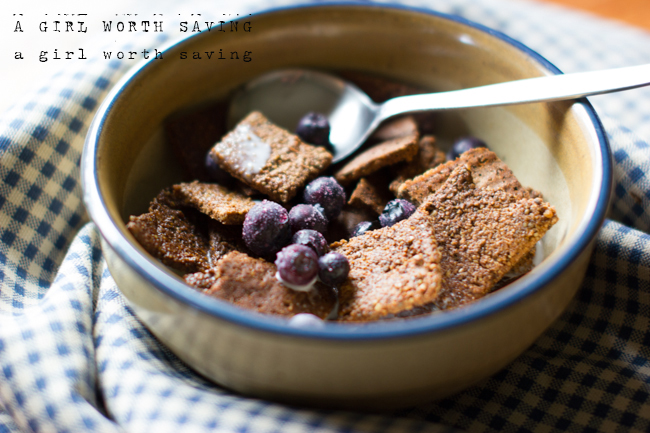 Yield:

8
Paleo Cinnamon Square Crunch Cereal
Ingredients
1 cup of coconut shreds
1/2 cup of sunflower seeds
1/4 cup of chia seeds
1 Tablespoon ground cinnamon power
1/4 teaspoon sea salt
1/4 cup B grade maple syrup
1 large egg
Instructions
In a blender or food processor, add the coconut shreds, sunflower seeds, chia seeds , cinnamon and sea salt. Pulse until you have a flour.
Place the flour in a small mixing bowl and add the maple syrup and egg.
Blend well.
Scoop the mixture onto a piece of parchment paper and cover with another piece of parchment paper.
Roll until you have a rectangle, roughly 8" x 10" and 1/4" thick.
Remove the top sheet and pre-cut the dough into 1/2" x 1/2" squares.
Place the parchment paper on a baking sheet and cook at 325 for 20 - 25 minutes until dark brown.
© 2011-2013, A Girl Worth Saving. Feel free to pin my posts but do not repost my full recipe on your blog, Tumblr, or any other website.