Now that I've fully embraces the Keto lifestyle, I seriously realize how hard it is to enjoy some of my favorite restaurant foods. My family loves to go to Schezwan Kitchen and trust me, I've eating my fill of their amazing gluten-free sweet and sour chicken, but now, like that place is pretty off limits for me.  There is nothing on the menu, sans water, that I can eat without dealing with cornstarch and tons of carbs.   Enter this amazing Keto Sweet and Sour chicken recipe from the Keto  Restaurant Favorites and I'm one happy mama. 
From Amazon:
Keto Restaurant Favorites answers the demand for a one-stop cookbook that allows you to easily replicate your favorite restaurant cuisine in your own kitchen. Maria's recipes masterfully mimic the dishes you love using healthy, readily accessible ingredients. In addition to classic American fare, this book offers recipes for a variety of cuisines, including Italian, Chinese, Mexican, and Thai. Maria even includes favorites from the kids' menu!
Recipes include:
•                Bacon cheeseburger
•                Copycat Frosty
•                Corn dogs
•                Curry
•                Pho
•                Tom ka gai
•                Carne asada
•                Gnocchi
•                Calzones
•                Cannoli
•                General Tso's
•                And many more!
With nearly 170 recipes covering a broad spectrum of restaurant cuisine, Keto Restaurant Favorites is sure to please even the pickiest eaters. Say goodbye to feeling deprived! This book gives you all the tools you need to re-create your favorite dine-in and takeout offerings in a healthy and delicious ketogenic way.
You know you need this cookbook so buy it today or go enter my giveaway here.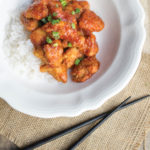 Keto Sweet and Sour Chicken
Print
Instructions
Sweet and Sour Sauce - Use only 1/4 Cup for the recipe
Place the tomato paste, broth, sweetener, vinegar, lime juice, fish sauce, salt, garlic powder and ginger in a medium-zied saucepan over medium heat. Stir well to combine. Bring the mixture to a boil, stirring often. Boil for 3 minutes, stirring occasionally, until thickened to your liking. Remove from the heat and let cool. Sift in the guar gum, if using, and whisk until well combined. Pour the sauce into a jar and refrigerate until ready to use.
Chicken
Heat the oil in a 4-inch-deep (or deeper) cast-iron skillet over medium heat at 350 degrees. The oil should be 1 inch deep, add more if needed.

Bread the chicken: Crack the eggs into a shallow baking dish and beat lightly with a fork. In another shallow baking dish, combine the powdered Parmesan and pepper. Dip a chicken nugget into the eggs, then the cheese mixture. Coat well.

When the oil is hot, fry the nuggets in batches for about 5 minutes, until golden brown and cooked through.

Baste the fried chicken nuggets with the sauce. serve over rice and garnish with scallions, if desired
Recipe Notes
Nutritional Info per serving:
521 calories, 36 g fat, 45g protein, 8g carbs, 4g fiber
PAID ENDORSEMENT DISCLOSURE: A Girl Worth Saving may receive monetary compensation or other types of remuneration for my endorsement, recommendation, testimonial and/or link to any products or services from this blog. I only recommend products that I wholeheartedly believe to be valuable or that I use myself. We are a participant in the Amazon Services LLC Associates Program, an affiliate advertising program designed to provide a means for us to earn fees by linking to Amazon.com and affiliated sites.