Chocolate Covered Cherries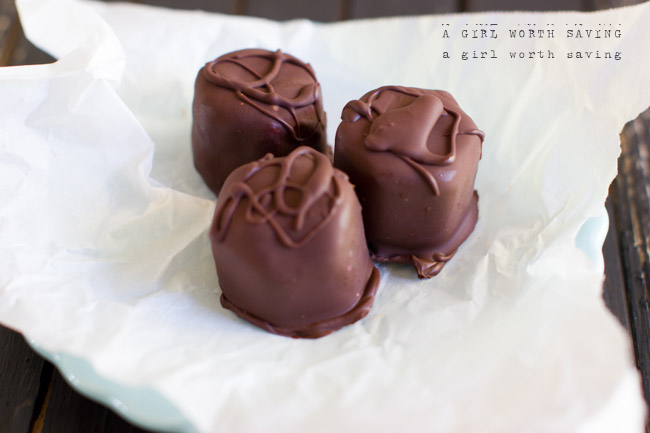 In 7th grade, my then best friend,  bought me a box of chocolate covered cherries for Christmas.  I only had to shake the box to know what treat she had wrapped in the Christmas tree lined paper.  I ripped it open, which made her mad since I was supposed to wait for the 25th, and gulped down three in a row.   As soon as I got home, my father confiscated my chocolate covered cherries and that was the end of that gift.
When I started working on this recipe, I did not want to replicate the syrup in the store-bought ones that I used to love.  First, that is a ton of sugar that no one needs to eat.  I ended up with a delicious creamy consistency that just rocked my socks off.    You can make this recipe vegan by switching out the chocolate chips. However, I made this using the Ghirardelli 60% Dark Chocolate Chips and it was a cake walk compared to when I used the Enjoy Life brand.   The Enjoy Life brand just got super sticky and it was tough to coat the cherries. You could try tweaking it with coconut oil to make the process a little easier.
Chocolate Covered Cherries
Print
Ingredients
34

pound

frozen cherries

I just bought a bag of cherries and used 34

1/2

cup

of expeller pressed coconut oil

1/4

teaspoon

sea salt

1/2

teaspoon

pure vanilla extract

2

tablespoon

of honey

1

tablespoon

tapioca flour

1

bag of Ghirardelli 60% Dark Chocolate Chips

Hexagon Silicone Ice cube tray
Instructions
Next, place 20 cherries, the coconut oil, honey, sea salt, vanilla and honey in a medium sauce pan and bring to a boil.

Mash the cherries with a potato masher to help break them up.

Cook for 3 minutes and then add in the tapioca four. Cook for one minute. Break out your

stick blender

or pour the mixture unto your blender and pulse to for 1 minute or until the filling is completely smooth and blended.

Pour the filling over the cherries in the ice cube tray.

Place in your freezer for 8 hours.

Remove the frozen cherry filling from the tray and set back in the freezer until you are ready to coat them.

In a saucepan melt 1 cup of the dark chocolate chips. Remove from the heat and then drop the cherry bites in, one at a time, and coat with the chocolate on all sides. TIP: The chocolate will start to firm up after a few cherries have been coated. Set the pan back on the stove top and add more chocolate chips until it is a smooth, liquidy consistency and then let cool for 30 seconds before you continue the process. You will go through the whole bag of chips.

Set on a piece of parchment paper and when complete, move them to the fridge.

Enjoy!
© 2011-2013, A Girl Worth Saving. Feel free to pin my posts but do not repost my full recipe on your blog, Tumblr, or any other website
link
Cherry Cheesecake Popsicles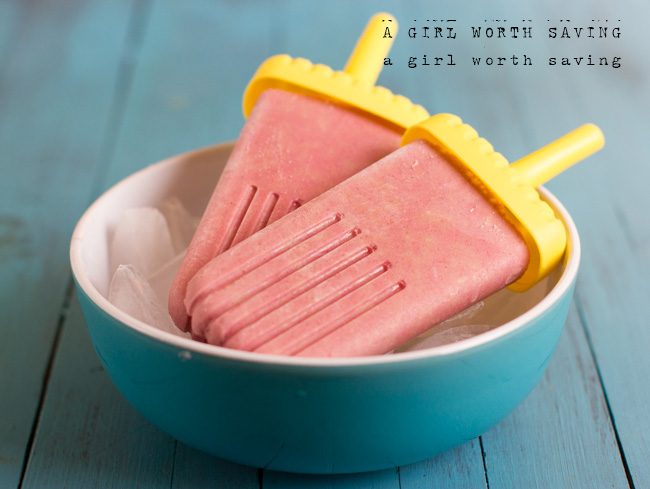 I didn't have  fresh cherries  until I was 25 and moved to Portland.  My parents didn't buy them for us growing up as they had to somehow feed 4 growing children on my father's military pay.  Let's just say I ate a lot of canned foods and rice and what fruit we ate was limited to oranges and apples.
Somehow between leaving the nest for college and striking out on my own voyage, I managed to avoid eating fresh cherries and what a mistake.
Anything fresh and in season is a dance party for your taste-buds.  You start keeping track of when fruit is at it's ripest and eat as much of it as humanly possible during that time period.  Well, at least I do and then I start thinking what other yummy ways I can transform nature's berry into a special treat.    Now anytime you mess with fresh cherries to make a dessert you will need a cherry pitter.  It's fun to use and leaves a sweet massacre in it's wake.  It will also make it an easy job.
This recipe is pretty simple, although you will cook the cherries before mixing them up with the other ingredients.  This will help distribute the flavors throughout the Cherry Cheesecake Popsicles recipe.
Mr. Bejelly loved this recipe so much that he ate two of them before I could take photos which is a huge no-no in the Bejelly household.  I figured that showed this recipe was pretty darn good if he was willing to risk my wrath, lol.
Cherry Cheesecake Popsicle
Print
Ingredients
16

oz

of fresh cherries - roughly 48

pitted.

1

cup

of water

1/4

teaspoon

sea salt

1/2

teaspoon

pure vanilla extract

1/4

teaspoon

ground cinnamon power

2

large extra-ripe bananas - roughly 8"

One 8oz package of cream cheese

warm to room temp until it's soft.
Instructions
In a sauce pan combine the cherries, water, sea salt, vanilla and cinnamon.

Cook over medium heat and after 20 minutes, mash the cherries with a potato masher.

Let cook for 15 - 20 minutes and remove from the stove. Let cool.

In a blender combine the cherries, cream cheese and two bananas and blend until fully combined.

Pour into 6 popsicle molds and chill for 4 -5 hours in freezer.
© 2011-2013, A Girl Worth Saving. Feel free to pin my posts but do not repost my full recipe on your blog, Tumblr, or any other website.