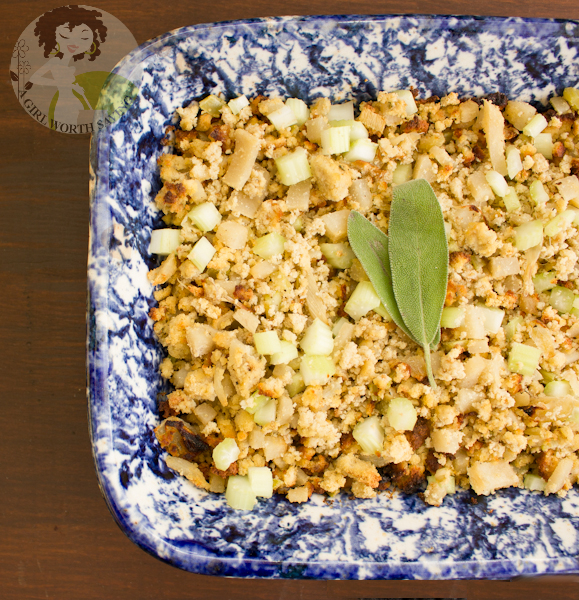 I grew up eating a cornbread stuffing every year and really until I went to college, I didn't realize that you could have it any other way. This Paleo Thanksgiving Stuffing recipe is a two step process.
First you make the paleo cornbread and then you make the stuffing from it.  I like my dressing on the dry side – the better to smoother in gravy and cranberry sauce – but my husband was like not happy with it.   The next time I cut down the bake time and it was a good compromise.
Also, you can totally make this stuffing your own and add apples, sausage, bacon and/or nuts so it's more like the traditional stuffing that you grew up eating!
Paleo Thanksgiving Stuffing Recipe
Print
Ingredients
Cornbread
Make my Paleo Cornbread recipe and make the following changes:

Remove the garlic powder and caraway seeds

tsp

Add 1 of onion powder.
Instructions
Take the cornbread and crumble it with a fork and mix in the onion, celery and apple.

Pour the broth mixture over it and mix well.

Bake in the oven at 350 for 35 to 40 minutes.
© 2011-2012, A Girl Worth Saving. Feel free to pin my posts but do not repost my full recipe on your blog, Tumblr, or any other website.