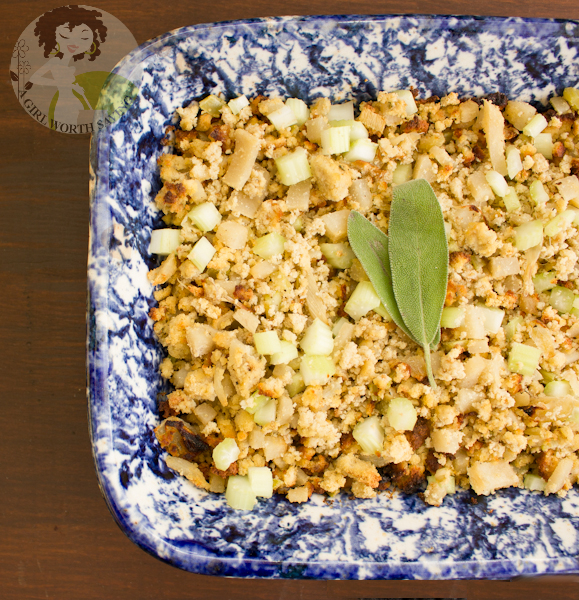 I grew up eating a cornbread stuffing every year and really until I went to college, I didn't realize that you could have it any other way.  This Keto Paleo Thanksgiving Stuffing recipe is a two step process.
First you make the paleo cornbread and then you make the stuffing from it.  I like my dressing on the dry side – the better to smother in gravy and cranberry sauce – but my husband was like not happy with it.   The next time I cut down the bake time and it was a good compromise.
Also, you can totally make this stuffing your own and add apples, sausage, bacon and/or nuts so it's more like the traditional stuffing that you grew up eating!
One of the hardest times to be Keto is during the Holidays.   Food is a major part of the festivities and if you are new to the lifestyle turning away from your Grandma's famous cinnamon rolls can be HARD.
Here are some simple tips on how to navigate the celebrated carb fest of the Holidays:
Fill up on protein first, then focus on low carb veggies loaded in healthy, carb free fats.
Bring you favorite Ketofied breads, desserts, etc.  Seriously, if having Keto Cinnamon rolls is going to keep you from indulging in the real thing, make them.
Forget counting macros for the day.   This does not mean eating all the bread, but don't worry about macos and enjoy your food.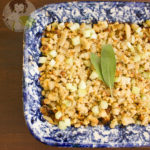 Paleo Keto Thanksgiving Stuffing Recipe
Print
Instructions
Cornbread
Take out your 4 eggs and bring to room temperature. I crack mine in the blender and let them sit for 20 minutes or so.

Add the apple cider vinegar, water and 1/4 cup of melted coconut oil(not hot so you don't cook the eggs) blend on low for 30 seconds.

Then add in the coconut flour, garlic power, salt and baking soda and blend for one minute.

Grease your baking tin with the 1 tsp coconut oil. I used two small mini loaves for this recipe.

Pour the batter in your pans and bake at 350 degrees for 40 - 45 minutes or until a toothpick comes out clean.
To make the Stuffing
Take the cornbread and crumble it with a fork and mix in the onion and celery.

Pour the broth mixture over it and mix well.

Bake in the oven at 350 for 35 to 40 minutes.
Nutrition Facts
Paleo Keto Thanksgiving Stuffing Recipe
Amount Per Serving
Calories 121
Calories from Fat 81
% Daily Value*
Total Fat 9g 14%
Cholesterol 69mg 23%
Sodium 311mg 13%
Potassium 68mg 2%
Total Carbohydrates 5g 2%
Protein 3g 6%
* Percent Daily Values are based on a 2000 calorie diet.
© 2011-2012, A Girl Worth Saving. Feel free to pin my posts but do not repost my full recipe on your blog, Tumblr, or any other website.