Ok, I didn't know what in the world to call these.  I kinda think of them as a roll but my husband says "no, it's more like a lunch muffin."  We settled on biscuit. I had really hoped to share another Paleo dessert recipe this week but my cold has dragged on and I haven't baked in a couple of days.  I was glad I had this one on the back burner to share for an off week as it's tough to come up with something new when you can't smell or taste anything but salt.
Anyhow, my goal with all my coconut flour recipes is 1) It does not taste like coconut flour as I don't really like the taste of it (neither does my husband) 2) They are not heavy bricks and 3) They are as light and fluffy as I can get them. I tried something new with this recipe and,while they did not come out as fluffy as I wanted them to, I think that the extra step worked. I'm not done fussing with this recipe so don't be surprised to see it show up again down the road.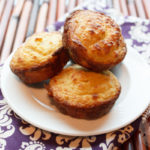 Coconut Flour Biscuits
Print
Instructions
In a small bowl mix the egg yolks, coconut flour, sea salt, honey, water, coconut oil and vinegar. Set aside.

In another bowl beat your egg whites until stiff peaks form.

Next add the baking soda to the coconut flour mixture and mix thoroughly. The mixture should expand slightly.

Take 1/2 of the egg while mixture and start folding it into the coconut flour. When this is incorporated add the balance. Mine was not super fluffy so don't worry if yours isn't.

Spoon the mixture into a greased muffin tin and bake at 350 for 12 -15 minutes.
Nutrition Facts
Coconut Flour Biscuits
Amount Per Serving
Calories 114
Calories from Fat 72
% Daily Value*
Total Fat 8g 12%
Cholesterol 98mg 33%
Sodium 276mg 12%
Potassium 36mg 1%
Total Carbohydrates 4g 1%
Protein 4g 8%
* Percent Daily Values are based on a 2000 calorie diet.
© 2011-2012, A Girl Worth Saving. Feel free to pin my posts but do not repost my full recipe on your blog, Tumblr, or any other website.