I'm picky about my coffee.  90% of the time I only put heavy whipping cream and a strong splash of cinnamon in my cup of Joe.  However, when the holidays hit, I start thinking of peppermint in my coffee and hot chocolate.  During the holidays I like my coffee cool and peppery – like this hipster mustache.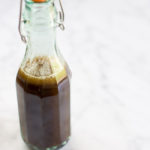 Peppermint Syrup
Print
Instructions
Pour all the ingredient in pan over medium heat and bring to a boil. Mix thoroughly to make sure the sugar is completely dissolved and then pour into a dispenser.
Nutrition Facts
Peppermint Syrup
Amount Per Serving
Calories 54
% Daily Value*
Sodium 32mg 1%
Total Carbohydrates 13g 4%
* Percent Daily Values are based on a 2000 calorie diet.