Paid Endorsement Disclosure: A Girl Worth Saving is a participant in the Amazon Services LLC Associates Program, an affiliate advertising program designed to provide a means for sites to earn advertising fees by advertising and linking to AMAZON.COM. This post may contain affiliate links and/or ads from Amazon or other affiliate partners. We only recommend products or services that we have personally tried and love. When you make a purchase through any of these links, we earn a small commission on each sale, which allows us to cover a portion of the cost of this site. This has no effect on your sale price and is simply a cost of doing business for the company you are purchasing from.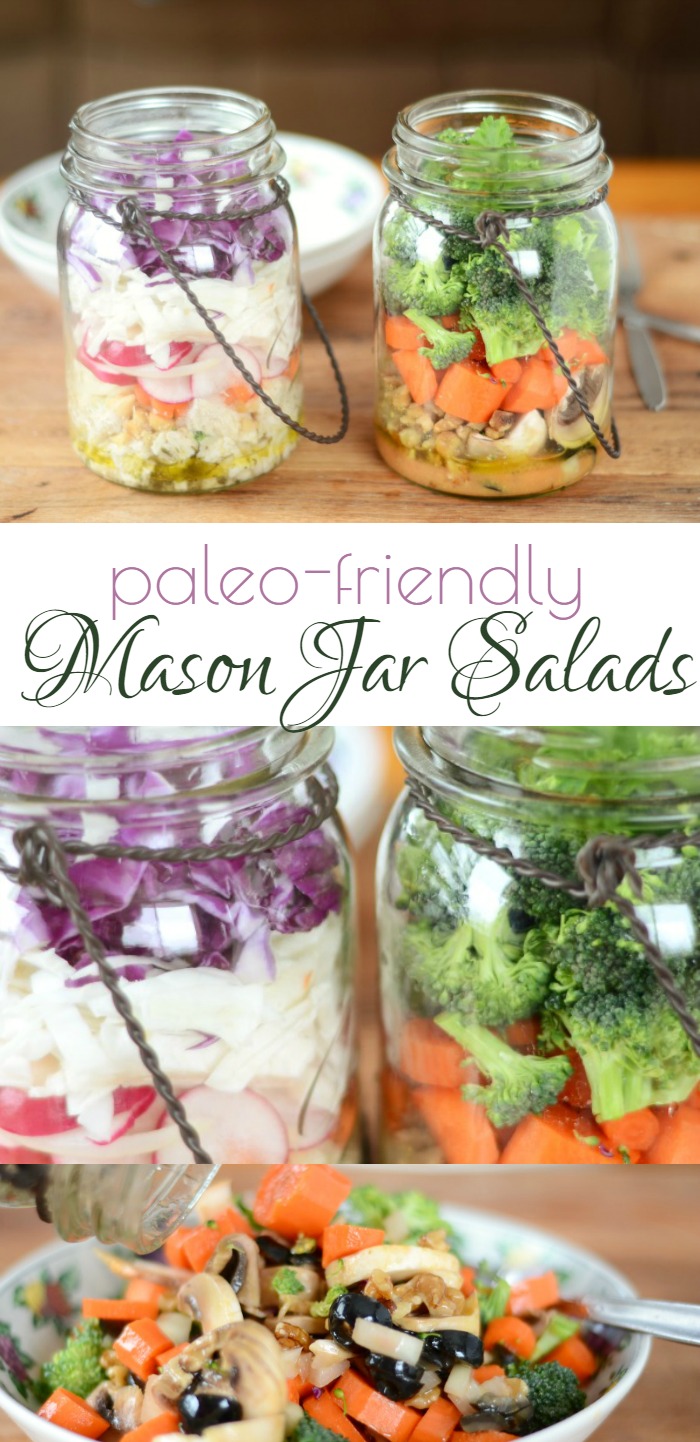 If you've never tried making Mason jar salads, you totally should! It's an awesome way to pre-make your lunch salads in a way that includes the dressing, fixings, and greens all in a portable container that you just dump out and mix when you're ready to eat! You can add whatever healthy veggies, fruits, and protein you like the night before for a nutritious lunch at your desk!
The general rules for mason jar salads are that the salad dressing goes in the bottom of the jar, followed by protein, then small toppings like nuts, and then the other veggies and greens. Think of it like constructing a salad upside down. That way when you dump everything into a bowl, the salad is right side up and veggies are fresh instead of wilted from the dressing.
I've created two simple salad combos; a chicken slaw and an all-veggie salad with walnuts. The chicken slaw is filling and delicious, and the veggie salad can be enjoyed as is or with an added protein source. The walnuts and red wine vinegar create a delicious combo of flavors that go with the crunchy veggies perfectly! The chicken slaw is a yummy and healthy take on coleslaw. Feel free to use turkey instead of chicken if you like.
Mason Jar Salads
Print
Ingredients
Chicken Cabbage Slaw
3

tablespoons

extra-virgin olive oil

1-1/2

tablespoons

white wine vinegar

Pinch dried thyme

Sea salt and black pepper to taste.

3/4

cup

chopped cooked chicken

2

tablespoons

chopped macadamia nuts

1/4

cup

chopped carrot

3

tablespoons

sliced onion

4

radishes

sliced

1/2

cup

shredded green cabbage

1/2

cup

shredded red cabbage
Chopped Broccoli and Carrot Salad
3

tablespoons

extra virgin olive oil

1-1/2

tablespoons

red wine vinegar

1

teaspoon

mustard

Sea salt and black pepper to taste.

3

carrots

sliced

3

tablespoons

sliced black olives

3

tablespoons

chopped red onion

2

tablespoons

chopped walnuts

1/3

cup

sliced mushrooms

1

cup

chopped broccoli
Instructions
Choose which salad you'd like to make: Chicken Cabbage Slaw or Chopped Broccoli Carrot Salad.

Make the dressing: whisk the oil, vinegar, thyme (if cabbage slaw) or mustard (if broccoli salad) and salt and pepper. Pour into bottom of a mason jar.

Layer the rest of the ingredients in the mason jar in the order listed.

When ready to eat, dump the salad into a bowl and toss lightly. Enjoy!