Last Updated on December 6, 2020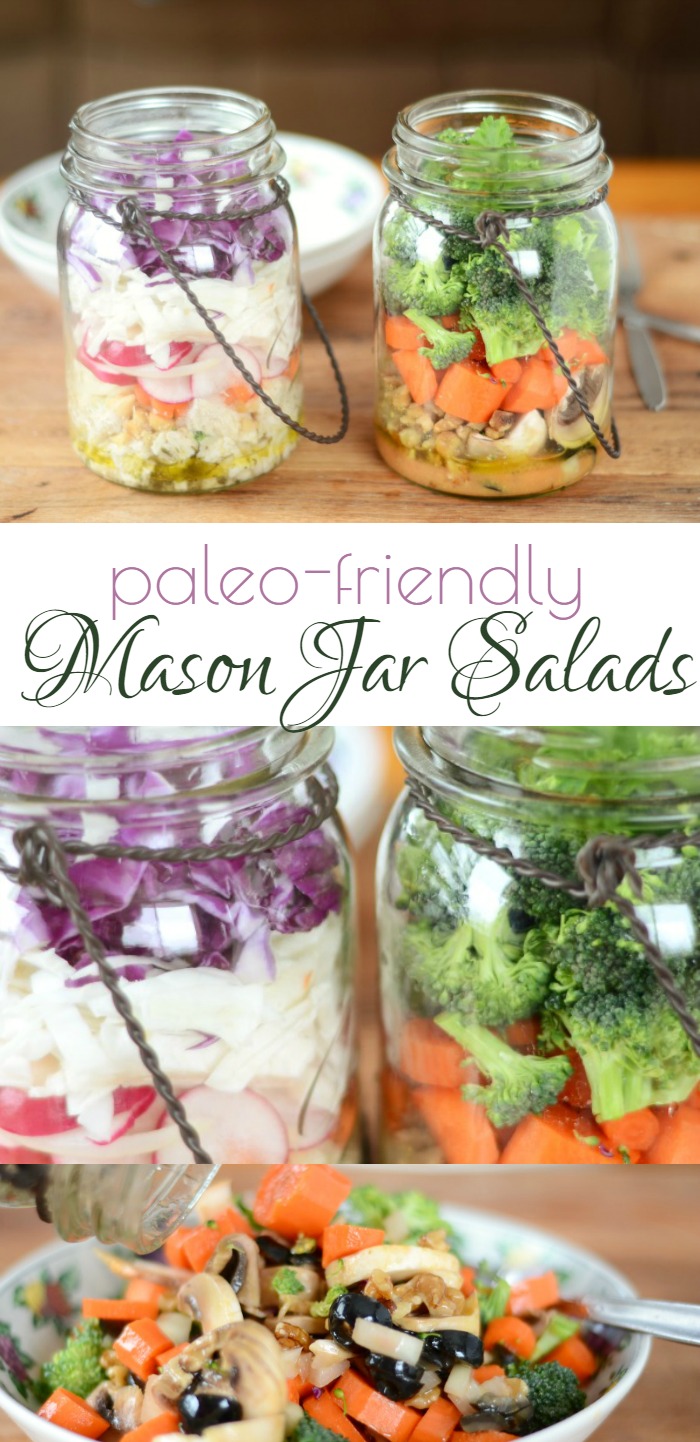 If you've never tried making Mason jar salads, you totally should! It's an awesome way to pre-make your lunch salads in a way that includes the dressing, fixings, and greens all in a portable container that you just dump out and mix when you're ready to eat! You can add whatever healthy veggies, fruits, and protein you like the night before for a nutritious lunch at your desk!
The general rules for mason jar salads are that the salad dressing goes in the bottom of the jar, followed by protein, then small toppings like nuts, and then the other veggies and greens. Think of it like constructing a salad upside down. That way when you dump everything into a bowl, the salad is right side up and veggies are fresh instead of wilted from the dressing.
I've created two simple salad combos; a chicken slaw and an all-veggie salad with walnuts. The chicken slaw is filling and delicious, and the veggie salad can be enjoyed as is or with an added protein source. The walnuts and red wine vinegar create a delicious combo of flavors that go with the crunchy veggies perfectly! The chicken slaw is a yummy and healthy take on coleslaw. Feel free to use turkey instead of chicken if you like.
Yield:

1 -2 servings
Mason Jar Salads
Ingredients
Chicken Cabbage Slaw
3 tablespoons extra-virgin olive oil
1-1/2 tablespoons white wine vinegar
Pinch dried thyme
Sea salt and black pepper to taste.
3/4 cup chopped cooked chicken
2 tablespoons chopped macadamia nuts
1/4 cup chopped carrot
3 tablespoons sliced onion
4 radishes, sliced
1/2 cup shredded green cabbage
1/2 cup shredded red cabbage
Chopped Broccoli and Carrot Salad
3 tablespoons extra virgin olive oil
1-1/2 tablespoons red wine vinegar
1 teaspoon mustard
Sea salt and black pepper to taste.
3 carrots, sliced
3 tablespoons sliced black olives
3 tablespoons chopped red onion
2 tablespoons chopped walnuts
1/3 cup sliced mushrooms
1 cup chopped broccoli
Instructions
Choose which salad you'd like to make: Chicken Cabbage Slaw or Chopped Broccoli Carrot Salad.
Make the dressing: whisk the oil, vinegar, thyme (if cabbage slaw) or mustard (if broccoli salad) and salt and pepper. Pour into bottom of a mason jar.
Layer the rest of the ingredients in the mason jar in the order listed.
When ready to eat, dump the salad into a bowl and toss lightly. Enjoy!