Last Updated on June 7, 2022
Pets offer an endless amount of joy and companionship, even when they manage to get themselves into trouble. Doggy parents everywhere can attest to how much our four-legged friends enjoy getting into things they have no business touching, such as the garbage. The best way I have found to keep my trash where it belongs is with a dog proof trash can.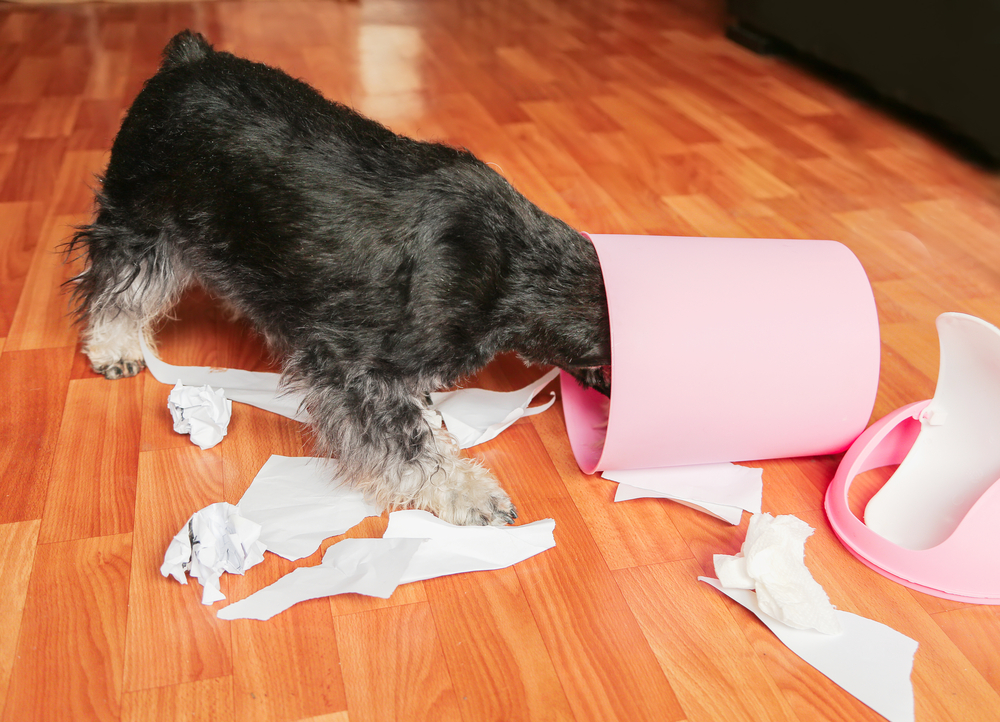 Do Dog Proof Trash Cans Really Work?
Keeping dogs out of the trash can take a lot of effort if you have a particularly stubborn breed. Good training is the best way to prevent your dog from getting into the trash which can be further reinforced with a secured trash can. High-quality dog proof trash cans that feature a sturdy base to prevent tipping and a solid lid are highly effective in keeping curious pets and even small children from going through the garbage. Beware of budget dog-proof trash cans or cat proof trash can, however. Flimsy construction won't do much to keep them out for very long.
How To Choose The Best Dog Proof Trash Can
Buying the right dog proof trash can is more than simply buying one with a lock or even a heavy lid. There are a few features to consider that will be useful in keeping your pet out of the garbage and in helping you to keep your home clean. Some features to look for are:
Minimal touch or foot-activated opening
A design that saves space
Odor reducing features
A trash can that easily fits standard trash bags
High-quality material and durable construction
Your budget will also play a big role in the type of dog proof trash can you purchase. There is a range of cans, but always choose the best one on the market that falls within your desired budget. Stupidly expensive doesn't always mean that it will offer the best protection, and dirt cheap is generally never a good idea. Make a point of checking the quality, durability, operability, and then think about the price.
Why It Is Important To Keep Dogs Out Of The Trash
In my home, a dog proof trash can is not just a simple luxury, it's completely essential. Dogs are naturally curious and that trait will take them from the trash to every other part of the home. Trash cans are full of soiled items that are a breeding ground for mold, bacteria, and more. This will not only cover the dog's fur but also every surface they touch post trashcan dive. Trash cans can also pose a danger to the animal's health via choking hazards and things that can cause intestinal distress. There is customarily all manner of used cleaning products, chemicals, and detergents in the trash that can harm dogs or even children if they are inadvertently exposed. Dogs, moreover, possess sensitive noses and paws which can suffer cuts or punctures during a trashcan dive.
What To Look For In A Good Dog Proof Trash Can
There are quite a few dog proof trash cans to choose from on the market. Some work better than others while a few of them are not worth your money. Comprehending what to look for in a dog proof trash can will allow you to keep your dog safe and maintain cleanliness at the same time. There are a couple of features that we suggest keeping an eye out for regardless of the brand or model you choose. Always pick a dog proof trash can that has a sturdy construction and one that is made from durable materials. Dogs are remarkably strong and intelligent, so a flimsy trash can won't stop them from exploring. A secure lid is critical for any dog proof trash can. This will keep dogs out and will also prevent spills if they manage to tip the can over. It is a good idea to use a trashcan that is suitable for both indoor and outdoor use.
Top 4 Dog Proof Trash Can Reviews
Knowing you need a dog proof waste disposal system is one thing, actually finding one that fits your needs is another. We have reviewed a few of the best models on the market in terms of usability and price to help you on your search.
This is a great model for medium-sized families looking for a butterfly opening on a budget. The brushed steel exterior is a classic touch and will easily match just about any decor. I have a medium-sized dog and he is unable to force the lid open or knock over the trash can when place next to the wall. The opening is also hands-free so you don't have to worry about germs or cross-contamination, but there is a handle if you need to manually operate the trash can.
Pros:
Uses standard garbage bags
Has a handle to lift the lid manually
Soft-close for soundless waste management
Easy lock system to keep pets out
Attractive design
Slim profile for smaller apartments
Cons:
The hinge on the lid can be wonky
Won't sit flat against the wall if open
The sensors may not always register movement
Durable, but scratches easily
The Simplehuman Butterfly Trash Can is designed with naughty dogs in mind. Not only has it been effective in keeping my toy poodle out of the trash, but it has also made waste management simpler. The trash can opens with a step pedal which triggers the opening. The butterfly opening looks attractive while also being too difficult for even smart dogs to manipulate. Made from durable stainless steel, this model can be used in kitchens, basements, outdoors, or anywhere that needs an effective method of keeping the dogs out of the trash.
Pros:
The surface resists fingerprints and handprints
Silent lid for discrete waste management
Slim profile allows for creative placement
Fits standard garbage bags
Two sides for easy garbage sorting
Cons:
The lip lid area can gather dust and grime easily
Garbage bins need to be fit perfectly or the lid won't close
The unit gathers nicks and dents easily
The iTouchless is a great model for those who want to avoid opening and closing the trashcan with their hands. You wave it to open and for me, this is one of the best features. If you are carrying something such as a few plates, or even a child, manual operation can be difficult, The carbon filter is also a great touch that helps to battle normal kitchen odors. The lid is a bit weak, but for homes, with smaller dogs, it will be efficient in keeping them out of the garbage.
Pros:
Odor blocking
airtight trash bin
Touchless Entry
Multi-function pet lock
Aesthetically pleasing stainless steel design
Dual power source
Cons:
There is no manual foot opener
The lid is poorly constructed
AC power cord is sold separately
Only suitable for smaller homes or apartments
This has to be my favorite in terms of aesthetics. The soft matte black suites just about any aesthetic and the half-circle design allow it to be pushed flush against the wall. Big dogs take up a lot of room and can tip over a trash can if they have space to run around it, but with this one that is no longer a problem. The steel pedal allows for hands-free opening and is made of sturdy steel for longevity. At 50 liters (18″ trash can) this dog-proof trash can is ideal for homes with larger families.
Pros:
Durable construction
Larger capacity
Hard to tip over
Silent lid closure
Available in several colors
Lockable lid to keep pets out
Cons:
Uses custom trash bags
The non-sealing lid allows odors to seep out
If not placed against a wall or island it is easy to knock over
Hard to enforce the warranty
Narrow bottom
Our Top Dog Proof Trash Can Pick
Trying to keep fluffy out of the garbage can be difficult, but with the right dog proof trash can and some training, it's definitely possible. The five models above all will work to keep your pet out of the trash, however, the Simplehuman Butterfly Trash Can is the best out of the options listed.
The Simplehuman Butterfly Trash Can is made from high-quality materials and is well-built. It is affordable but also aesthetically pleasing. The unique opening allows you to quickly dispose of waste even if your curious pet is underfoot. Homes of all sizes can easily accommodate this model, and the price is also wallet-friendly. With two compartments for easy sorting, there is no reason to get another trash can just for recyclables. A rugged construction is significant when choosing a dog proof trash can, but always consider the personality of your pet when making a purchase.