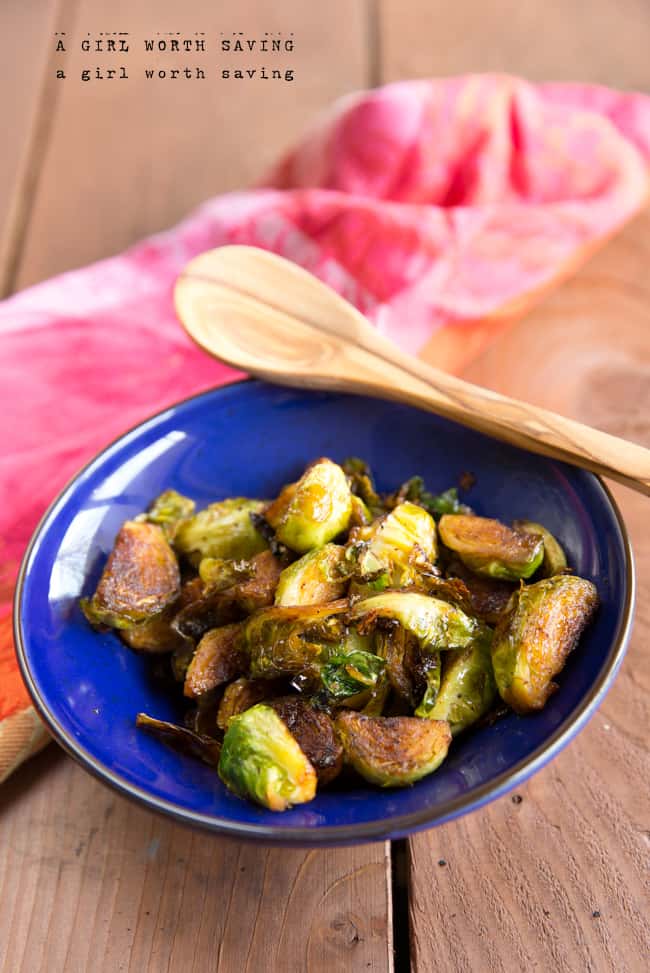 I love eating Brussel Sprouts for breakfast.  I adore them in omelets.  I remember a time that I made them for my Father-in-law when he was visiting.  He voiced his opinion about how strange that was and how it would not taste good.  I had to giggle when he later asked for seconds.
I normally eat them "creamed" but  I wanted to do something different and  dairy-free.  These are amazing and so simple. I never would have thought to add "sugar" to Brussels spouts and wow, what a simple way to kick it up a notch.
Sweet Chili Brussels Sprouts
Ingredients
10 Brussels sprouts, cleaned and quartered
2 tbsp coconut oil
1 tbsp B grade maple syrup
1/4 tsp sea salt
1/4 tsp chili powder
Instructions
Oven medium heat set your cast iron pan and warm the coconut oil.
Place the Brussels spouts in and slow roast until soft and golden brown, roughly 10 - 15 minutes.
Then add in the maple syrup, sea salt and chili powder and cook for 4 to 5 more minutes. Serve immediately
© 2011-2012, A Girl Worth Saving. Feel free to pin my posts but do not repost my full recipe on your blog, Tumblr, or any other website.