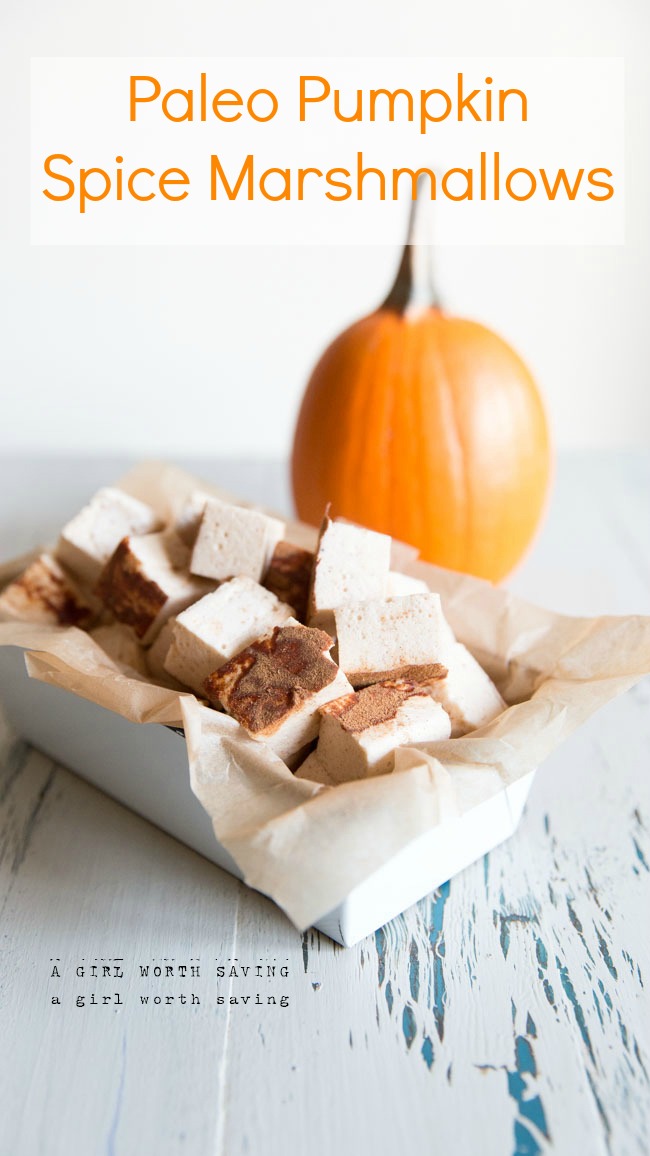 When I shared that I was going to make paleo pumpkin spice marshmallows with my guys, Mr. Bejelly's ear perked up.  This was a surprise to me as he also isn't big into pumpkin  The little will eat anything sweet and I just love to hear him say "It's good" and then watch him rub his little belly when he tries one of my recipes for the first time.
This recipe uses a touch of pumpkin to give it a more authentic flavor and lots of pumpkin spice.  When I was cutting this up for the photo, the scent of the spices was overwhelming in a good way.
Mr. Bejelly told me they tasted like the holidays and that they would work well in hot chocolate, coffee or tea, of all things (with booze mind you).
Pumpkin Spice Marshmallows
Print
Instructions
Line a 8 x 8 baking dish with parchment paper. Spread the pumpkin spice on the surface of the pan.

In a large pot add the water and warm and then whisk in the gelatin until frothy.

Add in the pumpkin purees, vanilla extract, sea salt, pumpkin spice and honey and whisk until well combined.

Remove from the stove.

Using a hand held beater on high, blend the mixture until it become light and fluffy and lightens in color. The mixture should also coat the beaters but not be stiff (meaning it may drip slightly). This can take 10 to 12 minutes.

Pour the mixture into your lined baking pan and place in your fridge to firm up for 2 to 3 hours.
Learn more why gelatin is the one super food you can not afford to miss out on here.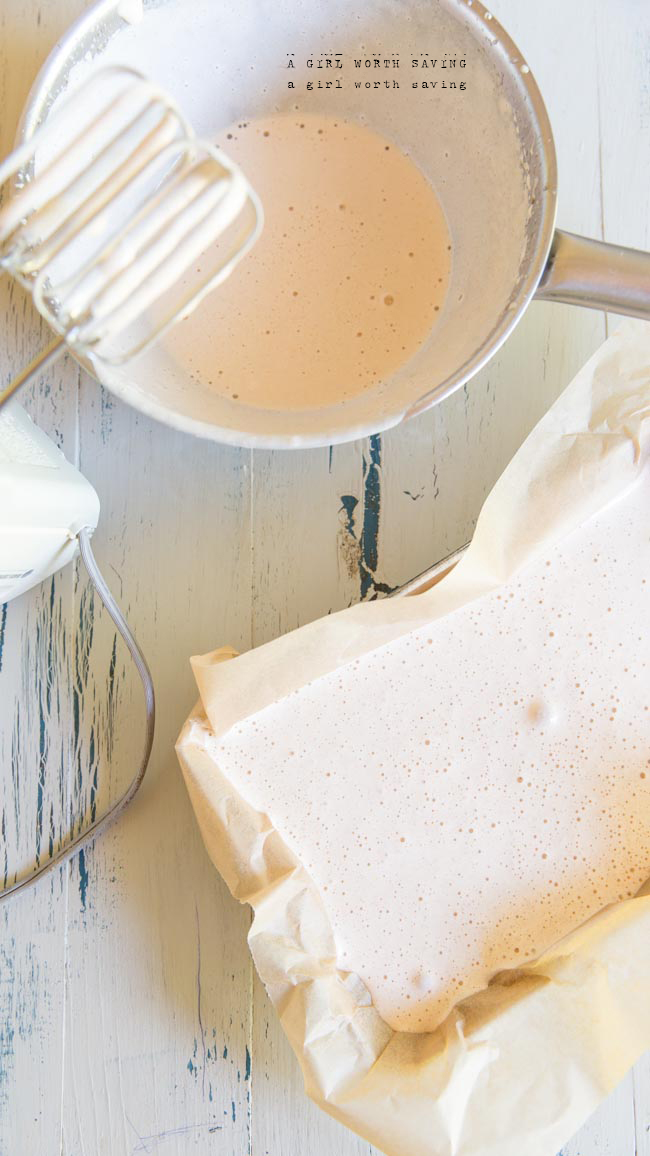 © 2011-2014, A Girl Worth Saving. Feel free to pin my posts but do not repost my full recipe on your blog, Tumblr, or any other website.
PAID ENDORSEMENT DISCLOSURE: A Girl Worth Saving may receive monetary compensation or other types of remuneration for my endorsement, recommendation, testimonial and/or link to any products or services from this blog. I only recommend products that I wholeheartedly believe to be valuable or that I use myself. We are a participant in the Amazon Services LLC Associates Program, an affiliate advertising program designed to provide a means for us to earn fees by linking to Amazon.com and affiliated sites.