Last Updated on December 6, 2020
This Low Carb Sweet Potato Pumpkin Pie hits every note. Made with a keto pie crust, this holiday pie is gluten free, full of gorgeous autumn spices, and is deliciously indulgent.
If you ask every member of your family which Thanksgiving side dish is their favorite, you're probably going to get a completely different answer from everyone.
Some people can't live without stuffing or mashed potatoes. Some people need the gluten free green bean casserole. Don't even dare forget the cranberry sauce!

And then there's the person who craves the twice-baked sweet potato casserole topped with marshmallows – without a doubt one of the biggest sugar bombs of the meal.

While this dish is usually served baked in a good amount of brown sugar and topped with an entire bag of marshmallows, somehow it's considered a "side dish". But because a potato dish doesn't seem quite right during the dessert course, that's where it ended up.

So for those out there with a sweet tooth who still dream of the sweet potato casserole, but don't want to jeopardize their blood sugar too much on an already heavy day of feasting – consider bringing your favorite side dish and favorite dessert together!

The Sweet Potato Pumpkin Pie hits every note. Complexly sweet, full of gorgeous autumn spices, ultra seasonal, and deliciously indulgent.
If you want to toss it onto your plate pot-luck style, it'll even taste great right beside the turkey. Not to mention, once this pie is cooled it slices easily into impressively perfect pie slices.

Few things are as satisfying as sitting down to a perfect slice of pie on Thanksgiving!

To start, you'll want to whip up my go-to Keto Pie Crust. It's super easy and quick to assemble. It can also be made a day ahead if you're spreading out your cooking. Just leave it in the fridge till you're ready to bake.
The almond flour crust tastes great with the sweet potato and pumpkin flavors too! For this recipe, you will not pre-bake the crust. It will brown perfectly all the way through while the pie is baking.
A few baking notes –
Baking the Sweet Potatoes: I'd recommend baking the sweet potatoes ahead of time. Prick all over with a fork, and roast in the oven at 400 degrees for about an hour until soft all the way through.
You'll be able to smell them cooking and hear some of the liquid simmering up out of the holes you poked in them. Once cool enough to handle, the skin should be easy to peel away. Mash the sweet potato with a fork or potato masher to puree. You'll want the puree to be completely cooled before assembling the pie filling.

Cream: I used light whipping cream in this recipe, but if that's not available you can substitute it with heavy whipping cream. If you're looking to make this recipe dairy-free, you can also substitute the cream with coconut milk.

There are as many preferences for toppings as there are people eating pie usually. This pie tastes great warmed and without any toppings, but it's also nice with a dollop of whipped cream or meringue topping.

To mimic the baked marshmallow topping on a classic sweet potato casserole, I whipped up a simple meringue topping and toasted it slightly in the oven before serving.
A typical meringue or marshmallow is also pretty high in sugar. This little meringue is substantially lighter and holds up just as well.

While I whipped this meringue in a stand mixer, you can also make it with a hand mixer. If your hand mixer comes equipped with whisk attachments, even better. I wouldn't suggest trying to whip it by hand unless you are incredibly strong!

Your sweet little pie will taste great, stored covered in the fridge for a few days, although I've never seen a pie last more than a day or two!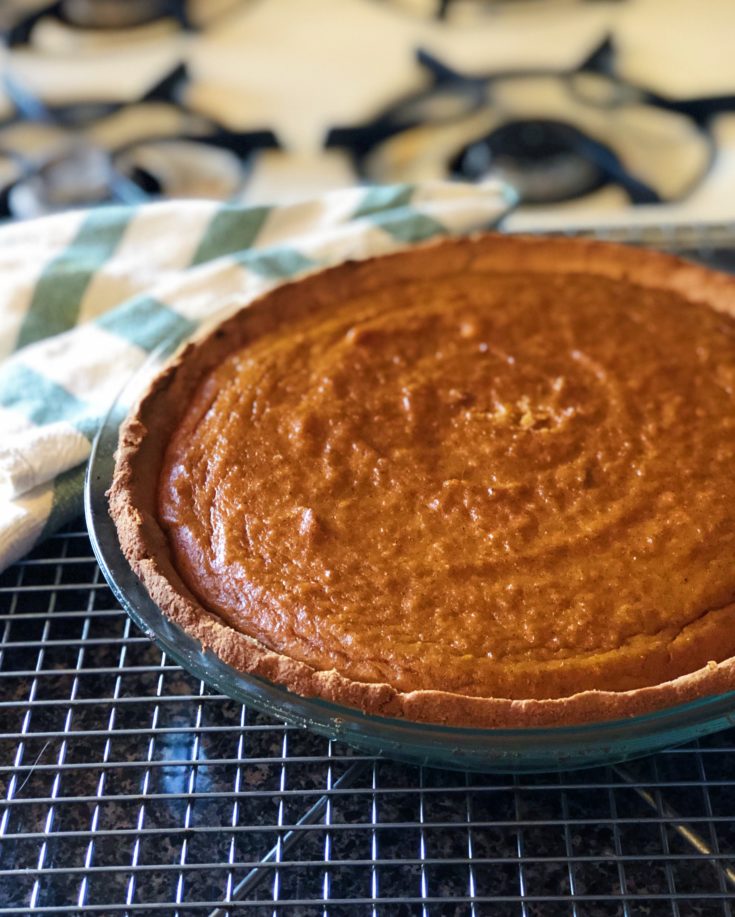 Yield:

8
Low Carb Sweet Potato Pumpkin Pie (Gluten-free)
Total Time:
1 hour
5 minutes
Ingredients
Pie Filling
3 Large Eggs
½ teaspoon Vanilla Extract
½ cup Cream
1 cup Pumpkin Puree
1 cup Sweet Potato Puree
Pinch of salt
Simple Meringue Topping
¼ cup Water
2 Tablespoons Swerve Brown Sugar
½ teaspoon Vanilla Extract
Instructions
Pie Filling:
Preheat oven to 350 degrees.
In a large bowl, measure out the eggs, vanilla extract, and cream. Whisk together until blended. (If you have a hand blender, you can absolutely use that too!)
Add the pumpkin and sweet potato puree to the mix and whisk again.
Finally, add the stevia sugar, pumpkin pie spice, and pinch of salt. Whisk together until completely blended. The filling should be about the consistency of cake batter, and isn't super liquidy.
Pour into the prepared pie shell. Gently place the pie on the center rack in the oven, and bake for 45 minutes. Pie filling will puff slightly and the very center will be a little soft. The filling will continue to set up as it cools.
Once you've removed the pie from the oven, let it cool on a cooling rack until it's about room temperature. If you prefer your pie cooler, pop it in the fridge for an hour before serving.
Meringue
Preheat oven to 400 degrees.
In the bowl of a stand mixer, whip the meringue powder, water, and stevia on medium-high speed with the whisk attachment until meringue is smooth and thick.
Add the vanilla extract and continue to whip. You're looking for the meringue to be stiff. It should hold it's shape and not sink when the whisk is pulled out of the mix.
Spoon onto the pie any way you like it. You can mound it in the center or make a ring around the outside of the pie.
Gently put the pie in the oven and bake just long enough to lightly toast the meringue, about 7-10 minutes. Remove and serve or store.
Nutrition Information:
Yield:
8
Serving Size:
1
Amount Per Serving:
Calories:

150
Total Fat:

5g
Saturated Fat:

2g
Trans Fat:

0g
Unsaturated Fat:

2g
Cholesterol:

79mg
Sodium:

70mg
Carbohydrates:

24g
Net Carbohydrates:

0g
Fiber:

2g
Sugar:

18g
Sugar Alcohols:

0g
Protein:

4g