Last Updated on December 17, 2022
Nothing compares to a plate of creamy and spicy chicken tikka masala on a cold winter day. Indian food brings families together with its heartwarming flavors and intense aromas. This aromatic recipe will have your neighbors knocking and peeking through your window!
If you want to give it a try, check out my delicious recipes!
What Is Chicken Tikka Masala?
Chicken tikka masala is native to southern Asia, specifically northern India. The word "tikka" means pieces, and "masala" means spices, so literally, this dish consists of spiced-up chunks of grilled chicken bathed in a delicious and creamy tikka masala sauce.
You might have noticed that the sauce is an absurdly orange color, but don't worry, it's all-natural. The masala sauce has tons of turmeric, paprika, and tomato paste/puree, which changes the color dramatically.
The other main component of chicken tikka masala is chicken. The marinated chicken mainly uses the same mix of spices.
Most people unfamiliar with Indian cuisine confuse chicken tikka masala with butter chicken or even chicken jalfrezi. Just because the dishes look similar doesn't mean they taste the same.
Chicken tikka masala uses boneless skinless chicken breasts or thighs, and it has a smoky flavor, whereas butter chicken focuses on silky gravy and is also not as spicy.
Chicken Tikka Masala's Origin
Chicken tikka masala is commonly known as an Indian dish, and it has peculiar popularity in Britain. But is it really from India? Its origins are hard to track down. Two food history experts, Peter and Colleen Grove, tracked down the original form of this dish—butter chicken. They found that its origin could be from Moti Mahal, a restaurant in New Delhi that started in 1948.
The local chef, Lala Kundan Lal Gujral, would make his tandoor spice mix, and to make the sauce, he'd recycle the chicken juices from marinade trays and add butter and tomato. It was first called Murg Makhni, but as it gained more popularity, butter chicken became a more common name!
Some say chicken tikka masala is much more popular in the UK than it is in the whole of India. But no matter where it's made, it tastes heavenly.
Ingredients
Here's a list of the ingredients you'll need to make the chicken tikka masala.
The Slow Cooker Recipe
These are the ingredients you'll need to make chicken masala in a slow cooker:
2 1/2 tablespoons garam masala
2 1/2 pounds boneless skinless chicken thighs (chopped)
1/2 cup raw cashews
1/2 cup chopped fresh cilantro (optional)
2 cups tomato puree
1/2 a chopped yellow onion
2 cloves minced garlic
2 teaspoons sea salt
1 teaspoon ground ginger
1/4 teaspoon cayenne pepper
1/2 teaspoon paprika
You can replace the chicken thighs with breasts if you prefer. However, compared to a chicken breast, a thigh has more fat and results in a more intense flavor.
The Regular Recipe
Here are the ingredients you'll need to make chicken masala the regular way.
Chicken Marinade
To make a flavorsome chicken marinade, you'll need the following:
650 grams of chicken
1 teaspoon red chili powder
1 teaspoon garam masala
¼ teaspoon turmeric powder
1 ½ teaspoon kosher salt
½ teaspoon cumin powder
1 teaspoon coriander powder
1 tablespoon lemon juice
1 tablespoon oil
1 tablespoon ginger garlic paste
1 tablespoon Kasuri methi (dried fenugreek leaves)
½ cup strained yogurt
Tikka Masala Gravy
Here are the ingredients you'll need to make the gravy:
3 tablespoons of oil
1 ½ cups of chopped onion
1 teaspoon salt
1 green chili (chopped)
1 tablespoon ginger garlic paste
1 teaspoon red chili powder
1 tablespoon coriander powder
2 teaspoons garam masala
1 ½ teaspoon cumin powder
500 grams of ripe red tomatoes (pureed) or 1 ¼ cups of bottled tomato puree
1-2 teaspoons of sugar
½ cup of heavy cream
Optional ingredients
One bay leaf
3-4 cardamoms
3-4 cloves
2-inch cinnamon stick
Chicken Tikka Masala Slow Cooker Recipe
To make chicken tikka masala in a slow cooker, follow this easy method. First, cover the cashews with water in a large bowl, and wrap the bowl with a saran or plastic wrap. Leave it aside for the time being.
Then, grab your slow cooker, and put the chopped chicken, garam masala, tomato puree, garlic, onion, and spices inside. Mix them well with a spoon so that the spices and puree cover the chicken well. Then, cover the cooker and leave it to cook on low heat for 6 hours.
After the 6 hours are up, drain the cashews that you covered with water earlier and put them in a blender. Add a quarter cup of water and blend the nuts till they're creamy.
Right before you serve the chicken, add the creamy cashews and stir well. Then, sprinkle some cilantro on top as a decorative touch.
Chicken Tikka Masala Regular Recipe
If you don't own a slow cooker, follow this recipe.
1. Make the Chicken Marinade
First, wash and dice your chicken into one-inch thick pieces. Then, dry the chicken with a tissue to get rid of excess moisture. Sprinkle and mix all of your dry spices. Then, add your oil, ginger paste, and yogurt.
Once you've mixed everything up, cover the bowl with cling wrap to avoid any moisture loss. Let the chicken marinade sit for 8-24 hours. But if you're too impatient, three hours will be enough. Keep in mind: the longer, the better!
2. Start on the Tikka Masala
If you're done with the marinade, you can move on to the tikka masala gravy—the best part!
Put a pot or a deep pan on the stove, and add a few tablespoons of oil to it. Add your optional ingredients and let them cook for a few seconds. If you're not using the optional ingredients, go straight to the next step.
When your oil starts to heat up, add the onions and salt. Sautee them until they turn translucent and soft. Next, add the chili and ginger garlic paste. Cook them for about a minute or until the paste turns fragrant.
Now, it's time to add all your spices. Make sure to stir well, or you might risk burning them!
Don't let your spices sit in the heat alone, and add the tomato puree right away. If you're using fresh tomatoes, break them up while they're in the pot. This is where your sauce thickens, so keep stirring and scraping the bottom to avoid burning.
Add two cups of water when the masala has reduced to about half its amount. Stir some more and let it simmer over low heat for half an hour.
3. Grill the Chicken
While your masala simmers, turn your attention to the marinated chicken, which needs to be grilled. There are several ways of cooking your chicken tikka. You can choose the oven, the skillet, or the air fryer method.
Oven Method
Preheat the oven to 240 Celsius for 10 minutes. Then, line up your marinated chicken chunks onto a skewer and place them in a foil-lined tray. Put your tray on the middle tray of the oven.
Let your chicken pieces bake for 10 minutes, then flip their sides and bake for another 10 minutes. If you think your chickens might be drying up at any point, coat them with the marinade.
For some extra charring, you can broil the chicken for about 2 minutes.
Skillet Method
Pour one tablespoon of oil into a skillet and heat it. Then place your chicken pieces, ensuring they don't touch each other.
Cook on medium-high heat for 3-4 minutes. Then, flip over to the other side and repeat.
Empty the skillet onto a plate once your chicken is perfectly charred. It's advised to cook the chicken in small batches so each piece cooks thoroughly.
Air Fryer Method
Thread your chicken on a skewer, and place them in the air fryer. Break the skewers in half if they don't fit in the air fryer basket. Then, air fry at 200 Celsius for 6 minutes.
To avoid drying, apply the marinade with a brush and cook for a few extra minutes.
4. Mix the Masala and the Chicken
When both components are cooked, you just need to go through the final steps.
Add half a cup of heavy cream and 1-2 teaspoons of sugar to the tikka masala. Then, let your sauce simmer for another few minutes until it reaches the right consistency.
When you're satisfied with the consistency, add the chicken tikka and another tablespoon of Kasuri Methi. This is the right time to tweak the salt or sugar, so grab a spoon and start taste-testing.
You'll only need to cook the chicken tikka masala for 2-3 minutes now. This is to make sure the chicken is soft and well incorporated.
Finally, garnish with chopped coriander and a few spoons of heavy cream.
How to Serve Chicken Tikka Masala
When your chicken tikka masala is cooked to perfection, you can't eat it with a spoon, no matter how much you want to! There are tons of side dishes that you can prepare to serve with it.
Naan Bread
You could go the traditional way and serve fresh naan bread beside your dish. Plain naan is always good, but to step up your game, you could go for garlic naan bread. Naan bread is a good option if you're preparing this dish for a big group of people.
Try to make your naan after you've made the recipe, and if you're ordering it from somewhere else, keep it wrapped up in a hotpot so that it stays fresh and warm.
Rice
Any plain rice goes well with chicken masala, but if you can get your hands on basmati rice, then your meal will be perfect. Basmati is a special long-grain rice that Indians commonly use.
Since chicken tikka masala is a heavy recipe, you can even opt for a healthier option for the side dishes, such as cauliflower rice or brown rice.
Samosas
Indian cuisine is full of unique foods, and one of them is samosas. They're easy to make, and their filling is highly customizable. If you love chicken tikka masala, you're to love eating a crispy samosa with it.
If you've got extra time on your hands, you can make them yourself or get some from a local Indian supermarket. You can even get tiny frozen samosas from the frozen foods section!
Chutneys
A south Asian meal is never complete without a chutney. A bright green cilantro mint chutney will give your dish the zest sidekick it needs. All you need to do is blend one bunch of cilantro, a cup of mint leaves, and some ginger until it's smooth.
Another popular condiment is a simple raita that will help cut down the spiciness significantly. The infamous mango chutney is also an option. Whatever chutney you make, you're sure to get 5 stars on your dish from everyone.
Poori
If naan bread or a basic riot isn't to your liking, you might like a poori. A poori is a deep-fried bread that puffs up and becomes super crispy and fluffy on the outside.
How to Store And Freeze Chicken Tikka Masala
While it's highly unlikely that there'll be any leftovers, you can rest easy knowing that storing chicken tikka masala is easy as pie.
Before storing, it's a good idea to let our dish cool down completely. Depending on the amount of masala left, divide it into portions, so that defrosting is easier in the future.
Transfer your portions into freezer-safe airtight containers and note the day they were made. Frozen masala can last up to two months.
If you don't want to freeze it, you can refrigerate it for four days.
Ways to Make Chicken Tikka Masala Healthy
A buttery dish is enough to make your day, but it can also be too unhealthy. Thanks to all the heavy cream and oil in the dish, it can make you feel bloated and lazy.
Luckily, there are a few ways you can make this dish less indulgent without affecting the taste at all.
The dish might not have a lot of oil in it, but if you're making a big serving, it can certainly add up. Replace the oil with olive oil to sautee the onions, and avoid using any butter or ghee.
The best part about chicken tikka masala is its creaminess of it. But it's the same creaminess that can be too heavy. When you're making the marinade, switch to low-fat yogurt.
Also, when you're making the sauce, you can replace the heavy cream with light coconut milk. Note that using coconut milk will alter the taste slightly, so use it at your own risk!
Since tikkas usually include charred vegetables, feel free to add some to your dish. Veggies such as bell peppers, onions, and tomatoes all work.
You can also add boiled chickpeas to the dish for a different texture and taste.
Tips To Enhance Your Chicken Tikka Masala Recipe
Beginners or inexperienced cooks might gloss over some steps, but if you want restaurant-style masala, pay close attention to these tips!
Most authentic Indian dishes use mustard oil for a lot of purposes. When you're sauteing the onions or making the masala, switch to mustard oil to stay true to the flavor.
Another way to ensure your dish is as authentic as possible is to use Kashmiri chili powder. This powder is native to the Kashmir area of India and has a wonderful sweet, smoky flavor. It's also very fragrant!
If you're using packaged/canned tomatoes for the puree, Try to avoid canned tomatoes that have citric acid as an additive. They make the dish taste metallic and give it an unpleasant aftertaste.
Boneless chicken is essential for making masala, which means you can use chicken thighs or breasts. Chicken breasts generally take a longer time to marinate well. In fact, 8 hours is the minimum. If you're in a hurry, go for boneless skinless chicken thighs.
When cooking chicken tikkas in a skillet or a pan, make your marinade thicker than usual so it doesn't spread everywhere as much.
Instead of heavy cream, you can use strained yogurt or plain Greek yogurt. Avoid using thin or runny yogurt because it'll give you a runny marinade. This will also cause your chicken to not absorb the flavor as well. Since yogurt tenderizes the meat, it needs to be thick enough to coat it well.
Soak your wooden skewers in water for 30 minutes so they don't burn while you cook your chicken.
Make sure the spices you use aren't too old, or else they won't be aromatic or flavorful.
If you like this Slow Cooker Chicken Tikka Masala, you'll love:
Did you make and love this recipe? Give your review below and make sure you share your creations by tagging me on Instagram!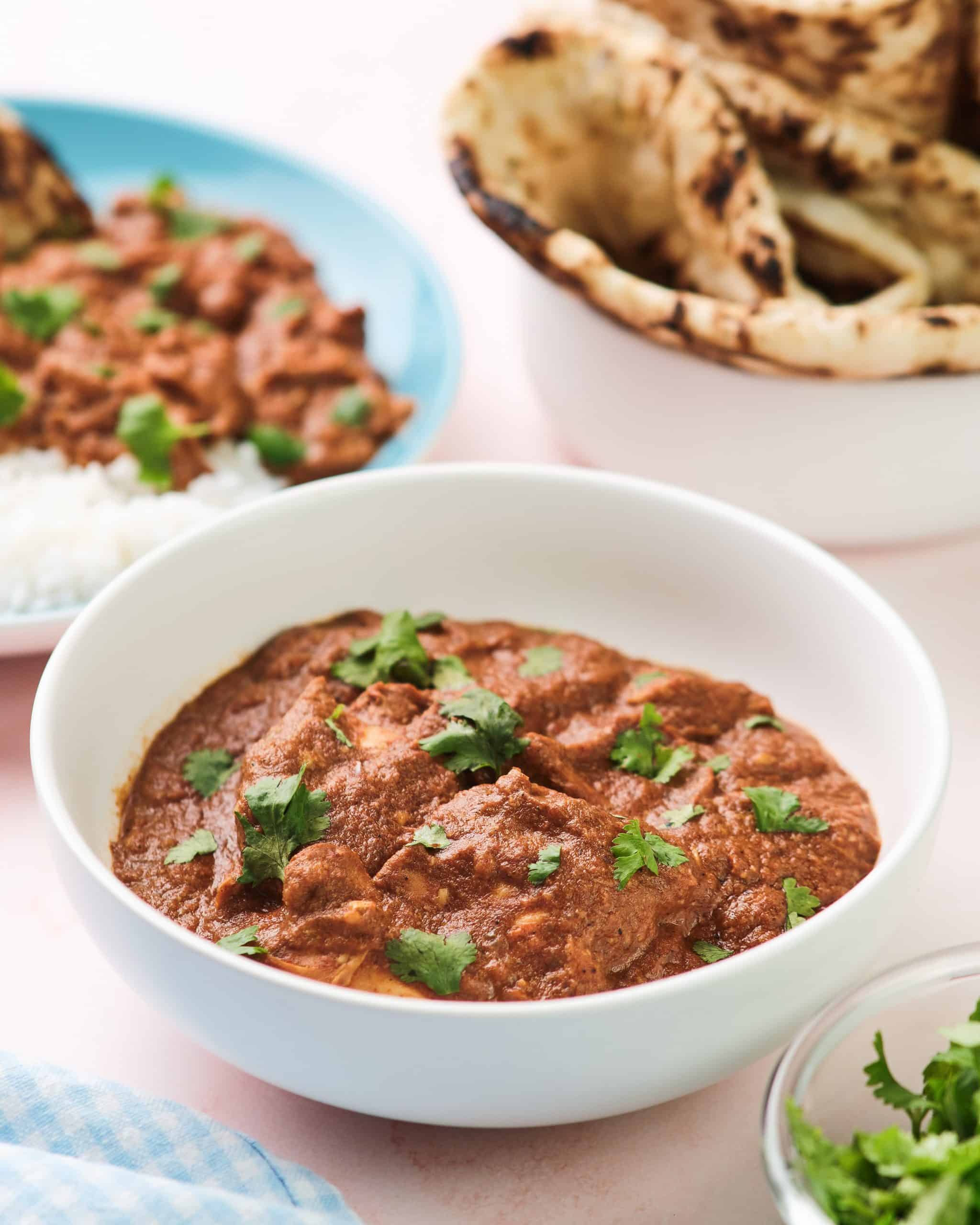 Yield:

8
slow cooker chicken tikka masala
Total Time:
6 hours
15 minutes
Get ready for a flavor explosion! This slow cooker chicken tikka masala is perfectly spiced and will have your taste buds singing! #yummy #tastebudtantalizer #crockpotcooking
Ingredients
2 1/2 pounds boneless skinless chicken thighs, chopped into 2-inch cubes
1/2 medium yellow onion, chopped
2 cloves garlic, minced
1/2 cup chopped fresh cilantro, for garnish
Instructions
Place the cashews in bowl and cover with water. Cover with a towel or plastic wrap and set aside.
Place the chicken, tomato puree, onion, garlic, garam masala, salt, ginger, paprika, and cayenne pepper in a slow cooker.
Cover and cook on low for 6 hours.
When the chicken is just about done cooking, drain the cashews and place them in a blender. Add 1/4 cup of fresh water and blend the cashews into a smooth cream.
Stir the cashew cream into the chicken right before serving and garnish with the cilantro.
Nutrition Information:
Yield:
8
Serving Size:
1
Amount Per Serving:
Calories:

314
Total Fat:

15g
Saturated Fat:

4g
Trans Fat:

0g
Unsaturated Fat:

10g
Cholesterol:

173mg
Sodium:

801mg
Carbohydrates:

11g
Fiber:

2g
Sugar:

4g
Protein:

37g
You know you want this book in your cookbook library, so buy it today!