Last Updated on September 15, 2022
Sometimes, I have no energy to cook on weekdays but still want to enjoy the types of dishes you see on restaurant menus. That's usually when I'd give in and order takeout …
However, that all changed when I tried out the easy-to-make Chinese chicken salad. The combo of tender chicken, crunchy noodles, crispy veggies, sweet oranges, and gingery dressing satisfies my sweet and savory cravings. If that sounds like something you'd want to try out, let me give you my (and soon to be your) favorite Chinese chicken salad recipe!
Ingredients
You'll want the ingredients for this flavorful chicken salad. So, here are the salad ingredients and dressing ingredients with their exact measurements.
Chinese Chicken Salad
4 cups shredded Napa cabbage or green cabbage
2 cups diced chicken
2 thinly sliced green onions
1 cup finely shredded red cabbage
1 cup fresh or canned mandarin oranges (in water or juice)
1 bunch thinly sliced scallions
2/3 cup cilantro leaves
1/2 cup shredded carrots
1/4 cup sliced red bell pepper
1/4 cup crispy cooked chow mein noodles
1/4 cup sliced almonds
2 tablespoons Black or white sesame seeds (optional)
Asian Salad Dressing
3 tablespoons unseasoned rice vinegar
3 tablespoons soy sauce
1 teaspoon toasted sesame oil
1 1/2 teaspoons freshly grated ginger
1 minced garlic clove
2 1/2 teaspoons granulated sugar
The Chinese Chicken Salad Recipe
I'll show you how to make the Chinese chicken salad in 6 easy steps, but feel free to improvise! You know how Bob Ross would say that there are no mistakes in art, just happy accidents? Well, I believe that's true for the culinary arts as well.
Recipe Notes:
Prep Time: 20 minutes
Cook Time: 0 minutes
Total Time: 20 minutes
Serving Size: 4 servings
1. Prepare the Chicken
If you don't have diced and cooked chicken, let's start there. Cook your chicken, or use chicken leftover. Whether you have grilled, baked, poached, or rotisserie chicken, a chicken breast, or turkey, anything works.
You can do away with chicken, to begin with, and use salmon or shrimp instead. However, that wouldn't make it much of a chicken salad … Either way, shred it with your hand, and place the shredded chicken in a large bowl.
2. Chop the Veggies
If you haven't already prepared the ingredients, now is the time to cut your veggies. If I know I'll be busy, I like to buy the veggies chopped or chop them in advance. Trust me; it's a lifesaver!
Otherwise, if you have the time, put on a podcast in the background, and shred your green cabbage, Napa cabbage, red cabbage, and carrots. Then, slice your green onions, scallions, and red bell pepper. If you like sugar snap peas, you can chop them up and add them.
Those who have canned mandarin oranges are good to go. But if you have fresh oranges, cut them into chunks or supreme them. Yes, I realize that I'm asking you to cut oranges when I said we're chopping veggies. But if tomatoes are fruits, who even knows what oranges are at this point?!
Now, you'll want to de-stem the cilantro because you'll only need the leaves. Then, chop those fresh leaves up.
3. Make the Asian Dressing
Remember the Asian salad dressing ingredients from earlier? Well, it's time to make some magic happen. Put the rice vinegar, sesame oil, minced garlic, granulated sugar, fresh ginger, and soy sauce in a small bowl.
However, a mason jar or airtight container is better for anyone who wants to store the dressing in the fridge. You can prepare the salad dressing up to 3 days in advance. I know I love doing that because it saves me so much time!
Make sure the rice vinegar is unseasoned; seasoned rice vinegar contains sugar or salt. As for fresh ginger, you can use ginger paste instead. Also, low sodium soy sauce makes for such a healthy Asian dressing. After all, it's a salad, so you probably want to stock up on the nutritional value!
Concerning the granulated sugar, I like to switch to honey, but I know many people don't prefer its taste in savory dishes. Still, a tablespoon of honey won't be overpowering but will be enough to balance out the flavors.
Tip: Are you short on time? Make sesame dressing instead of this Asian salad dressing. This dressing only requires soy sauce, vinegar, sugar, and sesame oil.
Now, shake the container to combine these ingredients, and give them 10 minutes to mix well.
4. Combine the Salad Ingredients
5. Drizzle the Salad Dressing
Drizzle as much dressing as you want over the vegetables, and toss the salad gently to coat it evenly with the delicious dressing. Make sure you do this just before you serve the Chicken salad so that it's all fresh and crunchy.
With that said, you can cover the salad and put it in the fridge for an hour or so. This might even allow the flavors to mingle more. Just remember to toss it once more before you serve it.
6. Add the Finishing Touches
Now, I know this Chinese chicken salad is looking so good, but resist the urge to eat it all up because we still have some final touches. You can move your salad to a serving bowl if you're having guests over or serve it in the same bowl. That's one less dish to wash, am I right?
Add the orange chunks, cilantro leaves, sliced almonds, and chow mein noodles. If you don't have almonds, peanuts or cashews will give you the same crunch.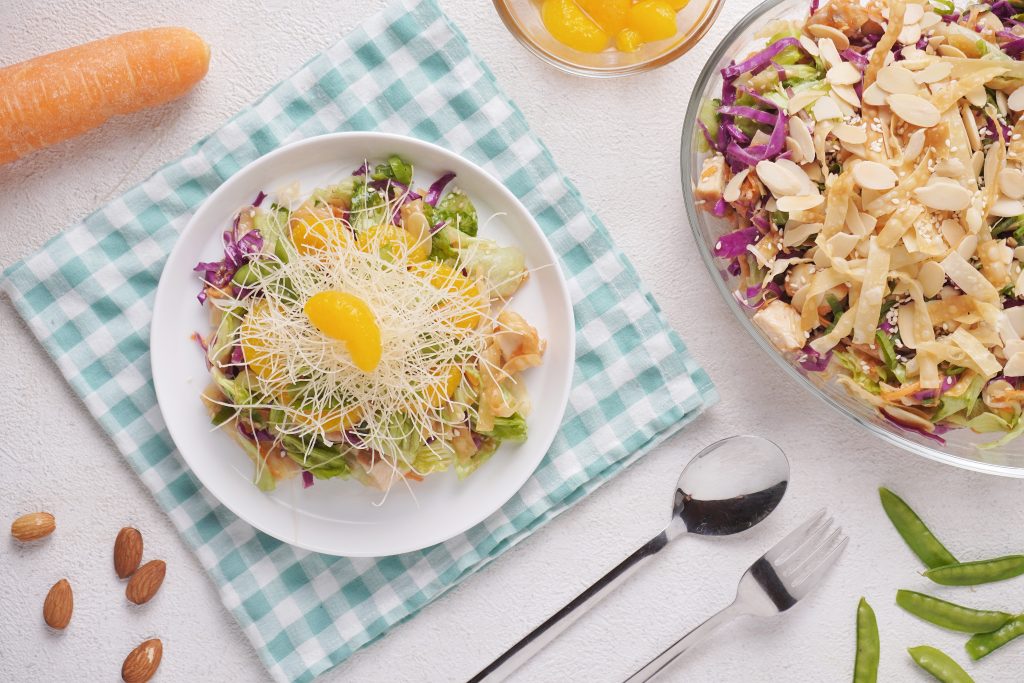 Also, you can mix the chow mein noodles early on with the veggies, but I prefer it crunchy and don't want to soak it with the dressing. Finally, you can add sesame seeds on top of the chicken salad.
Tip: You can find chow mein noodles in the Asian food section of your local grocery store.
Voila! Your Chinese chicken salad is ready, so dive in, and enjoy the toasted and slivered almonds, crisp vegetables, sweet oranges, and tender chicken. But don't forget to get that Instagram shot because this chicken salad is undoubtedly photogenic!
Is Chinese Chicken Salad Really Chinese?
Ironically, the Chinese chicken salad is an American dish created in the 1930s, so how did it get the name? The answer lies in the ingredients used to make the chicken salad.
After all, it features a lot of ingredients that are staples of the Chinese cuisine. We're talking about sesame, rice vinegar, garlic, ginger, and soy sauce. Not to mention, it features mandarin orange, a native tree of south-Eastern Asia and the Philippines. So, it'd be more accurate to consider this chicken salad a Chinese-inspired or an Asian-American fusion dish. We often serve this recipe with Hunan Beef for a full meal.
What Goes Well With Chinese Chicken Salad?
If you want to try out this Chinese chicken salad, let me tell you what dishes are perfect to serve with it.
Fried Rice
If you want to embrace the Asian theme for this meal, pair the savory salad with a starchy side dish like fried rice. This traditional Asian dish is an explosion of flavors, thanks to its green onions, carrots, beans, eggs, sesame oil, and soy sauce or other sauces. Not to mention, fried rice will help you hit your protein goal for the day.
Lo Mein Noodles
Unlike chow mein noodles, lo mein noodles are soft. You can boil the egg noodles and toss them in a sauce to cook them. I love having lo mein noodles with the Asian chicken salad because it balances out the salad's crunchy veggies, noodles, and almonds with its softness. And who doesn't love a creative way of incorporating healthy carbs?!
Egg Drop Soup
Egg drop soup, another traditional Chinese dish, goes perfectly with this tasty salad. Its eggs, chicken broth, finely chopped scallions, and tofu bring tons of textures and flavors to the table, pun fully intended.
Garlic Bread
I always go for garlic bread when I want a light dish next to the Asian salad. Just picture the garlic bread soaking up the salad dressing! My mouth is watering just thinking about it. It's crunchy, delicious, and easy to make! Add some garlic butter mix, and bake the bread until it develops a golden-brown crust.
Crispy and Fresh!
Overall, I hope you're as excited to try out the Chinese chicken salad as I am for you! You can prepare the Chinese chicken dressing and chop the veggies ahead of time.
Then, with the meal prep out of the way, just put everything together whenever you want to make the best salad for all tastes! As you've noticed, there's so much room for customization, so feel free to add your own spin to this heavenly salad recipe.
Yield:

4
Chinese Chicken Salad
This easy-to-make Chinese chicken salad is delish. The combo of tender chicken, crunchy noodles, crispy veggies, sweet oranges, and gingery dressing satisfies my sweet and savory cravings.
Ingredients
2 cups romaine lettuce - cored and chopped
2 cups iceberg lettuce - cored and chopped
2 cups red cabbage - cored and thinly sliced
1 carrot, shredded
½ cup bean sprouts
5 green onions - chopped
1 rotisserie chicken - skinned and cubed
½ cup drained mandarin orange
1 package of crispy rice noodles
1 package gluten-free wonton strips, fried
5 ounces sliced almonds
3 tablespoons sesame seeds
½ cup snow peas - sliced
Sesame Plum Dressing Ingredients
¼ cup plum sauce
2 tablespoons canola oil
1 teaspoon sesame oil
2 tablespoons rice wine vinegar
2 tablespoons light soy sauce
½ teaspoon fresh ginger paste
2 cloves garlic - pressed
1 teaspoon granulated sugar
¼ teaspoon sea salt
¼ teaspoon white pepper
Instructions
In a bowl, add all the sauce ingredients
Whisk them until combined and the dressing is emulsified.
Combine the lettuces, cabbage, chicken cubes, bean sprouts, shredded carrot, ½ of the green onions, ½ of the almonds, ½ of the sesame seeds, and ½ of the wonton strips in a large salad bowl.
Pour the dressing on top and toss until the dressing is evenly distributed.
Top the salad with the remaining green onions, almonds, sesame seeds, and wonton strips.
Divide the Chinese Chicken Salad onto individual plates and garnish with mandarin oranges, snow pea slices, and crispy rice noodles.