Cinnamon Roll Baked Oatmeal with Caramel Vanilla Icing
There's nothing quite like a pan of warm cinnamon rolls fresh from the oven. Unfortunately for those who are sensitive to gluten, a flaky cinnamon roll made from regular flour can wreak havoc on the digestion. This cinnamon roll baked oatmeal is a delicious gluten-free alternative.
Every Sunday morning when I was little, we had sweet rolls of some kind for breakfast before heading off to church. That gooey goodness slathered in orange flavored frosting was heaven on a plate. My mom didn't want to mess with making cinnamon rolls from scratch, so I never knew anything but the kind that came from a tube.
A better way to cinnamon roll
Not only is it incredibly time consuming waiting for the dough to rise and craft them from scratch, but regular cinnamon rolls don't agree with my digestion. Gluten-free breakfasts like bacon and eggs and oatmeal are quick to make, but they can get boring fast.
To solve all my problems, I decided to come up with a gluten-free baked oatmeal recipe that tastes just like cinnamon rolls. These are moist, sweet and utterly delicious! I normally don't frost things, especially my breakfast, but I couldn't make a cinnamon roll baked oatmeal without an icing.
I used coconut sugar for these since it's healthier than refined sugar. I used to think that the evaporated cane juice listed on "healthy" dessert labels meant that the item was free of refined sugar. It wasn't'. Evaporated cane juice, even if it is organic, is just a fancy pants name for refined sugar.
I like the coconut sugar even better though. Not only is it unrefined, but it has a rich, almost caramel flavor to it. I use it in these chocolate dipped almond biscotti as well.
I made my version with good ol' butter, however feel free to substitute coconut oil if you don't do dairy. I did however use cashew milk in the caramel vanilla icing. You can even use homemade alternative milks. This recipe for coconut milk only takes 3 minutes to make!
Cinnamon Roll Baked Oatmeal
These gluten free baked oatmeal bars taste like cinnamon rolls without all the work.
Print
Ingredients
For the caramel vanilla icing:
Instructions
In a large bowl combine all of the baked oatmeal ingredients, except for the oats and whisk until thoroughly combined.

Stir in the oats and then pour the mixture into a greased 8x8 baking dish.

Bake at 350 for about 25 minutes, or just until firm in the middle.

To make the caramel vanilla icing:

Process the coconut sugar ½ cup at a time in a coffee grinder until powdered.

In a bowl combine the powdered coconut sugar, butter and vanilla and mix thoroughly. I use the whisk attachment on my mixer. Add milk a small drizzle at a time until the icing is the desired consistency.

Allow the baked oatmeal to cool a little before spreading the icing on top.
Keto Mint Chip Pudding + Keto Clarity
Last week  I went to Berkeley for the Ancestral Health Symposium and I quickly realized that the Keto diet was well loved among those present.  I also had the chance to meet Jimmy Moore, who was such a nice man.
Jimmy just released his newest book Keto Clarity, which is the definitive guide to the benefits of the diet.  While I have heard of the diet and even made a bad attempt of trying it for a week, I was pretty excited to get a more in-depth account of why this diet is such a powerful healing tool.
When I previously thought of the Keto diet, I thought of the following:
No hunger
Normal blood sugar levels and repaired insulin sensitivity.
Endless energy
Stinky breath and pee (come on, we all think of this one)
What I didn't know was that it also helps with:
Better fertility
Increased sex drive
Slowing of aging
Reduced acne and other skin conditions
Decreased anxiety and mood swings
and so much more . . .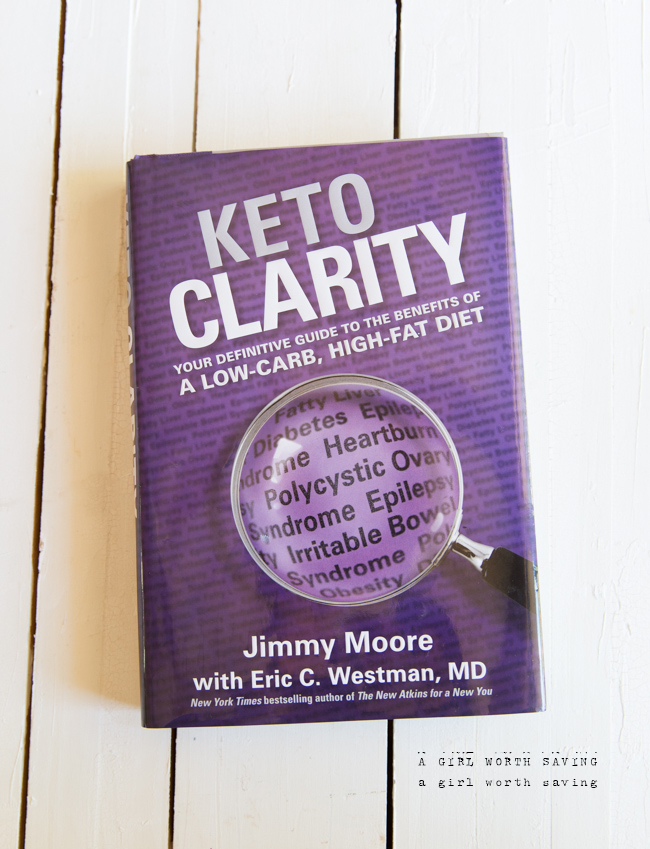 The Keto diet focuses on eating high quality fats, moderate protein and less than 30 carbs a day (This is individual so you will need to test your blood sugar to get the correct number of carbs you need).
Keto Clarity breaks down all this information in an easy to understand way and provides all the tools you need to get started on your Keto journey.  I highly recommend grabbing this book so you can get the truth and the tools necessary to start this diet.
Enter below via the rafflecopter for a chance to win a copy!
Keto Mint Chip Pudding + Keto Clarity
Print
Ingredients
Chips
1/2

cup

melted coconut oil

1

tablespoon

cacao powder

3

drops of stevia
Pudding
oz

One 13.5 canned full fat coconut milk

1

teaspoon

peppermint oil

1

large avocado

pitted

10

drop of Protocol Stevia
Instructions
To make the chips, please the ingredients in a small mixing bowl and blend with a whisk or fork until smooth.

Pour into a greased or parchment paper lined small flat container and place in the fridge until set, roughly 1 hour.

Remove from the freezer and with a knife, chop into rough chips.

To make the pudding, place all the ingredients in your blender and pulse until smooth.

Fold in the chips and then place in your fridge to chill for an hour.
© 2011-2014, A Girl Worth Saving. Feel free to pin my posts but do not repost my full recipe on your blog, Tumblr, or any other website.