Ok, strange fact, but I don't really like coconut milk. The stuff you buy in the can is too thick and creamy for my taste so I decided to  make my own.
What you need:
1 cup of shredded unsweetened coconut flakes
2 1/2 cups of hot water
1 mesh strainer – I use a paint strainer bag from Home Depot that cost $3 for 2. You can reuse these over and over. I did soak it in warm soapy water and vinegar before I used it the first time.
Dump the hot water and coconut shreds in your blender
Depending on your blender, blend for up to a minute. Around 30 seconds, the warm smell of coconut hit me and I knew it was done.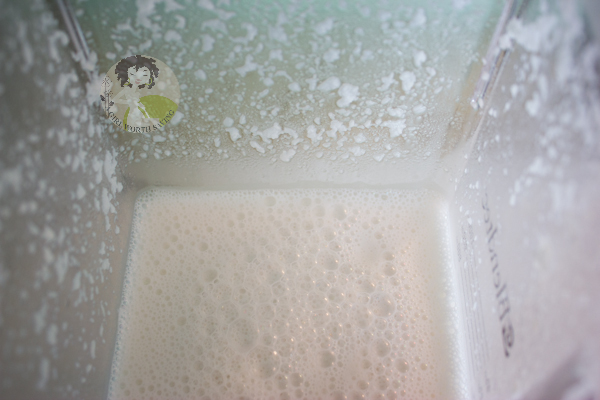 Nice and bubbly
Now strain through your mesh bag into a large bowl
Wring out the extra milk
Pour into a glass resealable container
Voila! We have coconut milk. This is a nice light coconut milk and the cream will rise to the top after it settles