Last Updated on September 3, 2023
Making a recipe and only have green bananas? You are in luck! See how to ripen bananas fast with only your oven! I've used this ripening process so many times and it's literally the easiest way to ripen a bunch of bananas fast.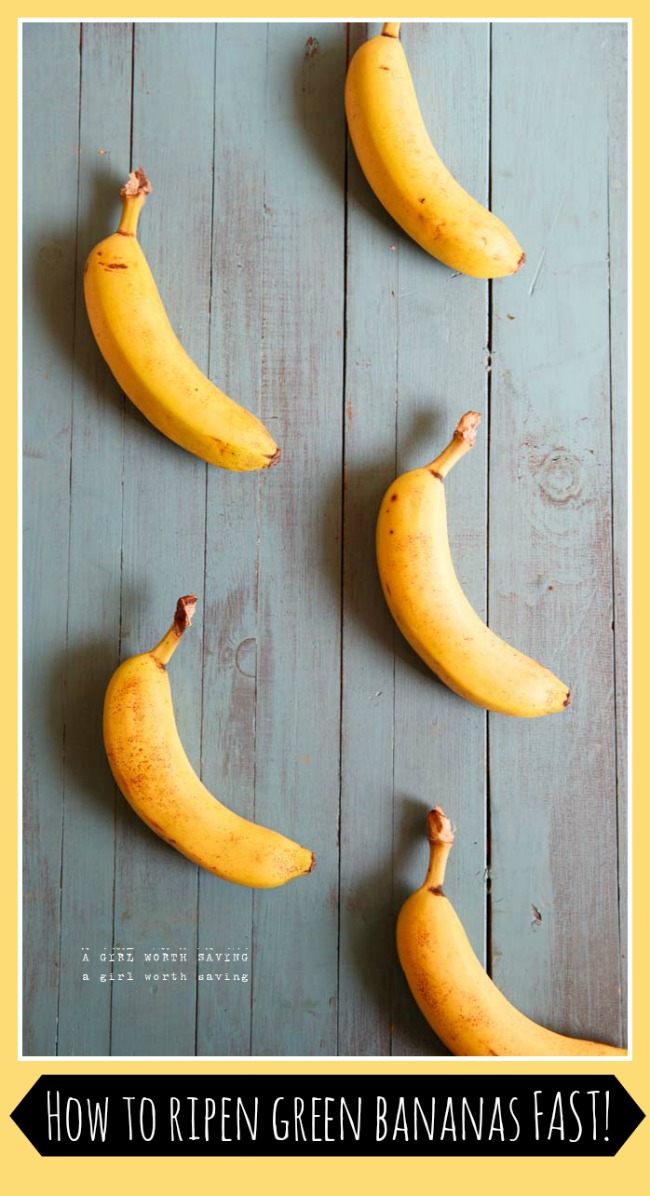 Two weeks ago, I went to four grocery stores trying to find a ripe banana for a recipe. Seriously, it was like I had entered a green banana paradise. Everywhere I looked, all I saw were unripe bananas just staring back at me. I went to another grocery store, and the same thing was there, too. The recipe called for ripe bananas, not unripe bananas and I didn't know what I was going to do.
I was at my wit's end and burning through the last bit of gas in my old Honda Oydessy when it came to me that I could get creative and bake them to get them to ripen even faster.
It might not seem like it would work but a million and a half years ago I had stumbled onto the technique online and thankfully the bit of information popped back as soon as I needed it. This is one trick that really does work and I can say that because it's a process that I've used over and over again. It's one of those life tips that everyone should know to solve life problems.
How do you ripen bananas in the microwave?
Even though this post is about how to get the ripeness of your bananas in the oven, I have to sneak in a little tidbit and let you know that your microwave can help your bananas ripen as well.
Use a fork and poke a few holes in the peel of the banana, then pull down a bit of the peel on all sides as well. (Remember, this is for yellow bananas that are quite ripe yet!)
Pop the fruit in the microwave for about 1 minute or so, and once it's done, you'll find out just how easy it is to quickly ripen bananas. (I've done this for banana bread, homemade banana ice cream, and other fun fruit recipes as well.
Just be certain that you let them cool once you take the ripe bananas from the microwaves.
Do bananas ripen faster in a bunch?
If you have time to ripen bananas, you can wrap the banana stems with saran wrap to help the fruit ripen quickly.
What fruits make bananas ripen faster?
Other fruits can actually help your unpeeled bananas ripen quickly. Place fruits like apples or tomatoes in a paper bag with your bananas and you'll notice that the bananas will start to ripen quickly, often noticing a change within 24 hours or less.
Can I use unripe bananas for banana bread?
You can but you will be missing out on that sweet banana flavoring. The perk of using an overripe banana for banana bread and other baking needs is that once the banana is ripe, it releases that key sweet flavor that will have everyone craving more.
How do you get bananas to ripen quickly?
If you're ready to learn how to ripen bananas using the oven method, you're going to go "bananas" for this simple trick. (see what I did there?!) You don't need to use a paper bag, plastic bag, or any other supplies besides a simple baking sheet.
Ingredients you'll need to ripen bananas fast:
Learning how to ripen bananas takes just one easy ingredient.
Green bananas (one is fine, or a bunch)
How to ripen bananas fast:
Preheat your oven to 350 degrees.
Place your bananas on the baking sheet and place in the oven and cook for 20 to 25 minutes.
Remove from the oven and let cool and then use as needed.
That's it – can you believe it? I couldn't love this simple tip any more and I'm hoping that it's helpful to you as well!
Notes and Variations
This is so easy and your bananas will be a black color when they are done. Don't worry about the coloring, this is normal.
They will be sweet and slightly runny from the water that has cooked out of them. They are not pretty but who cares, you're just going to whiz them up in a recipe so no one will see them.
The great part about this baking bananas recipe is that you'll have ripe bananas in less than 30 minutes of time. (and the ripeness of the fruit will be perfect!)
Keep in mind that baking the fruit is going to make it hot so you need to be very careful with the peels and the banana once done. I recommend using a spoon to mash up the bananas even more once they've had time to cool for about 20 minutes or so. (that's totally up to you – this is just a preference)
See how simple it is to make your own banana pulp? You'll worry no more about trying to spend your days searching for ripe bananas now that you know you can make your own in just 30 minutes or less!
Fun Ways To Use Ripe Bananas
Once you realize that this is the easiest way to ripen the fruit, you'll never have to worry about your baking needs again! This is so much better than waiting on the bananas to ripen in a plastic or paper bag and will just help you out with so many other recipes that call for bananas as well!
What knew that there were so many ways to do this?!
What other tips and tricks do you know when it comes to ripening bananas and fruits?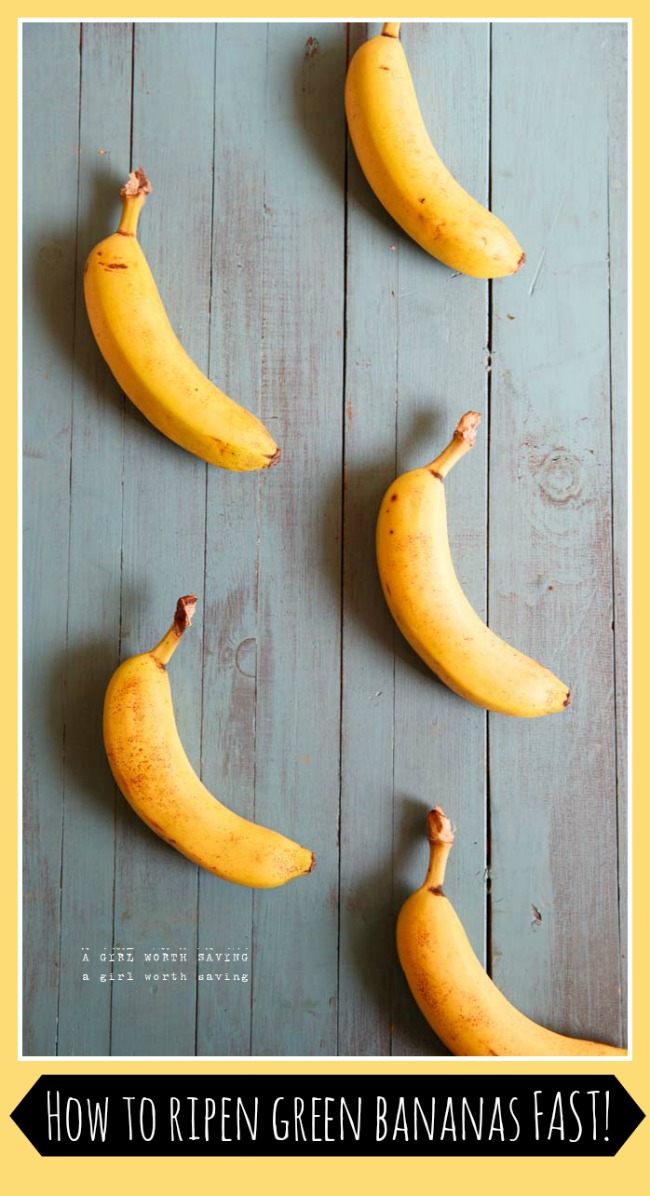 Yield:

5
How to ripen Bananas Fast!
Quickly ripen green bananas in your oven.
Instructions
Preheat your oven to 350 degrees.
Place your bananas on the baking sheet and place in the oven and cook for 20 to 25 minutes.
Remove from the oven and let cool and then use as needed.
Nutrition Information:
Yield:
5
Serving Size:
1
Amount Per Serving:
Calories:

21
Total Fat:

0g
Saturated Fat:

0g
Trans Fat:

0g
Unsaturated Fat:

0g
Cholesterol:

0mg
Sodium:

0mg
Carbohydrates:

5g
Fiber:

1g
Sugar:

3g
Protein:

0g
Other Tips You Might Enjoy