Last Updated on December 6, 2020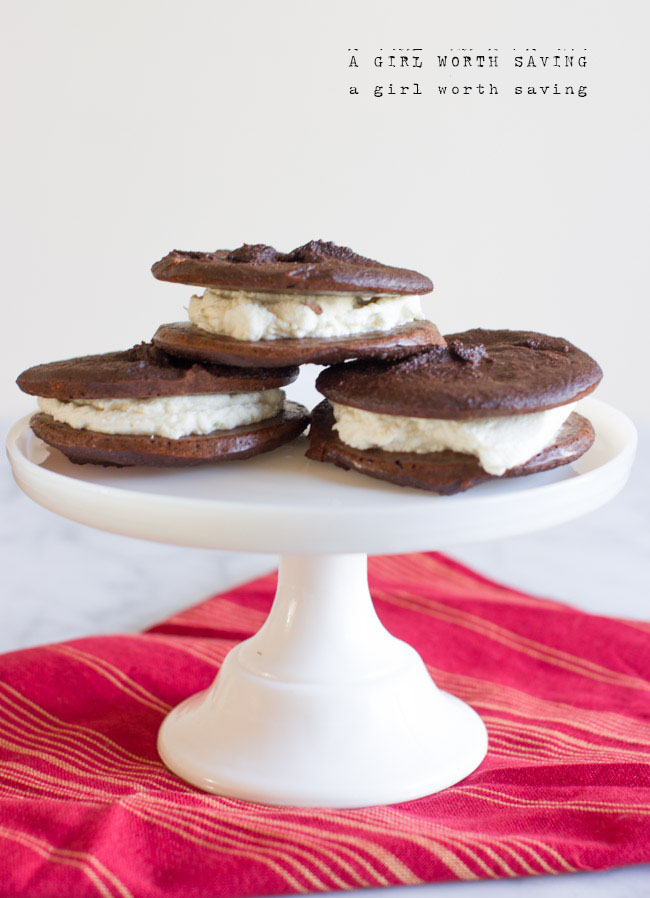 On the first day of Christmas,
my true love sent to me
A partridge Whoopee Pie in a pear tree.
Yesterday my family bought our Christmas tree, put up our decorations and stockings and got into the spirit of the holidays. Before becoming a parent, Mr. Bejelly and I would often skip decorations. Heck, there were a couple of years where we would even go without a tree. I know, sad. However, this year our house looks like the Grizwolds just set up camp for their next movie.
To celebrate the Christmas spirit, I've joined together with 10 bloggers to share Paleo treat recipes over the next 12 days.
I'm kicking it off with this Dark Chocolate Peppermint Whoopee pie. There is just something about peppermint, chocolate and whipped cream that make me dream of snow covered streets and a warm fire in the hearth. It also makes me think of Santa Claus and the wonder and miracle of the gift of small things.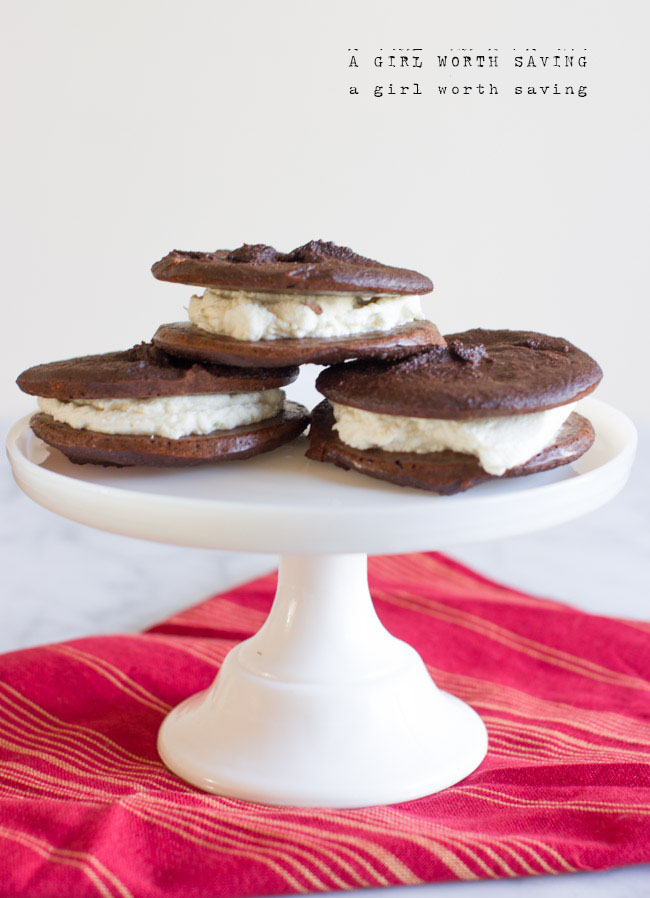 Yield:

3
Dark Chocolate Peppermint Whoopee Pie
Ingredients
Cookie
1/4 cup coconut flour
1/3 cup of Cacao powder
1/4 tsp sea salt
1/2 tsp pure vanilla extract
3 tbsp B grade maple syrup
1/4 cup of water
3 eggs
1/4 tsp of peppermint flavor
Whipped Topping
13 oz can of Full Fat coconut milk, place in fridge overnight
1 tsp B grade maple syrup
1/4 tsp of peppermint syrup
Instructions
To make the cookie combine all the ingredients in a bowl and mix until you have a smooth batter.
Pour this into a muffin top pan and bake at 350 degrees for 10 minutes.
Remove and let cool.
To make the whipped topping, remove the hardened coconut fat from the can and place this in a bowl with peppermint flavor and maple syrup.
With a hand mixer beat this until you have a whipped topping.
Spoon this between the cookie to make a sandwich.
Enjoy!
© 2011-2013, A Girl Worth Saving. Feel free to pin my posts but do not repost my full recipe on your blog, Tumblr, or any other website.