Last Updated on October 23, 2022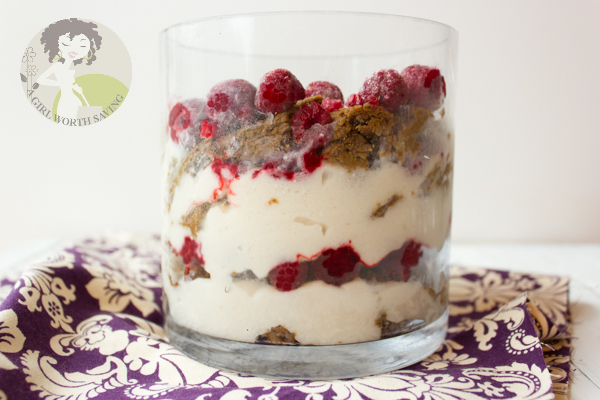 First, holy smokes, this was a tough picture to take. My delicious gingerbread cake decided to take a face plant on to the floor so I had half of the cake to work with for this photo and the pudding kept getting everywhere. I had to wipe the glass half a million times to get it to look this good and then after I got to this point I realized I should have just piped it in. Oh well, enough complaining 🙂 So, this is YUMMY! The Little took a bite of this and proceeded to spin around in three circles and then hopped in my lap and proceeded to eat all of my dish. The ginger, lime and raspberries in the recipe make for a lovely flavor combination.
A couple of pointers, I used homemade coconut milk to make the pudding It's much thinner than canned coconut milk so if you go that route you will want to thin it to the consistency of cow milk. I also used gelatin to get the pudding to set.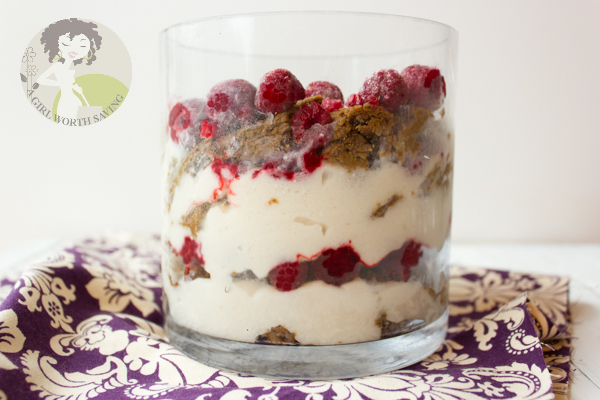 Yield:

8
Paleo Gingerbread Trifle
Total Time:
5 hours
20 minutes
Ingredients
Gingerbread Cake
4 large eggs
1/2 cup coconut flour, shifted
1 cup applesauce
1/2 teaspoon pure vanilla extract
1/2 teaspoon baking soda
1/2 teaspoon ground cinnamon power
1/2 teaspoon ginger
1/4 teaspoon cloves
1/4 teaspoon allspice
1/4 cup B grade maple syrup
1/4 cup molasses
Vanilla Lime Pudding
4 cups coconut milk
1 teaspoon pure vanilla extract
4 Tablespoon B grade maple syrup
2 Tablespoons Lime Juice
2 Tablespoons gelatin
Instructions
To make the cake, combine the eggs, coconut flour, baking soda, spices, maple syrup, molasses and applesauce in small bowl and mix until you have a batter.
Pour the batter in a greased 8" round cake pan and bake at 350 degrees for 25- 30 minutes or until a toothpick comes out clean.
To make the pudding, combine your coconut milk, maple syrup and lime juice in a small sauce pan and warm. Remove from the cook top and mix in the gelatin. Place in a bowl and cover and let chill in the fridge overnight or until set. BTW - I used homemade coconut milk which is much thinner than canned coconut milk. I would say the consistency is of normal milk. You can either thin it or leave it as is
When the pudding is set, take a hand mixer and blend for 1 -2 minutes until you get a smooth pudding-like consistency.
Next layer the gingerbread cake, pudding and raspberries in a trifle dish until you run out of ingredients.
Enjoy!
© 2011-2012, A Girl Worth Saving. Feel free to pin my posts but do not repost my full recipe on your blog, Tumblr, or any other website.