Last Updated on September 15, 2022
Looking for gluten-free beer battered onion rings? These Paleo onion rings are the real deal and have the perfect crispy texture that you crave.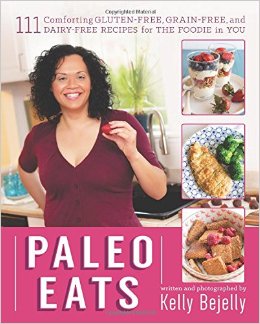 A long time ago, in a galaxy far away I wrote a cookbook called Paleo Eats.
I consider Paleo Eats my second child and with my third one on the way (Baby Bubba), I wanted to do something special and share one of my favorite recipes from the book on my blog.
I love cooking. I love pushing the button and thinking outside the box and it was a MUST for me to create a paleo onion ring recipe, not just just any recipe mind you, but a recipe that was so similar to Beer Battered Onion Rings that no one would know the difference (hint they are just as good as my truffle fries recipe).
I'm a lady who believes that Genius works through me and it's a blessing that the idea to use Kombucha came through loud and clear the day I decided to make these paleo onion rings.
What you need to make this recipe:
onion
tapioca flour
Batter
tapioca flour
blanched, superfine almond flour
sea salt
garlic powder
black pepper
plain kombucha
coconut oil, for frying
Yield:

4
Paleo Bucha Onion Rings
Ingredients
1 large onion
¼ cup tapioca flour
Batter
¾ cup tapioca flour
½ cup blanched, superfine almond flour
1 teaspoon sea salt
½ teaspoon garlic powder
½ teaspoon ground black pepper
1/2 cup plain kombucha
4 cups coconut oil, for frying
Instructions
Peel and slice the onion into ¼-inch-thick rounds. Separate the onion rings. Place them in a bowl and toss and coat them with the ¼ cup of tapioca flour until evenly coated. Set aside.
In a second large bowl, combine the tapioca flour, almond flour, salt, garlic powder, and black pepper and mix well with spoon.
Pour in the kombucha and blend until you have a thick batter.
Let this sit for 10 minutes.
In a Dutch oven over medium-high heat, heat the oil to 350 degrees.
Take one of the onion rings and dip it in the batter until well coated and then gently drop it into the hot oil. Repeat with 3 or 4 additional rings, without overcrowding the pan. Let the rings fry until golden brown on one side, 3 to 4 minutes. Flip and repeat.
Using tongs, remove the onion rings and set on a paper towel to drain. Repeat with the rest of the onion rings and batter until all are fried.