Last Updated on November 29, 2020
Truth be told, I'm not huge into pumpkin. I didn't have a piece of pumpkin pie until I was in college and I was just like, what's the fuss all about. Now, I can honestly say I'm a pumpkin fan. This recipe came about from my experimenting in the kitchen to try to make french toast. I'm still working on it but this paleo dessert recipe will be on my holiday menu for years to come.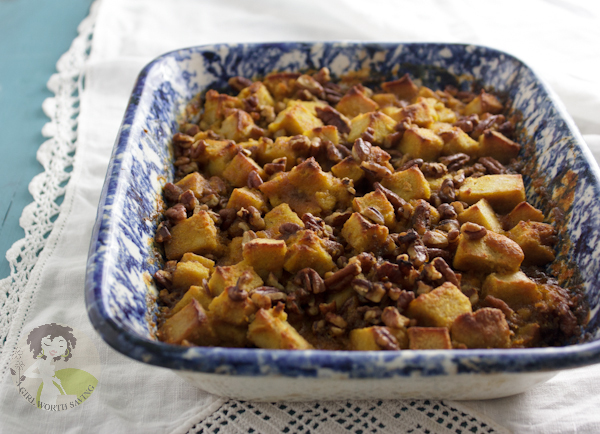 Most bread puddings come with some super sugary sauce and I just couldn't do it but I highly recommend topping this with whipped cream or coconut cream. Honestly, this would be all kinds of deadly deliciousness with a scoop of vanilla ice cream.
Yield:

6
Paleo Pumpkin Bread Pudding
Total Time:
1 hour
10 minutes
Ingredients
bread
4 large eggs
1 cup water
2 Tablespoons of apple cider vinegar
½ cup coconut flour
1 teaspoon of pumpkin spice
¼ cup and 1 teaspoon of coconut oil melted
½ teaspoon baking soda
Pumpkin Sauce
1/2 cup pumpkin puree
1/4 cup B grade maple syrup
1/4 cup of melted coconut oil or butter
1/4 teaspoon sea salt
1/2 cup of pecan pieces
Instructions
To make the bread, combine the eggs, water, apple cider vinegar, coconut flour, pumpkin spice, baking soda and melted coconut oil in a bowl and mix thoroughly.
Pour the batter into a grease 8 x 8 square pan and bake for 20 - 25 minutes or until a toothpick comes clean at 350.
Remove from the oven and let cool completely. Cut into small cubes.
In a separate bowl combine the pumpkin puree, melted butter, maple syrup and salt and mix well.
In a small baking dish place the cubed bread. Top with the pecan pieces then pour the pumpkin filling over this. Lightly toss to coat the bread and pecans.
Bake in the oven for 20 minutes at 350.
Top with whipped cream, coconut cream or ice cream.
© 2011-2012, A Girl Worth Saving. Feel free to pin my posts but do not repost my full recipe on your blog, Tumblr, or any other website.