Paid Endorsement Disclosure: A Girl Worth Saving is a participant in the Amazon Services LLC Associates Program, an affiliate advertising program designed to provide a means for sites to earn advertising fees by advertising and linking to AMAZON.COM. This post may contain affiliate links and/or ads from Amazon or other affiliate partners. We only recommend products or services that we have personally tried and love. When you make a purchase through any of these links, we earn a small commission on each sale, which allows us to cover a portion of the cost of this site. This has no effect on your sale price and is simply a cost of doing business for the company you are purchasing from.
Mr. Bejelly has asked me to make Paleo Pretzel Dogs  for weeks and, well, I put him off and off until he put down his foot down.  The man hid my tablet until I made them.  Mr. Meany that he is, he should be glad that I'm a kind soul, and that I didn't put too much salt in them to teach him a lesson.
Anyhow, this recipe uses my Paleo Soft Pretzel recipe as the crust and the only thing I would do differently is increase the cook time of the recipe so that the dough is firmer.
My son gobbled them down and begged for more.  These would make the perfect school lunch for your kid and I plan to make these often for the Little when he heads to school.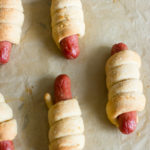 Paleo Pretzel Dogs
Print
Ingredients
Paleo Soft Pretzel Recipe

5

Applegate Farms Organic Grass Fed Hot Dogs
Instructions
Make the Paleo Soft Pretzel recipe and instead of rolling the dough into pretzel shapes wrap around the hot dog as shown.

Bake at 350 degrees for 35 - 40 minutes

Enjoy!
© 2011-2013, A Girl Worth Saving. Feel free to pin my posts but do not repost my full recipe on your blog, Tumblr, or any other website.