This post contains affiliate links. Click here to read my affiliate policy.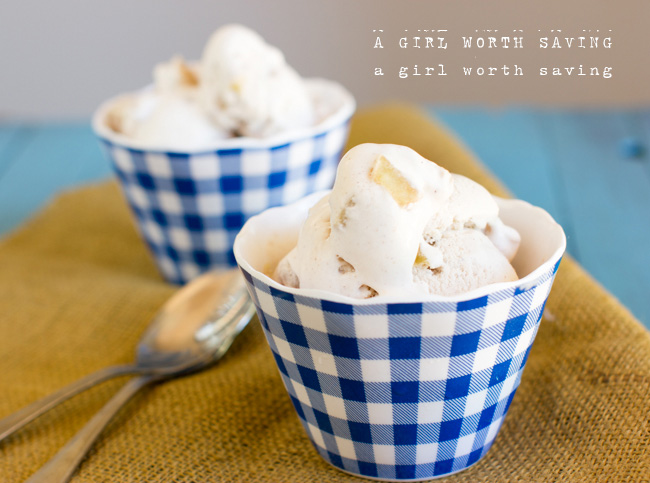 I've been putting my Cuisinart Ice Cream maker to use and thinking of fun ice cream recipes to make. My BFF was in town and I was running ideas past her on what sounded tempting and her eyes lit up when I said Apple Pie Ice Cream. I knew I had to give it a whirl and I'm torn between being happy about another tasty recipe and the fact that I can't just eat the whole dang container. I know, these problems are pretty minor when compared to some, but I'm suffering over here.
If you want a nice crunchy add-on to the recipe, sprinkle on some of my Cinnamon Square Crunch Cereal Recipe. OMG, It's freaking amazing with this recipe and gives it the "crust" to complete the recipe. The Little attacked this like he was trying out for a food competition so I figured it was a winner.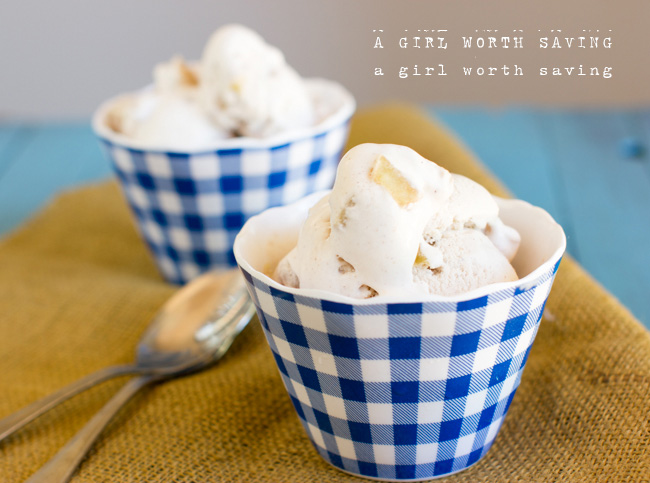 Yield:

8
Paleo Apple Pie Ice Cream
Ingredients
Apple Filing
1 Medium Tart Apple, diced
1 teaspoon pumpkin pie seasoning
2 tablespoons ghee, or coconut oil
1 tablespoon B Grade Maple Syrup
3 tablespoon water
pinch of sea salt
Ice Cream
2 13.5 oz cans of full fat coconut milk
1/4 cup B grade maple syrup
1 teaspoon pure vanilla extract
1/2 teaspoon pumpkin pie seasoning
Instructions
In a sauce pan place the diced apple, water, maple syrup, pumpkin pie spice and ghee.
Cook on low until the water is evaporated and the apples are soft (not mushy), roughly 8 minutes.
In a blender combine the coconut milk, vanilla, pumpkin pie spice and vanilla.
Blend until well mixed.
Now add in the apple filling and place the liquid in your ice cream maker for 15 minutes. Enjoy!
© 2011-2013, A Girl Worth Saving. Feel free to pin my posts but do not repost my full recipe on your blog, Tumblr, or any other website.