Last Updated on November 29, 2020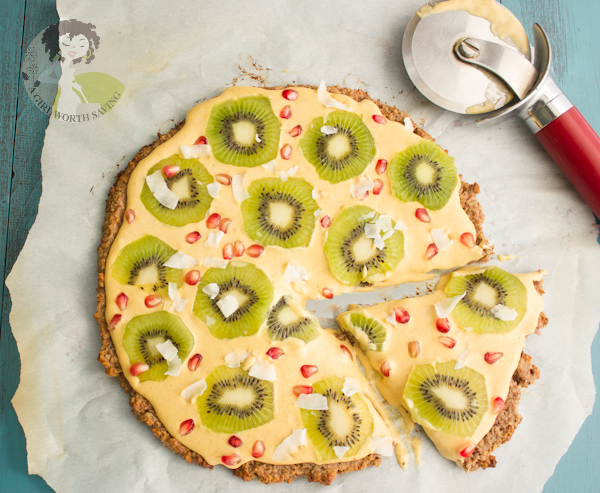 When I think of holidays I think of pumpkins, pomegranates and pizza. Yeah, pizza. I didn't grow up with traditional dishes during the holidays. Well, we had turkey and stuffing every year, but my mother is Filipino and she would whip up egg rolls, pancit, fried rice and whole mess of southern food every year for our holiday dinners. Now where does the pizza come into play? Well, my Aunt who is not the greatest cook, wanted to contribute to the holiday fun and she did so by providing pizza. Now in retrospect it's no surprise where my love of buffets comes from. Anyhow, I wanted to have a little fun with my holiday tradition and make a pumpkin dessert pizza with a pecan cookie crust.
My absolute favorite nut is the pecan. I'm almost ashamed to admit that I have five pounds sitting in my pantry calling to me. For this recipe I used Diamond of California Pecans. I did soak and dehydrate them before turning them into a crumble/flour for the crust. I also used dates for the main sugar for the crust and pumpkin cream cheese sauce. To make this recipe you need a tiny bit of planning but it's worth it.
Here's a close up of the crust. It was nice and cookie-like and held up really well. You'll see it again in some of my future Paleo dessert recipes because it is just awesome. We demolished the pizza in two days and it's the perfect holiday treat. I so plan on making it for Thanksgiving as one of the desserts (come on you know we have to have more than one).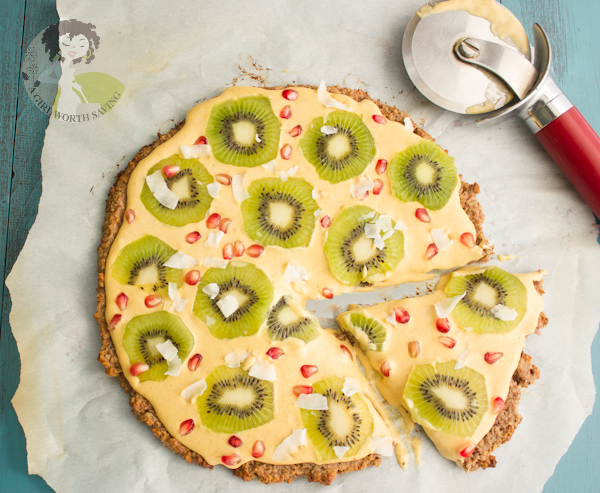 Yield:

8
Pumpkin Dessert Pizza
Cook Time:
4 hours
15 minutes
Total Time:
14 hours
15 minutes
Ingredients
Date Syrup
20 medjool dates
water to cover the dates
1/4 teaspoon ground cinnamon power
1/2 teaspoon pure vanilla extract
Pecan Crust
2 cups of soaked and dehydrated Pecans
1 egg white
1/4 cup of date syrup
Pumpkin Cream Cheese Sauce
1/2 cup of Pumpkin puree
3/4 cup of date syrup
1 8 oz package of cream cheese, softened
1 teaspoon coconut flour
Toppings
2 in kiwis. peeled and sliced 1/4" thick slices.
1/4 cup of a pomegranate seeds
2 Tablespoon of Coconut flakes
Instructions
First make the date syrup but placing the dates in a glass and cover with water. Soak for 8 hours.
Take the soaked dates and the water and put them into a blender. Add the cinnamon and the vanilla and whiz until you get a nice thick syrup.
For the pumpkin cream cheese sauce, take 3/4 cups of the date syrup, the softened cream cheese and 1/2 cup of pumpkin and mix thoroughly with a spoon.
It will be liquidy but will set up in the fridge
For the pecan crust, take the 2 cups of pecan and process them into a crumble in your food processor.
Spoon the pecan flour into a bowl and add 1/4 cup of the date syrup and one egg white.
Press the dough on to small pizza pan that has been covered with parchment paper. My pizza was roughly 10" round and 1/4 thick.
Bake in the over at 350 degrees for 12 -15 minutes until the bottom has browned. Set aside to cool.
Take the cool pecan crust and drizzle the pumpkin cream cheese sauce over it. You will have extra but trust me, you will find uses for it. Hint - Over bananas!.
Then top with your fruit toppings and let chill in the fridge for at least 4 hours. If you want you can stick it in the freezer for 30 minutes.
Enjoy!
© 2011-2012, A Girl Worth Saving. Feel free to pin my posts but do not repost my full recipe on your blog, Tumblr, or any other website.
100 years of holiday traditions you just don't mess with.
Classic family recipes call for a classic ingredient. Diamond of California nuts.
The only nut good enough for your mom's mom's recipes is the only one that
should be in yours. Diamond of California. Premium quality nuts since 1912.
Disclosure: Compensation was provided by Diamond of California via Glam Media. The opinions expressed herein are those of the author and are not indicative of the opinions or positions of Diamond of California