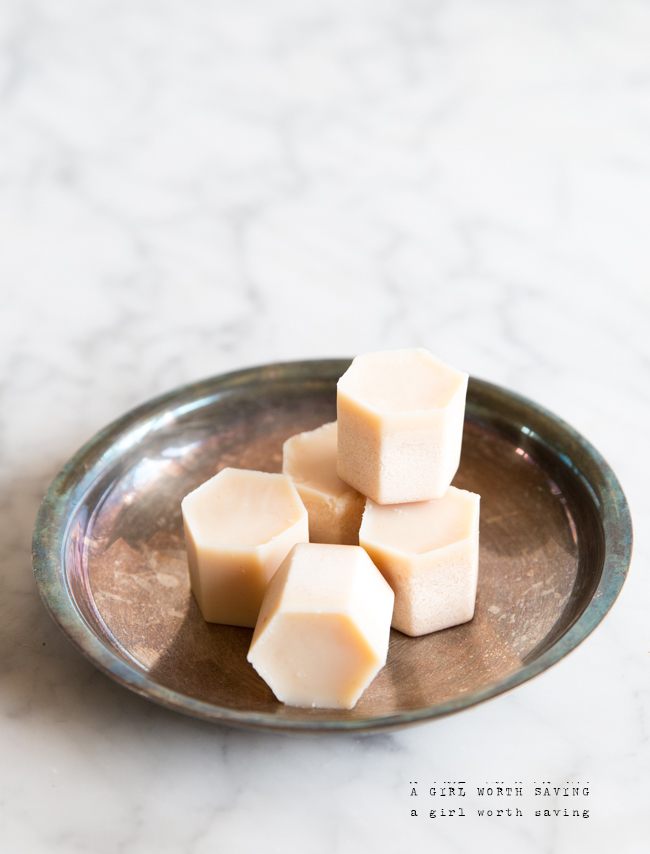 I'm pretty sure that everyone and their mama  started a new exercise  program this month to help make their resolution to get fit a reality.
Did you know that  caffeine helps improve athletic performance? I figure that's a good enough reason to have a cup of  bulletproof coffee before a workout.
I wanted to make something grab and go so I put all the ingredients into a "drop" of awesomeness.
To be fair the guy that created bulletproof coffee recommends you only use organic grass-fed butter and his brand of coffee for better health benefits in this drink.
My motto is "buy what you can afford".
Now there are other benefits to this amazing drink hidden in all the delicious fats:
Health Benefits of Butter
Butter has been demonized for years since it is full of saturated fats but the truth is that grass-fed butter is rich in fat-soluble vitamins with the most important one being Vitamin K2, which has amazing health benefits.
In the Rotterdam Study, they discovered that those who had the highest intake of Vitamin K2 had a 57% lower risk of dying from heart disease.
From fighting cancer, improving dental health and improving bone density, Vitamin K2 is the bees knees and grass-fed butter is full of it.
Health Benefits of Coconut oil
Coconut oil, according to several current studies and reports, can even help with the prevention of cancer, Alzheimer's disease, diabetes, pancreatitis, and HIV. Let's take a closer look at how coconut oil can back up those claims:
Coconut Oil as Cancer Prevention. Cancer cells are simple cells. Cancer cells cannot produce the extra organisms that metabolize ketones and convert fat into energy, so a diet high in fats like coconut oil help to thwart cancer growth. Basically, when there are no simple sugars for the cancer cells to use as energy, they are starved out; they can't reproduce.
 Coconut Oil as Alzheimer's Inhibitor. Studies have shown that boosting ketones can improve cognitive function in Alzheimer's patients.  Mary Newport, a renowned neonatologist from Florida is a leading expert in the field of study in this area.
 Coconut Oil as Diabetes Destructor. Did you know that consuming just 1-2 tablespoons of coconut oil can lower your blood sugar in just 30 minutes?  The science behind that lays in the fact that coconut oil can enter cells much like glucose can, but while regulating your body's blood sugar levels.  It allows the cells to absorb healthy good energy without necessarily producing more insulin.  Here is the true wonderment of taking coconut oil daily as a type 1 or type 2 diabetic:  you could actually replace your body's insulin dependency by using a coconut oil supplement, according to several studies.
 Coconut Oil as HIV Warrior. Fifty mL of coconut oil contains lauric acid, as discussed, which has anti-viral qualities. In one recent study, an infant who tested positive for HIV was fed an infant formula high in coconut oil and subsequently tested HIV negative due to the coconut oil helping boost the production of viral busting monolaurin in the body.  In short, the monolaurin byproduct in coconut oil—which is also found naturally in breast milk—is an all-natural, organic anti-viral substance that boosts the body's autoimmune system.
Bulletproof Coffee Drops
Print
Instructions
Take the 1/2 cup of butter and follow my instructions on

how to make ghee

. Please note this makes 1/3 cup of ghee.

Combine the ghee with the melted coconut oil, sea salt and cinnamon.

Whisk and pour into an ice cube tray.

Freeze and remove and pop the drops into a glass container and cover. Store in the fridge until you are ready to use.

To make bulletproof coffee, place one of the cubes and 10 oz of hot coffee of your choice in a blender and blend until well combined and foamy. Drink and enjoy!
Nutrition Facts
Bulletproof Coffee Drops
Amount Per Serving
Calories 115
Calories from Fat 117
% Daily Value*
Total Fat 13g 20%
Cholesterol 28mg 9%
Sodium 158mg 7%
Total Carbohydrates 0g 0%
Protein 0g 0%
* Percent Daily Values are based on a 2000 calorie diet.