Paid Endorsement Disclosure: A Girl Worth Saving is a participant in the Amazon Services LLC Associates Program, an affiliate advertising program designed to provide a means for sites to earn advertising fees by advertising and linking to AMAZON.COM. This post may contain affiliate links and/or ads from Amazon or other affiliate partners. We only recommend products or services that we have personally tried and love. When you make a purchase through any of these links, we earn a small commission on each sale, which allows us to cover a portion of the cost of this site. This has no effect on your sale price and is simply a cost of doing business for the company you are purchasing from.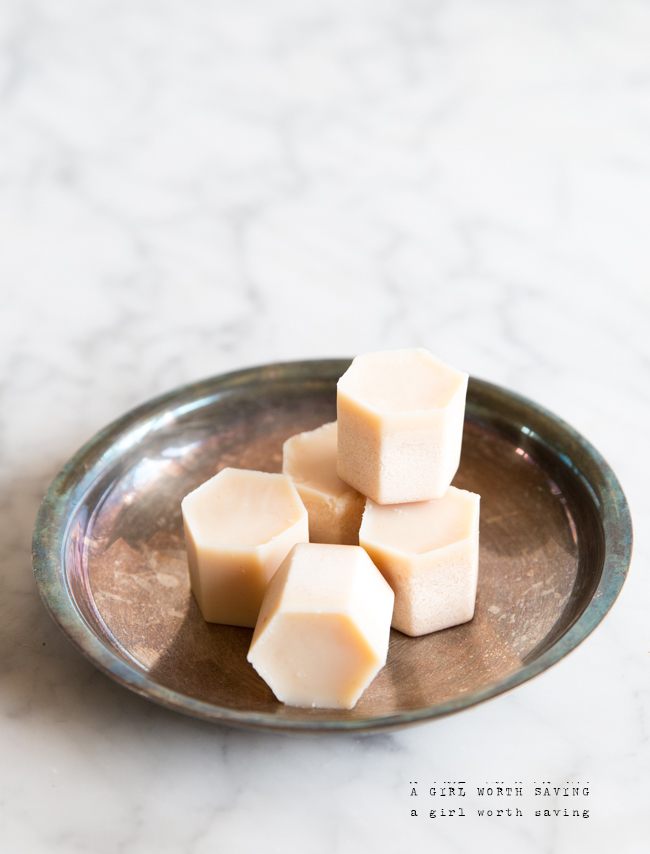 I'm pretty sure that everyone and their mama  started a new exercise  program this month to help make their resolution to get fit a reality.  Did you know that  caffeine helps improve athletic performance? I figure that's a good enough reason to have a cup of  bulletproof coffee before a workout.
I wanted to make something grab and go so I put all the ingredients into a "drop" of awesomeness.
To be fair the guy that created bulletproof coffee recommends you only use organic grass-fed butter and his brand of coffee for better health benefits in this drink. My motto is "buy what you can afford".
Bulletproof Coffee Drops
Author: Kelly Bejelly @ A Girl Worth Saving
Prep time: 25 mins
Cook time: 5 mins
Total time: 30 mins
Serves: 9
Ingredients
1/2 cup  of organic grass-fed butter
1 cup organic coconut oil, melted
1/2 tsp cinnamon powder 
1/4 tsp sea salt
Instructions
Take the 1/2 cup of butter and follow my instructions on how to make ghee
Combine the ghee with the melted coconut oil, sea salt and cinnamon.
Whisk and pour into an ice cube tray.
Freeze and remove and pop the drops into a glass container and cover. Store in the fridge until you are ready touse.
To make bulletproof coffee, place one of the cubes and 10 oz of hot coffee of your choice in a blender and blend until well combined and foamy. Drink and enjoy!