Last Updated on December 6, 2020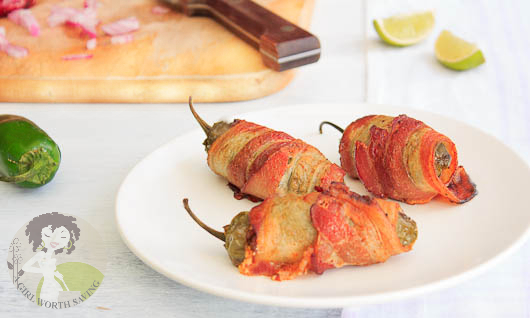 Bacon Wrapped Chorizo Lime Jalapeno Poppers. Not only is the name a mouthful but it's a spicy bit of taste bud nirvana. I wrote about my addiction to deli poppers in my losing weight series and, in an attempt to make a more gluten-free recipe, created this delicious rendition.
This was the first time I had ever messed with a jalepeno and woo wee, I learned some lessons. First, wear gloves. Second, do NOT and I mean DO NOT touch any part of your face or eyes. Wow, yeah, I can't even imagine being a hippy in the 60s getting hit with a can of mace. No way. Anyhow, make a bunch of these because they are going to disappear before your eyes!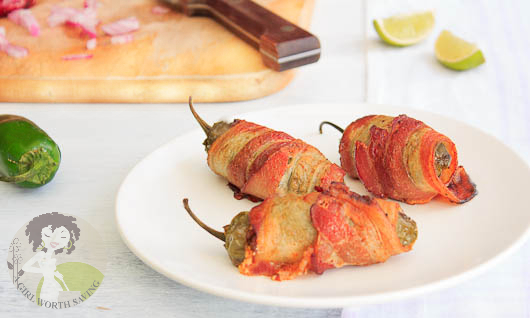 Yield:

4
Bacon Wrapped Chorizo Lime Jalapeno Poppers
Ingredients
Cream Cheese Filling
4 oz Cream Cheese, at room temperature
1 lime, , juiced
1/2 cup Parmesan Cheese
Chorizo Filling
1/4 lb Chorizo
1 teaspoon ghee, coconut oil or bacon fat
2 Tablespoons red onion, chopped
1 teaspoon Cacao Powder
1/4 teaspoon ground cinnamon power
Jalapenos
8 pieces bacon
8 jalapenos
Instructions
Preheat your oven to 350 degrees.
In a small bowl combine and blend the cream cheese, Parmesan, and lime juice with a spoon. Set aside.
In a small pan over medium high heat combine the chorizo and red onion and cook until done. Add in the tsp of ghee, coconut or bacon fat, cacao and cinnamon and stir well with a heat resistant spatula.
Slice the Jalepenos as shown in the photo. De-seed.
You're going to stuff the jalapenos in a ratio of 2 to 1 with the Cream Cheese filling being the larger portion.
Wrap the Jalapenos in Bacon and place on a baking sheet in an oven for 30 - 35 minutes. For extra color you can place the Jalapeno Poppers under the broiler on low for 2 -3 minutes - watch them because you don't want them to burn.
Enjoy
© 2011-2012, A Girl Worth Saving. Feel free to pin my posts but do not repost my full recipe on your blog, Tumblr, or any other website.