Last Updated on October 4, 2022
I just love the Panera Bread Green Goddess Cobb Salad with chicken breast. This heavenly blend of greens, bacon, feta cheese, grilled chicken breast, avocado, hard-boiled eggs, and out-of-this-world salad dressing is to die for, and one of my favorite items on their menu.
I'm such a fan that it inspired me to try making a copycat recipe of sorts, and I'm happy to report that the final product was scrumptious! I don't mean to brag, but my version would totally make the original recipe developer proud! It was just that good! If, like me, you want to try making a Green Goddess Salad Panera Bread-style, keep reading!
Ingredients
Before you get started, you'll need to gather together the ingredients needed to make this heavenly salad and dressing. I also turn to this Sprouted Lentil Salad recipe when I'm looking for something healthy and quick to eat.
I've split the ingredients list into three categories to make it easier to see what you'll need to make the pickled onions, main salad bowl, and the dressing.
Pickled Onions
Half a cup of white vinegar
One and a half teaspoons of salt
One cup of warm water
One cup of sliced red onions
Salad
Lettuce
Two tablespoons of pickled red onions
Two tablespoons of feta cheese
Half a cup of chopped tomatoes
Six ounces of grilled chicken breast
Six ounces of salad blend (arugula, romaine, kale, and radicchio blend)
One hard-boiled egg (cut in half)
Crispy bacon or bacon bits
Three tablespoons of chopped avocado
Green Goddess salad dressing
Green Goddess Salad Dressing
One cup of mayonnaise
Three tablespoons of minced chives
Half a tablespoon of salt
A quarter teaspoon of pepper
One cup of parsley (flat leaf)
Two tablespoons of lemon juice
Two tablespoons of tarragon leaves
One cup of packed watercress (clean it and remove the stems)
Trust me, the ingredients are a piece of cake to put together. All right, let's get started making our copycat version of Panera Bread's delicious recipe!
The Green Goddess Salad Panera Bread Recipe Recreated
Below are the steps I followed when recreating Panera Bread's Green Goddess Cobb Salad in my image.
1. Prepare the Salad Dressing
Using a food processor, blend the Greek yogurt, shallot, lemon juice, chives, vinegar, Dijon mustard, and red wine vinegar into a smooth mix. You should end up with the unmistakable green dressing color. Once done, set the salad dressing aside and move on to step two!
2. Pickle the Onion
Chop the onion into thin slices and place it in a heat-proof jar. I like to thinly slice mine, but you can experiment with how thin you make the onion slices.
Next, add the white wine vinegar, sugar, and water into a saucepan and place it over a medium-low fire. Stir the concoction so the sugar dissolves, keeping it on the fire for 3-4 minutes.
Pour the liquid over the onion slices and leave to cool and marinate for 30 minutes. You can keep the pickled onions refrigerated for up to one week.
3. Assemble the Salad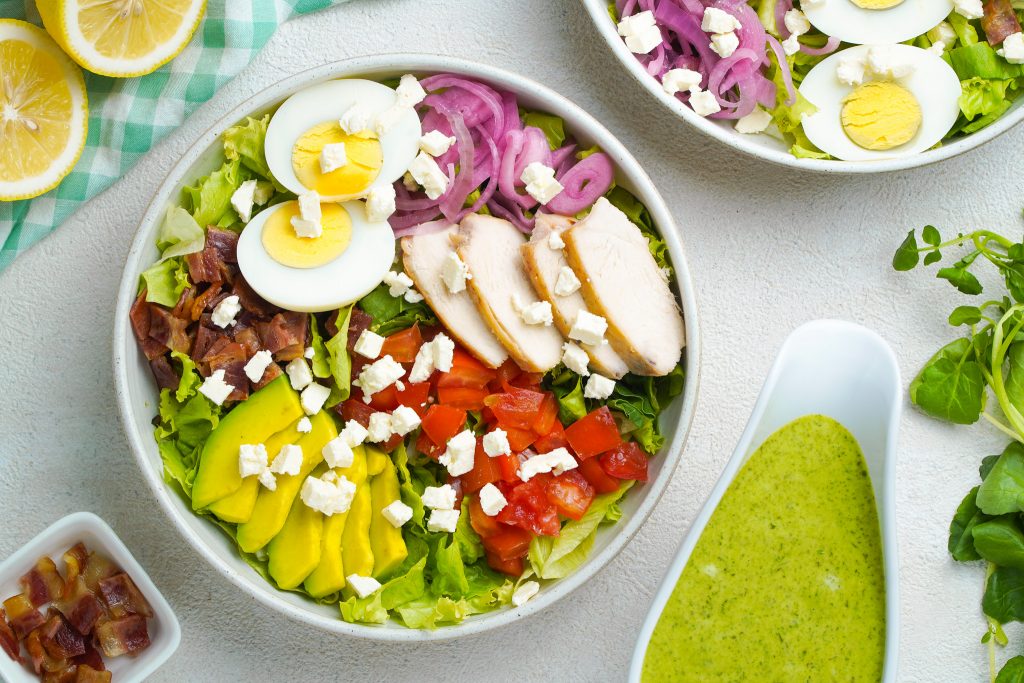 For salad assembly, place lettuce in a salad bowl and top it with the pickled red onions, red grape tomatoes, chopped bacon, sliced chicken breast, and avocado.
Drizzle some of the salad dressing on the salad arrangement and you're done! One delicious serving of Panera-Bread-style Green Goddess Cobb Salad coming up!
Serving Ideas
This Panera Bread Green Goddess Cobb Salad copycat is absolutely delicious when served with bread. I've tried it with flatbread and the good old, trusty baguette, and the heavenly combination of greens, meat, egg, dressing, and bread hit the proverbial spot on both occasions!
However, bread isn't the only side you can serve with this salad: I should know, I've tried it with french fries, too, and I'm proud to say the combination was another winner! I had fun dipping the fries in the dressing and it went down a treat, though I'll admit the fries and dressing might be an acquired taste for some.
Nutritional Information/Nutrition Facts
Nutrition calories – 621kcal
Carbohydrates – 26g
Protein – 32g
Fat – 43g
Saturated fat – 11g
Polyunsaturated fat – 8g
Monounsaturated fat – 20g
Trans fat – 1g
Cholesterol – 284mg
Sodium 555mg
Potassium 1436mg
Fiber – 9g
Sugar – 11g
Vitamin A – 2935IU
Vitamin C – 56mg
Calcium – 101mg
Iron – 5mg
Why Make Your Own Version of Panera Bread's Cobb Salad?
There are a couple of reasons why I highly recommend you give this salad a try. Off the top of my head, they include:
Save Money
Eating out is cool and all, but I think being able to save money while eating a homemade version of your favorite menu item (in this case a salad) is divine. It just goes to show that pinching the pennies doesn't have to feel like an exercise in deprivation.
It's Easy to Make
Three steps and that's it! Admittedly, you'll have to do some meal prep beforehand for some of the ingredients (the meat and eggs), but other than that you can whip up this salad in short order anytime hunger strikes.
It's Delicious
I'm not sure this point requires elaboration, but here goes: the salad is yummy and nutritious! Nuff' said.
Frequently Asked Questions
Recreating Panera Bread's cobb salad is as simple as three steps. However, it isn't lost on me that you might still have some questions. As such, I've included some of the most frequently asked questions I've received about this recipe.
What's the Best Way to Make This Recipe Low Carb?
Eliminating the pickled onions from your list of ingredients will reduce the amount of carbohydrates in the recipe drastically.
Is Green Goddess Salad Healthy?
Yes, at least I think so. Green Goddess Salad contains a healthy mix of protein, carbohydrates, greens, and fat in limited quantities. Moreover, the salad is filling and will provide you with all the energy you need to get through the day.
Interestingly, Panera Bread gives customers the option to buy their Green Godeess Cobb Salad with chicken with chicken raised without antibiotics, making the meat in their recipe quite healthy.
How Long Will Green Goddess Salad Keep?
When refrigerated, you can enjoy this salad for 1-2 days maximum. For best results, store it in an airtight container.
Is It Possible to Freeze Green Goddess Salad Dressing?
Yes, you can keep Green Goddess salad dressing frozen for 2-3 weeks. When you thaw the dressing you may find it doesn't taste as fresh or the ingredients seem soggy or lumpy. To fix the consistency, put the Green Goddess dressing in a blender to blend if back to life. Also, you can try adding fresh herbs or lemon juice to give it a kick.
What Can You Use Green Goddess Dressing For?
Aside from the obvious use as a salad dressing, Green Goddess dressing works as a vegetable dip, as topping for baked tomatoes, as the filling in an egg salad sandwich, and as many more delicious applications not mentioned. The only limit to its uses is your imagination.
Is It Safe to Eat Expired Green Goddess Salad or Dressing
I wouldn't advise you do that! Unlike store bought dressing, which contains preservatives and has a clear "Best By" date, we're dealing with Green Goddess cobb salad made from scratch. While it's possible to refrigerate the salad and dressing for up to 3 weeks, keep it longer and eat at your own peril!
Can You Make Green Goddess Dressing Ahead of Time?
Yes, you can make Green Goddess dressing ahead of time. However, I think it tastes better when made and served fresh. As such, it's the way I recommend dishing it.
When Was Green Goddess Dressing Invented?
Green Goddess Salad Dressing traces its roots to the 1920s. In 1923, Chef Philip Roemer, who is credited as its inventor, served it to the actor George Arliss, when the actor stayed at a hotel Chef Roemer was working in. At the time, Arliss was performing in the play "The Green Goddess", which is where the salad and dressing get their name.
Additionally, it's believed that the dressing was inspired by another dressing served to King Louis XIII. Chef Roemer's original version of the dressing was made with lemon juice, mayonnaise, parsley, anchovies, sourcream, and vinegar. To this day, most of the preceding ingredients are used to make other versions of Green Goddess salad dressing.
Is Green Goddess Salad Keto?
Yes, this salad and dressing combination is perfect for keto diet practitioners. Simply leave out the pickled onions during preparation and you're good to go.
That's a Wrap!
I really loved making my version of Panera Bread's salad with spring mix vegetables as it really added to the overall freshness. I think it's pretty sweet that I was able to save myself the trip to Panera Bread and still enjoy the green, healthy goodness of a version of their recipe in the comfort of my home.
With a couple of ingredients and minimal meal prep, you too can make a Cobb salad Panera Bread-style. So, what are you waiting for? Give it a go and thank me later!
Yield:

2
Copycat Panera Green Goddess Salad
This copycat Panera green goddess salad is made with a mix of romaine, arugula, spinach, cucumber, red onion, avocado, grape tomatoes and feta cheese tossed in a creamy herb dressing.
Ingredients
Salad Ingredients
4 cups spring mix
1 chicken breast, grilled and sliced
6 cooked slices of bacon, diced
½ avocado, sliced
1 Roma tomato, diced
2 hard-boiled eggs
3 tablespoons crumbled feta cheese
3 tablespoons pickled onions
Dressing Ingredients
¾ cup mayonnaise
¼ cup Greek yogurt
3 tablespoons dried tarragon
¼ cup chives
1 cup parsley
1 ½ cup watercress
3 tablespoons lemon juice
1 tablespoon white wine vinegar
½ teaspoon sea salt
½ teaspoon pepper
1 teaspoon sugar
Instructions
In a food processor, blend all the dressing ingredients until smooth. Set aside.
In a bowl, add 2 cups spring mix, ½ of the sliced chicken, ½ of the diced bacon, ½ of the sliced avocado, ½ of the diced tomatoes, 1 egg, and 1 tablespoon pickled onions. Do the same for the second bowl.
Add 1 ½ of crumbled feta cheese to each bowl.
Dress with dressing.
Nutrition Information:
Yield:
4
Serving Size:
1
Amount Per Serving:
Calories:

576
Total Fat:

47g
Saturated Fat:

10g
Trans Fat:

0g
Unsaturated Fat:

35g
Cholesterol:

186mg
Sodium:

1207mg
Carbohydrates:

11g
Fiber:

4g
Sugar:

4g
Protein:

29g