Last Updated on December 6, 2020
This chocolate chip pumpkin bread has a soft, delicious gooey center that will wow your tastebuds. It's vegan, nut-free and gluten-free so anyone can enjoy it!
I'm probably one of the few folks out there who isn't crazy about pumpkin. I like it but I don't love it. However, dear mama this recipe made me a pumpkin loving fool.
So this recipe is nut-free, egg-free, and paleo y'all. From my interaction with my friends (you're my friends not my fans) on Facebook I've realized that a whole bunch of you have food allergies, that honestly, I never even knew that people could have.
This recipe is dedicated to each and every one of you that shared your story with me.
I had no idea what was going to happen when I put my apron strings on to create this recipe but now I realize that I've been missing out on the vegan grain-free desserts out there.
My goodness, I expected ok but I never thought I would get gooey chocolaty pumpkin goodness.
I even had to pry this away from Mr. Bejelly and he hates pumpkin.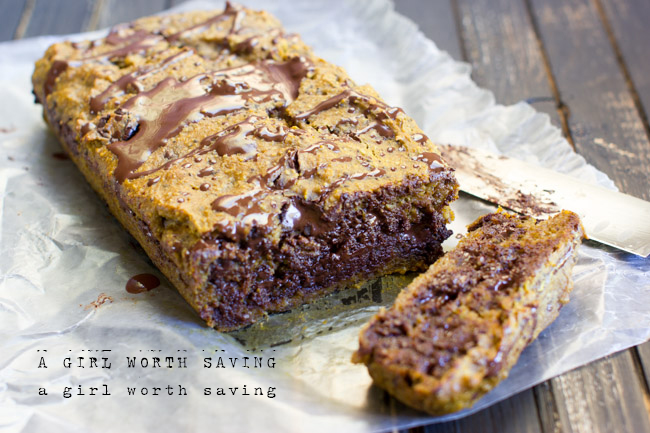 The bread comes slightly gooey in the inside. If you don't want this, there are two things you can do: 1) reduce the amount of chocolate chips (which in my opinion, are the best part) and 2) bake it in a larger pan so it has more room to spread out and cook evenly.
Also, pumpkin seeds have a warm robust taste. I love how it pairs with the dark chocolate in the recipe but if you want something more "hidden" in the recipe and you can use almond flour, make the substitution.
Yield:

8
Chocolate Chip Pumpkin Bread
Total Time:
1 hour
5 minutes
Ingredients
1/2 cup water
1/4 cup coconut oil, melted
1 cup raw pumpkin seeds, shelled
1/2 tsp baking soda
1/2 tsp baking powder
1/4 tsp sea salt
1 tsp pure vanilla extract
1/2 cup pumpkin puree
2 tbsp B grade maple syrup
1/2 tsp apple cider vinegar
Instructions
In a medium pan add the chia seeds, coconut oil and water and bring to a boil. Remove from the heat and set aside.
In your blender or food processor, grind the pumpkin seeds into a flour.
Next, add in all of the dry ingredients and pulse for 30 seconds.
Then add in your wet ingredients including the chia seed mixture.
Blend until well combined.
Fold in the chocolate chips and pour into a well greased 5 x 9 Loaf Pan.
Bake at 350 degrees for 40 - 45 minutes.
Enjoy!
Nutrition Information:
Yield:
8
Serving Size:
8 Servings
Amount Per Serving:
Calories:

290
Total Fat:

16g
Saturated Fat:

10g
Trans Fat:

0g
Unsaturated Fat:

5g
Cholesterol:

0mg
Sodium:

188mg
Carbohydrates:

38g
Fiber:

4g
Sugar:

16g
Protein:

3g
© 2011-2013, A Girl Worth Saving. Feel free to pin my posts but do not repost my full recipe on your blog, Tumblr, or any other website.