Last Updated on November 5, 2014
I'm pretty sure that pumpkin is a required food group the second that fall arrives. I did not grow up eating pumpkin so for me, it's still somewhat of a new vegetable to my palate. However, I've always found the best way to learn the nuances of any new food is by eating it in desserts. Oh yes, I'm breaking my big girl pants out for the winter and I will be trying several of these amazing Paleo Pumpkin Dessert Recipes.
Paleo Pumpkin Gingerbread Cake
No Bake Chocolate Coco Pumpkin Bars
Gooey Chocolate Chip Pumpkin Bread (image below)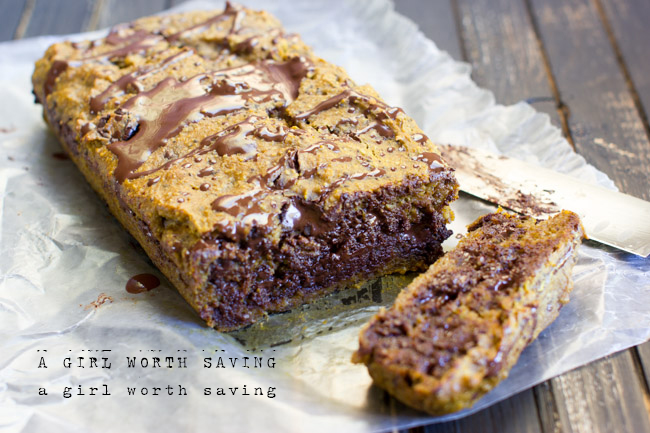 Pumpkin Spice Latte Nutella Muffins
Spiced Pumpkin and Coconut Slice
Paleo Starbucks Pumpkin Spice Scone Clones
Grain-Free, Refined-Sugar Free Chocolate Covered Apple Pumpkin Cake Pop Donuts
Need even more Paleo dessert ideas? Check out some of my favorite cookbooks!
Bare Root Sweets – "30 unique and delicious recipes that are all grain-free, gluten-free and refined-sugar-free"
Paleo Desserts and Baked Goods Recipes – Recipes include Uncivilized Sticky Bun Bars. Red Dawn Velvet Cupcakes and so much more!
Paleo Desserts– "The first comprehensive cookbook of its kind: everyone's favorite desserts now made Paleo friendly, lower carb, and gluten free. Providing 125 mouthwatering, easy-to-follow recipes from brownies to milkshakes . . ."