Last Updated on October 29, 2022
If there's something that thrills me more than the holidays, it's the holiday table and all the goodies on it. And, of course, no holiday is complete without cookies or Christmas Gift ideas. Or, in my case, gluten-free sugar cookies.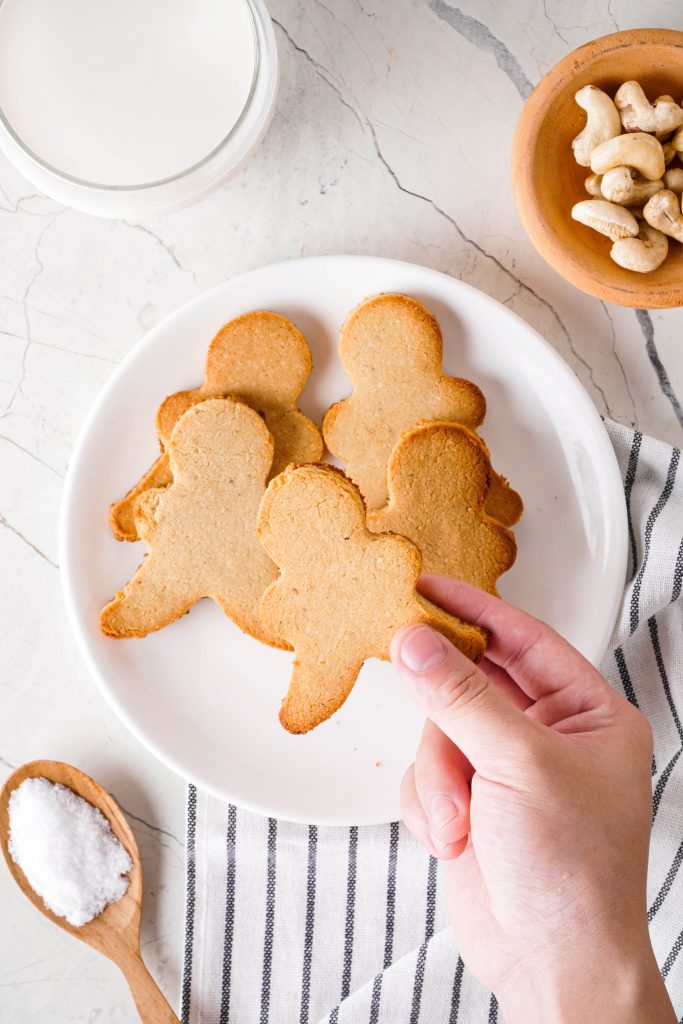 These treats came up as a healthier version of regular sugar cookies, which, although tasty, don't do much good for our weight and health. Sure, a few frosted sugar cookies once in a while won't hurt, but who can stop at just a few?
With gluten-free sugar cookies, I simply forget about extra calories and carbs. Not to mention, they taste great and are super easy to make. Moreover, you can bake them every day and eat them without remorse!
Gluten-Free Sugar Cookies: Wheat Flour Substitute
Modifying my regular meals and looking for gluten-free alternatives was challenging. It was particularly hard with cookies containing wheat flour, which is the gluten source that had to go from this recipe.
So, I had to find something to make my gluten-free sugar cookies doughy, soft, and tasty. I've tried many recipes for cookies with almond flour, but they turned out soft. The same happens with oat flour.
However, after several attempts, I've found the best gluten-free flour combo.
Best Gluten-Free Flour Combo
My final choice for this recipe is cashew and coconut flour. Also, some tapioca does wonders for this dough. I could swear that the secret to perfect gluten-free cookie dough is in this mix. It makes the cookies soft and gooey from the inside and gives them a nice, crispy outer layer when baked.
I don't add xanthan gum as the dough already has a good consistency. However, you can't go wrong with a pinch of xanthan gum. Just be careful, as too much of it can result in gummy cookies.
Indeed, it took me a while to learn that gluten-free flour blends absorb more moisture than regular ones. That makes a huge difference in this recipe, so following the prep guide to a T is essential.
Ingredients
Now that you know the perfect gluten-free flour blend for these sugar cookies, make sure the following ingredients are available (for the flour and whole recipe):
One cup of raw cashews
½ cup of coconut flour
One tablespoon of tapioca flour
¼ cup of butter (coconut oil or ghee can work, as well)
One egg
¼ cup of honey (brown sugar, coconut sugar, or granulated sugar can work, too)
½ teaspoon of pure vanilla extract or almond extract
½ teaspoon of baking soda
A pinch of sea salt
How to Prepare Delicious Gluten-Free Sugar Cookies
Prep time: 20 minutes
Baking time: 15 minutes
Total time: 35 minutes
This recipe is super fast and easy. And if you measure flour and other ingredients beforehand, you can save extra time. Now, let's start cooking!
Prepare the Dough
First, add all the dry ingredients (flour combo, baking powder, and sea salt) into a large bowl and mix them well. On the other side, have butter and honey ready to be mixed separately.
Unsalted butter is fine for these sugar cookies, as it doesn't contain gluten naturally. Salted butter works well, too, except you can skip sea salt in that case. But my favorite is ghee. And here's a little secret for extra crispy gluten-free sugar cookies: don't melt butter. Instead, use cold butter to make the dough thick enough to roll out nicely.
I prefer to use a stand mixer on medium speed for whisking butter and honey, as it just creams everything so smoothly without clumps. Then, I add an egg and vanilla extract and beat everything until the mix is smooth. Finally, the dry ingredients come.
After adding everything to the mixer, stir well for two to three minutes. When this gluten-free batter is done, leave it for some time, as the chilled dough is a breeze to cut with cookie cutters.
Using a Food Processor
A food processor is an alternative to a hand mixer for kneading gluten-free dough. Indeed, this prep method is faster and less messy than a stand mixer.
First, add the dry ingredients and hit a few pulses to blend them well. After that, it's time for wet ingredients. Now, a couple of extra pulses to combine everything into a smooth dough, and that's it.
You can use the food processor if you want to make cashew flour from scratch, too.
Rolling Out and Cutting
No matter how you make them, gluten-free sugar cookies must be easy to roll and cut out. But achieving that was a hell of a job, as my first baking attempts usually ended with too sticky or crumbly dough. And to be honest, that still happens sometimes.
When the dough is too sticky, it'll create a mess when you roll it out on a lightly floured surface. So instead, use two sheets of parchment paper and roll the dough between them. No flour all around, no sticky batter, and the dough rolls up evenly. A silicone mat could help, too.
Note that the dough should be about ¼-inch thick. That ensures smooth cutting and even baking, so cookies won't puff and lose shape while baking.
Also, there's a little shortcut I practice from time to time. It's shaping cookies directly on parchment paper with a cookie cutter. Then, I just move the paper onto prepared baking sheets.
And when rolling out was a nightmare, I chose the easier way: scooping cookie dough balls with a spoon. Sadly, without cookie cutters, these sugar cookies turned more like biscuits. But they were still yummy!
It's Oven Time!
Knowing that cookies won't crumble or fall apart is a blast, as you can finally bake them without trembling about how they turn out.
My perfect gluten-free sugar cookie recipe doesn't call for the preheated oven. So that's a safe bet to avoid butter melting and wet and runny cookies.
First, line a baking sheet with parchment paper and arrange the cookies. Once they're in, turn the oven to 350F. It usually takes about 15 minutes for them to become golden brown. Then, the cookies go out to chill on a cooling rack, getting ready to be eaten!
Flavor Variations
The mentioned ingredients make a base for simple yet delicious gluten-free sugar cookies. Still, this recipe gets even better with different flavors.
For example, instead of vanilla extract, I often use almond extract. But my husband enjoys a fresh, zesty taste, so there's always a batch of cookies with a lemon extract for him.
And if you're like me and enjoy extra flavoring, you won't cut corners on spices. My favorites? Cinnamon and nutmeg, like in gluten-free Christmas cookies.
Moreover, let's not forget one of the cookies' best friends, chocolate! This recipe always has room for gluten-free chocolate, whether as a coating or filling.
How to Decorate Sugar Cookies
As the holiday season is around the corner, I get tons of inspiration for these gluten-free sugar cookies! These treats can hold different frostings and coatings. And sometimes, when I'm not in an artistic mood, powdered sugar or melted chocolate does the job as a simple yet effective decoration.
But when I want to show off my decoration skills, there's royal icing in all its glory. It spreads easily and sets quickly. Also, it acts like glue, so I even use it on flaky, not perfectly flat, cookies.
For the last New Year, I tried buttercream frosting with some sour cream, which is also gluten-free. It has a nice, fluffy texture, which makes these frosted sugar cookies more festive.
And since this gluten-free sugar cookie recipe is great for baking with kids, I often put my youngsters in charge of decorating. In this case, I add some food coloring to the batter to get colorful treats. And, of course, sprinkles are unmissable.
After decorating the cookies, it's good to leave them overnight to set. And even if you didn't manage to decorate them on the same day, you can do that tomorrow. The treats will be slightly softer but firm enough to hold the coating.
Tips for Making the Best Gluten-Free Sugar Cookies
Most of the time, this gluten-free recipe turns out great. But I still make some mistakes from time to time. Luckily, all that gluten-free baking practice paid off. So after many failures, I found solutions for common dough and frosting issues.
For example, sugar cookie dough can be crumbly when I use store-bought gluten-free flour. This is because some commercial flours contain more or less starch than others. The solution? Add a spoonful of lukewarm water to the sugar cookie dough and re-mix it. And repeat the procedure until the dough becomes stretchy.
Likewise, gluten-free sugar cookie dough can sometimes stick to parchment paper. Again, blame gluten-free flours, especially almond flour. But these can be both a problem and a solution. That being said, adding some extra flour will thicken the dough.
Needless to say, the perfect cookies need perfect icing. But homemade royal icing can sometimes be too stiff or soupy. So in the first case, increase the liquid amount in the icing recipe. After that, it's all about adding it gradually until the consistency is right. As for the situation with runny royal icing, the solution is adding more powdered sugar.
How to Serve Gluten-Free Cookies
I love to dip these crunchy cookies in coffee or tea. But enjoying these treats with a cup of hot chocolate during chilly days is my guilty pleasure. For a full dairy-free experience, I have these cookies as a snack with a glass of almond milk.
Vegan Gluten-Free Sugar Cookies
The great thing about this recipe is that you can turn it into 100% vegan in no time; just replace some ingredients with vegan-friendly stuff to make gluten and dairy-free sugar cookies.
For instance, use vegan butter, dairy-free sour cream, and an egg substitute. And there might be a need for gluten-free baking powder to help the dough rise.
I used chia egg a few times, which turned out pretty well. And I've got feedback that flax egg also did an excellent job.
How Can I Store My Sugar Cookies?
It rarely happens that these cookies don't disappear right after serving. However, when that's the case, proper storage preserves their freshness. Also, you'll always have them in stock for emergency sugar cravings or unexpected guests.
The best way to store cookies is in an airtight container covered with parchment paper. They can stay there even at room temperature when it's not too hot outside. But you shouldn't leave them out of the fridge for more than four days since the icing colors may fade.
So I highly recommend choosing a dark and dry place to keep these treats or, eventually, a fridge. But when a large batch of gluten-free cookies is left behind, you can freeze them.
Freezing Baked Gluten-Free Sugar Cookies
The ingredients from this recipe tolerate freezing well. So if you ever bake more cookies than needed, those leftovers go into an airtight container or a freezer-safe bag. That way, you can enjoy these treats for up to a month.
I often bake a bunch of frosted sugar cookies ahead of time on purpose. So as soon as they get out of the oven, they go chill on a cooling rack. And when planning to freeze these treats for later, I move them to a parchment-lined baking sheet and do a fast freeze.
That way, they harden in about an hour. And the icing is set in about the same time, so there are no problems with cookies falling apart when packing them into an airtight bag or container.
And for thawing, just put frozen cookies straight into the fridge. They'll look fresh and golden brown in a few hours as if they just came out from the oven.
Is It Possible to Freeze Gluten-Free Cookie Dough?
Yes. This dough tolerates freezing quite well and stays fresh after proper defrosting. So I always leave some excess dough when making double or triple cookie batches from this recipe.
Defrosting is a piece of cake as I leave the frozen dough in the fridge for several hours or overnight. But when in a hurry, I bake these gluten-free sugar cookies straight from frozen on a prepared baking sheet. There's absolutely no difference.
You can do a happy dance knowing you have something sweet in a freezer for up to two months. But sometimes you need the dough only two or three days ahead. In that case, you can layer it tightly with plastic wrap and put it in the fridge until use.
Bottom Line
This gluten-free sugar cookie recipe proves that gluten-free food can be a real treat for palates. Its ingredients are healthy and affordable, so you can have these yummy treats even when not on a gluten-free diet. And besides being delicious, they're fun, and baking them is an excellent way to spend quality time with loved ones.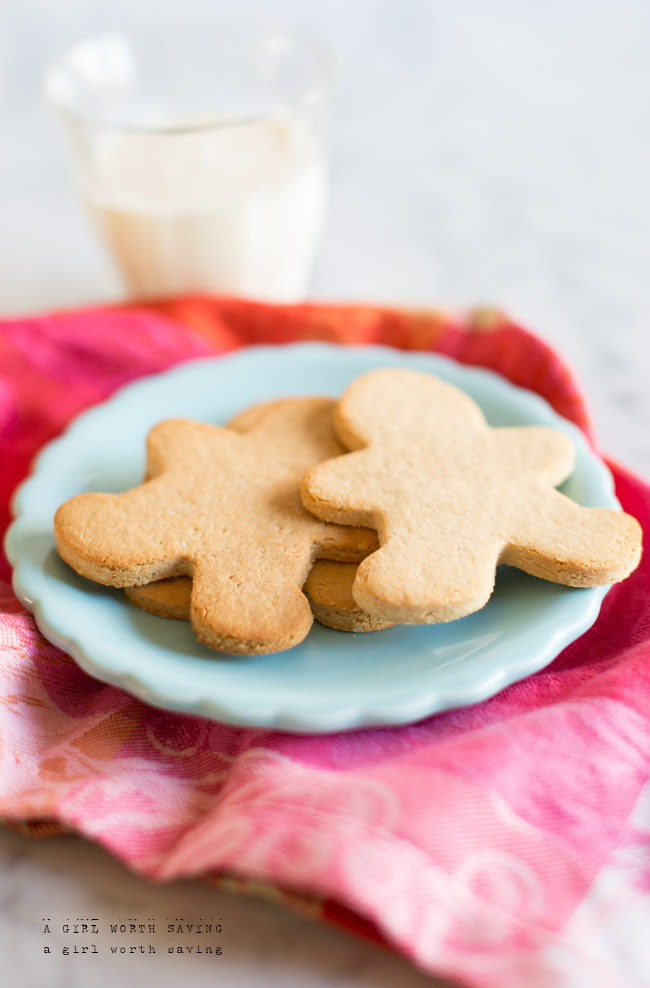 Yield:

6
Gluten Free Sugar Cookies
These gluten free sugar cookies are a dream come true. They're soft and delicious, and the perfect sweet treat. Whether you're a sugar cookie fan or just in the mood for a yummy snack, these are definitely worth a try! #GlutenFreeSugarCookies #SweetsLover
Ingredients
Instructions
Do not preheat your oven. Timing is based on putting into a cold oven.
Grind the cashews into a flour in your food processor.
Next add in the coconut flour, sea salt, baking soda and tapioca flour and pulse to combine.
Then add the ghee vanilla, egg and honey and pulse until you have a cookie dough.
Roll out the dough between two sheets of parchment and cut with your cookie cutters. Place them on a piece of parchment paper and then bake at 350 degrees for 15 – 20 minutes.
Enjoy!
Nutrition Information:
Yield:
6
Serving Size:
1
Amount Per Serving:
Calories:

308
Total Fat:

24g
Saturated Fat:

12g
Trans Fat:

0g
Unsaturated Fat:

10g
Cholesterol:

53mg
Sodium:

211mg
Carbohydrates:

21g
Fiber:

2g
Sugar:

14g
Protein:

6g