Last Updated on January 22, 2023
You will love this rich, creamy no-bake paleo pumpkin cheesecake topped with velvety whipped cream and chocolate.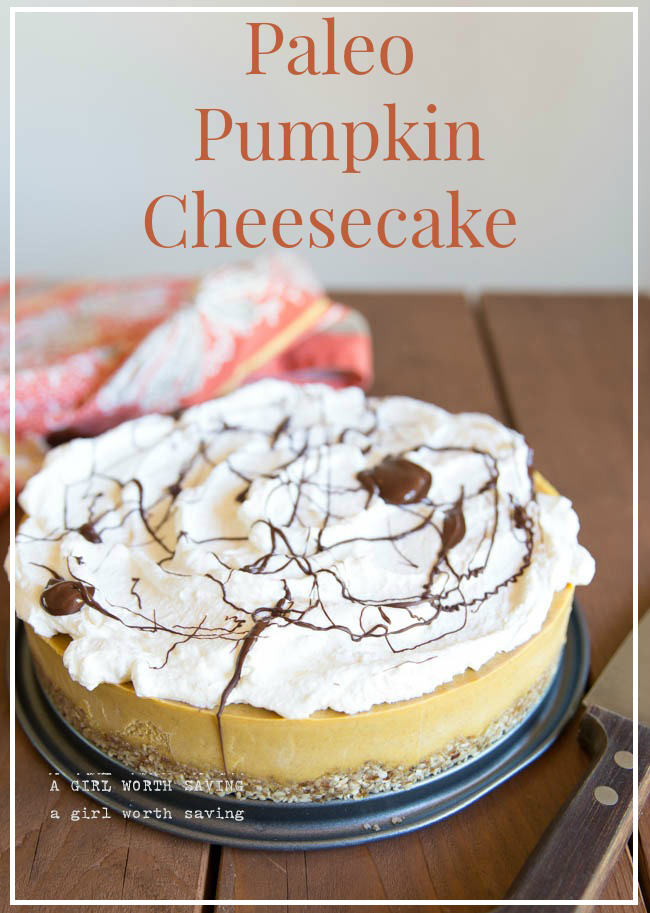 Until last year, I never understood why so many people went crazy for pumpkin. Honestly, I have always been a chocolate lover, and many times I've indulged in treats like dairy free pudding or the ultimate indulgence, vegan snickers cheesecake.
However, that all changed when I started creating paleo desserts with it and I knew I had to kick off Pumpkin season with something big so, I got in my kitchen and cooked up this dairy-free Cheesecake.
When my two taste testers had a bite, I knew that it was a hit when my son did an entire 20 minutes of yoga with me after I promised him another slice.
You can't have a dessert that looks like this without a couple of steps.
If you're feeling lazy you can totally skip the whipped topping and chocolate layer, but seriously, you don't want to do this and really it's only an extra 10 minutes of time.
Also, I have listed the weights for the Deglet dates because they are much smaller than the much loved medjool dates (sometimes half the size). This should make it easier to get the correct sweetness needed.
If you love paleo pumpkin recipes, you'll love:
Gooey Chocolate Chip Pumpkin Bread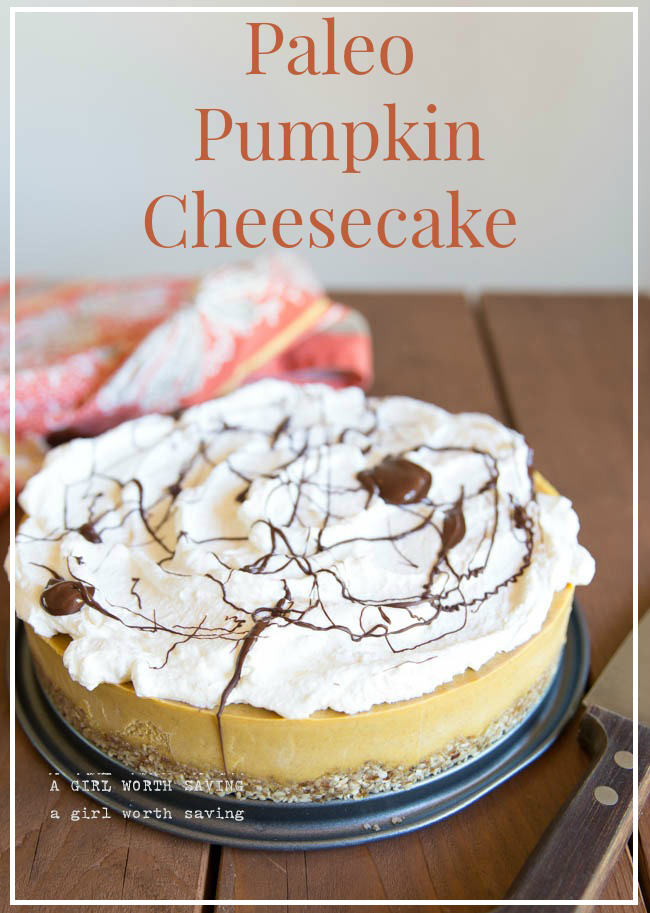 Yield:

10
Paleo Pumpkin Cheesecake
Total Time:
8 hours
40 minutes
This no bake vegan pumpkin cheesecake is heaven on a spoon!
Ingredients
Crust
1 cup coconut flakes
45 oz each Deglet Noor dates, 8
Pumpkin Cheesecake
25 oz each Deglet Noor Dates, 4.4
2 small ripe bananas
1/2 cup applesauce
15 oz can of pumpkin
1/2 teaspoon sea salt
1 teaspoon pure vanilla extract
1/2 tablespoon pumpkin spice
One 13.5oz can of full fat coconut milk
Whipped Topping
oz two 13.5 cans of full fat coconut milk, chilled overnight
Chocolate Topping
1/4 cup dark chocolate chips
Instructions
To make the crust, place all the ingredients in your food processor and pulse until you have a crumble, roughly 4 to 5 minutes. Press this into a nonstick 9" spring form pan. Set aside.
Rinse out your food processor bowl.
To make the cheesecake, add the dates, bananas and applesauce and process until smooth, roughly 4 minutes.
Add in the pumpkin and spices and pulse.
In a small pan over medium heat add the coconut milk and whisk in the gelatin. Cook for 2 minutes until the liquid is warm not hot.
Pour this into the food processor and pulse until smooth and combined.
Pour this mixture into the spring form pan and place in your fridge for 7 to 8 hours. If you would like this sooner, you can place it in the freezer for 4 hours (note if you freeze it you will get ice crystals in the cheesecake that will disappear after storing in the fridge.)
To serve, remove the ring from the spring form pan.
To make the whipped topping, open your chilled coconut milk and remove the solid cream from the top. Save the water for smoothies.
With a hand mixer, beat the coconut milk until light an fluffy, roughly 4 to 5 minutes. Spoon this over the top of the cheesecake.
To make the chocolate topping, in a sauce pan over medium low heat, add the chocolate chips and let melt. With a fork, drizzle over the top of the whipped topping.
This will keep for 4 days covered in the fridge.
© 2011-2014, A Girl Worth Saving. Feel free to pin my posts but do not repost my full recipe on your blog, Tumblr, or any other website.