Last Updated on December 6, 2020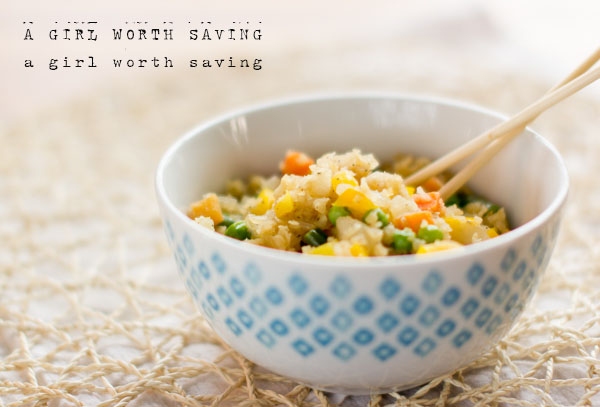 When I was a kid, fried rice was a staple in our house. I'm pretty sure we ate it once a week and it was always a dish my mom threw together for birthdays, holidays and any special occasion. Every now and then I want fried rice and Mr. Bejelly is not the biggest fan when it comes to cauliflower. He will only eat roasted cauliflower so I needed to branch out and see what else may work for a rice replacement. I ended up using Jicama in this grain free fried rice recipe.
The Jicama adds such a nice sweet taste to the recipe. You could add cooked egg, chicken, beef and/or pork to the recipe pretty easily.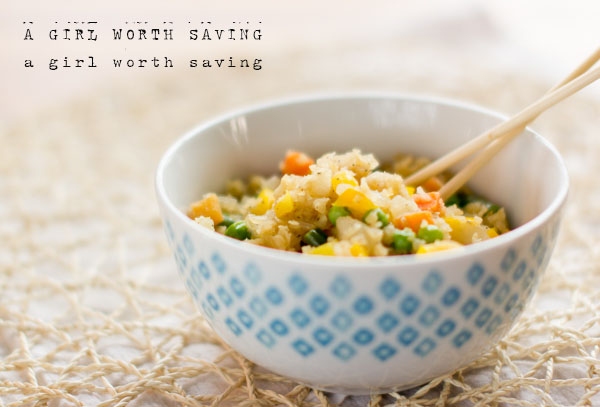 Yield:

4
Grain free Fried Rice
Ingredients
1 tablespoon of coconut oil
1 4 cups " round Jicama - shredded equals roughly 2 1/2
1 small onion, diced
1 small yellow bell pepper diced
1 4 oz bag of frozen mixed veggies
1 teaspoon Coconut Aminos
1/2 teaspoon sea salt
1/2 teaspoon of black pepper
Instructions
Take your Jicama and peel it and rough chop it.
Toss it in your food processor and chop it into a rice texture.
In a large skillet over medium high heat, add your coconut oil, riced jicama and diced onion.
Cook for 5 minutes and stir the veggies around to allow some of the water cook out of the jicama.
Add in the yellow bell pepper and 4 oz bag of mixed veggies and cook for 3 minutes.
Lastly add in the coconut aminos, salt and pepper.
Cook for 2 minutes and then serve.
© 2011-2013, A Girl Worth Saving. Feel free to pin my posts but do not repost my full recipe on your blog, Tumblr, or any other website.