Last Updated on January 19, 2021
If you're looking for a delicious Paleo chocolate cake recipe, you're not going to want to miss out on this delicious dessert. Paleo Chocolate Cake will make you feel like living your diet life isn't so hard at all! (Dare I say that this is one of the best Paleo Chocolate Cake recipes, ever?!)
My Little boy just turned 4 and last weekend was filled with food, family, friends, and some tears.
On the night of the birthday party, my little guy decided he was ready to sleep in his own room. We have co-slept since he was out of the womb and I knew the day would come when he would be ready to have his own space. As I tucked him in that night and told him a silly bedtime story, it was bittersweet.
I went downstairs, wrapped my arms around my husband, and cried. There is so much joy and pain in motherhood. I'm learning that being a mother is more than just giving unconditional love but teaching your children the skills to be successful in life and so that one day they can go out and blaze a trail of their own.
Without my Mother's guidance, I would never have started the dreams that one day became all of this.
I didn't mean to let this post turn into something sad when truly it is all about joy and living and my Little guy's request for chocolate cupcakes.
This recipe is out of this world and if food could taste like love, this would be it.
This is why I'll forever relate this paleo chocolate cake recipe to happy memories full of love. And as long as my little guy wants to have this for his birthday cake, I'll be making it for many years to come.
Are Paleo desserts healthy?
This paleo chocolate cake is like any other type of dessert. The chocolate flavor is stellar but make certain that you're eating it in moderation. It's still a dessert no matter if it's using almond flour or other types of healthier ingredients as well.
Many people choose to eat a grain free recipe such as this chocolate cake recipe because it eliminates a lot of the food irritants that they'll find in so many other dishes.
What sweets can I eat on Paleo Diet?
Once you start to do your research, you'll actually be surprised at what you can actually eat when you're trying to eat paleo and live that life.
And truth be told, it all really comes down to the ingredients that you're going to be using. If you have a favorite dessert recipe, it might be worth it to see if you can alter or change it so that it's paleo-approved.
If you can make sweets that have almond flour, coconut sugar, coconut oil, tapioca flour, cocoa powder, cacao powder, arrowroot flour and other paleo-approved ingredients in place of ingredients that aren't paleo-approved, you might be able to enjoy a wide range of desserts without worry! This could be a great way to get your vanilla cake fix or other fun recipes with ease!
In this post, I'll talk about cupcakes and cake because this recipe is interchangeable for both! I love recipes that can be used so many different ways. It makes my job as a mom that much easier, too.
Paleo Chocolate Cake
The great thing about this delicious paleo chocolate cake recipe is that you can easily turn it into cupcakes as well as a multi-layer cake, too. This is just one of the reasons that I've been asked to make this cake literally all the time.
Because it's one of those cake recipes that can easily be used in so many different forms. From chocolate cakes to cupcakes, to anything piled high with paleo-approved frosting, there's a way to make this cake batter and easy to make paleo chocolate cake recipe work for you.
Which is better coconut flour or almond flour?
Ah, the debate of the better flour. This is all going to come down to your preference and taste. Coconut flour is going to have more carbs and fewer calories overall while almond flour tends to have a few more health benefits.
For most people, the difference between almond flour and coconut flour is that it comes down to taste and texture preference. Coconut flour is on the list for weight loss flours but it's not at the top. In fact, coconut flour ranks about 4th on the list for the best weight loss flours to use.
What is the best thing to use to grease a cake pan?
There's nothing worse than making up the batter for your cake recipe and having it stick to the pan! If you're wanting to make certain that your cake comes out clean from the pan, you just need to grease the pan or line it with parchment paper.
Coconut oil is also a simple way to make this recipe up and make sure that it doesn't stick to the pan.
What happens if you don't grease your cake pan?
If you fail to grease the pan for your chocolate cake, don't worry – there's still hope. Just make sure that you allow your baked cake to cool or come to room temperature before you try and take it out of the pan. This is one way that you might be able to remove the cakes easily.
If you're still having trouble removing it from your cake pans, you can also take a butter knife and slide it around the inside edges of your cake pans to help break it loose. Your cakes might slide out easier then as well.
Are you ready to learn how to make this paleo chocolate cake? I can't wait to share this simple chocolate cake recipe with you!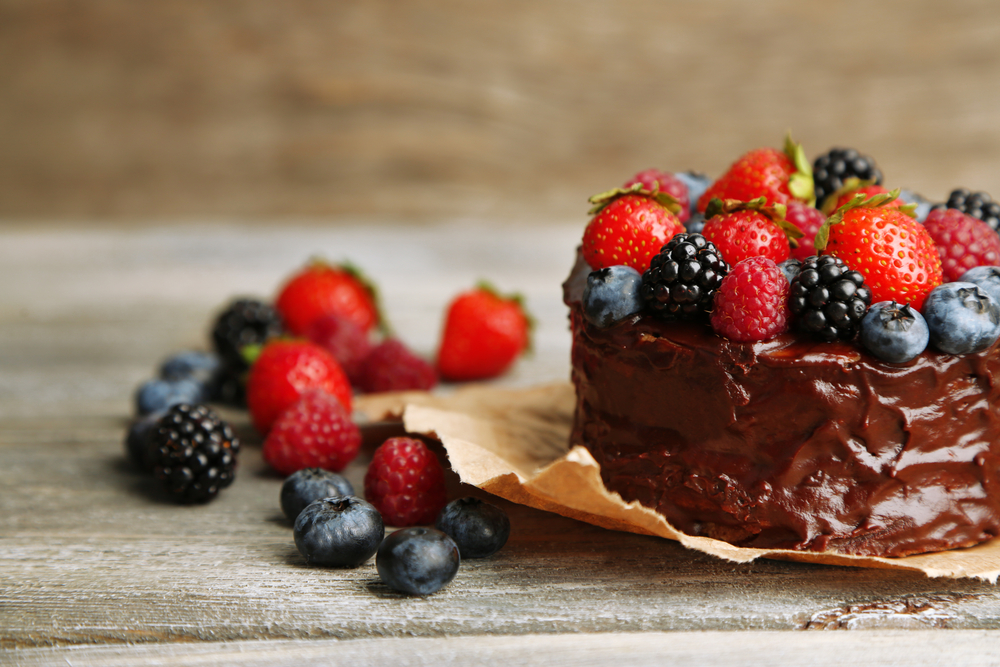 Ingredients needed to make the Best Paleo Chocolate Cake Recipe
Superfine Blanched Almond Flour
Cocao powder
Sea salt
Baking soda
Coconut oil
Water
B grade maple syrup
Eggs
Pure vanilla extract
How To Make Chocolate Buttercream Frosting
This chocolate frosting recipe is simple to make and is one easy frosting recipe that you can use for various multi-layer cake recipes, too.
2 cup palm Shortening
1/2 cup B grade maple syrup
1/4 cup tablespoons of Cacao powder
2 teaspoons pure vanilla extract
How to make Paleo Chocolate Cake
Preheat the oven to 350 degrees. Grease a 6″ baking pan and set aside.
In a medium bowl add the ingredients and mix with a spoon until completely combined.
Pour the batter into two 6″ baking pans.
Let cook for 15 to 18 minutes or until a toothpick comes out clean.
Remove from the oven and let cool.
In the mixing bowl add in the ingredients for the frosting and mix with a hand mixer.
Let the cake cool completely and then frost and enjoy!
How do you make a cake from scratch moist?
No one likes dry cake. Especially if you're making a multi-layer cake. Frosting can help but if you want to make this recipe and make certain that your paleo chocolate cake is moist, there are a few tips to know to make sure it is.
Make certain that you're paying close attention to the amount of flour that you add to your recipe. Too much flour is going to make your cake recipe way too dry. Measuring our your dry ingredients is key to keeping your paleo cake moist.
I've also read that cooking your cakes and cupcakes in lighter colored cake pans can help to make your cake moist as well.
How do I make my cakes and cupcakes light and fluffy?
Again, it will come down to the ingredients that you're using. But for the most part, whisking them together can help create an added airflow that can give your cake and cupcakes that light and fluffy texture. Remember this the next time you make this recipe.
How To Store Paleo Chocolate Cake and Cupcakes
When it comes to storing any type of dessert recipe, whether it be birthday cake or anything else, the key is to store and keep out the air.
Air is your enemy in regards to desserts. The reason for this is that the air is going to dry out your cake fast. Just add the paleo cake to an airtight container and keep it stored in the fridge.
This simple method should give you a few more days to enjoy this cake recipe and have it taste as fresh as possible.
How to store Chocolate Buttercream Frosting
I'm a big frosting fan. I could literally eat it by the spoonful. And this is one of those recipes that have my tastebuds happy because it's such a good recipe to have on hand.
I've literally used this frosting for all my chocolate cake recipes, and as well as a great way to add frosting in between multi-layer cake recipes and birthday cake recipes, too.
Once you make this simple frosting recipe, you need to keep leftovers in a container in the fridge. This way you can use it for other desserts as needed.
Tips For Making Chocolate Cake
Yay! Cake! Let's just all agree that cake is amazing. I'll never turn down a piece of cake, ever. This is because the cake makes me happy and makes me want to share that happiness with others.
If you're ready to make this healthy chocolate cake, it's time to pay attention to these simple tips that can make this gluten free cake even more delicious.
Don't be scared to change up ingredients to fit your needs
This is big. And important. As with any recipe, you can change certain aspects of that recipe to better suit your needs. I've actually never made this cake using a different type of flour but that could be an option such as using tapioca flour or arrowroot flour as well.
Choose your cake pans before you get started
I'm a big fan of using round cake pans if I'm making a cake, and a muffin tin or cupcake pan when I'm making cupcakes. Regardless, having the right type of pan is what keeps this recipe easy to make.
Don't overmix the batter
This is always my problem. I love to stir the batter and often my mind wanders when I'm doing so. Then, before I realize it, I've been stirring the batter for 10 minutes and I have no idea why.
If you do over mix the batter, it could affect the outcome of the texture of the cake. Just keep in mind that the batter just needs to be stirred until all the dry ingredients are mixed well in the mixing bowl.
Don't add frosting until the cake is at room temperature
So much truth! If you put frosting on your paleo chocolate cake or cupcakes before they're cool, guess what is going to happen? The frosting is literally going to melt into the cake OR it's going to slide right off.
Learn from my mistake because I've made this cake and done this…I get impatient can't wait for the chocolate cake to cool. And that, my friends, can ruin a beautiful birthday cake fast.
Share this cake recipe with all your family and friends
Okay, this last one is just because I want to thank you so much for your support. I love sharing my food and cake recipes with each and every one of you.
As I stated earlier, food is a way to share love and happiness as well and this recipe is all about doing that. The next time that you're ready to share with those that you love, this chocolate cake recipe is one of the best. Use this cake to make a simple and easy way to bring together happiness, good food, fun times, and even better memories.
And don't forget to layer on the frosting as well. Frosting and friends just makes everything better!
Yield:

10
Paleo Chocolate Cake
You'll love every bite of this rich, chocolately Paleo Chocolate Cake!
Ingredients
Paleo Chocolate Cake
1/2 teaspoon sea salt
1/2 teaspoon baking soda
1/2 cup coconut oil
1/4 cup water
2 large eggs
1 teaspoon pure vanilla extract
Frosting
1/4 cup Cacoa powder
2 teaspoons pure vanilla extract
Instructions
Preheat the oven to 350 degrees. Grease two 6" baking pans and set aside.
In a medium bowl add the ingredients and mix with a spoon until completely combined.
Pour the batter in to the 6" baking pans and place in oven.
Let cook for 15 to 18 minutes or until a toothpick comes out clean.
Remove from the oven and let cool.
In mixing bowl add in the ingredients for the frosting and mix with a hand mixer.
Let the cakes cool completely and then frost. Enjoy!
Nutrition Information:
Yield:
10
Serving Size:
1
Amount Per Serving:
Calories:

480
Total Fat:

45g
Saturated Fat:

24g
Trans Fat:

0g
Unsaturated Fat:

18g
Cholesterol:

37mg
Sodium:

185mg
Carbohydrates:

16g
Fiber:

3g
Sugar:

11g
Protein:

6g
You might love these recipes too
Gingerbread Cake Roll (Swiss Roll)